The exhibition match titled "Audi Football Summit", between the most successful German club, FC Bayern München and Indian National team will be held at the Jawaharlal Nehru Stadium, New Delhi, on January 10, 2012. The historic match will be a farewell for the Indian football icon, Bhaichung Bhutia, and the proceeds of the event will go to support the quake-affected people in Sikkim which incidentally his home state.
"My career has been a great learning for me, a wonderful experience,. My 16 year international football career has made me richer in experience and I have grown as a person. Playing my final India match against Bayern München is a great honour, but also a tough finale for me. Bayern are one of the best teams in the world and I rate them as better than Germany," said Bhaichung, who shall have the captain's armband for one last time.
As his team prepares to take a shot at the European giants, Savio Medeira, coach of Indian national team, said, "It's not every day that you get a chance to play against the best in the world. It would be a learning experience for us."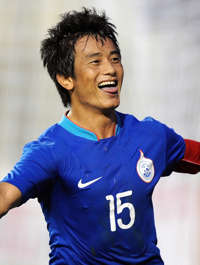 Indian Icon Bhaichung Bhutia Bids His Farewell


Player of the tournament in the recently concluded SAFF Championship and Indian footballer of the year,
Sunil Chhetri
said, "With the phase which Indian football is going through, the more we play stronger opponents, the better for us. You get to play Bayern München possibly once in a lifetime. We ought to make the most of it."
Another rising star in the Indian football team, Jeje Lalpeklua said, "The opportunity to play with one of the top clubs would be an experience indeed. It gives us the opportunity to improve ourselves."
Excited to play the crucial match, defender Gourmangi Moirangthem, said, "It will be a great opportunity to be playing on the same field, that too against such star players. It's also an honour to be a part of Bhaichung Bhutia's farewell match. I'm looking forward to it."
Beaming at the opportunity of playing against most successful German club, Jewel Raja, said, "The match gives us an opportunity to learn from international Stars. You don't let go such an opportunity for sure."
While the strength and technical superiority of the mighty Bayern München may prove to be daunting a task for the Indian team, the Men in Blue are set to put their best foot forward and play their hearts out especially given that this is their farewell to an Indian hero who has given his all to Indian Football for over 16 years now.
Download the Goal.com Mobile app, and the world of football will be at your fingertips and in your pocket!