New Zealand's Leo Bertos is eager to don the Red and Gold jersey and play an important role in achieving success this term.

"Personally I hope to become a key player in helping East Bengal achieve success. The club has a big history of success and I would like to help the club, team and its fans achieve what they deserve and want.
"And also, hopefully we can inspire more kids to become football players and support the club too," Bertos told Goal.
The midfielder, who had played all three matches for his nation in the 2010 World Cup, conceded that he doesn't have much idea about the football scenario in India.
"I don't know too much about football in India to be honest. I can make a much better judgment after I play a few games in the league. But, as far as I know football is beginning to get a lot more interest and investment into the game.
"I do believe that with the population and potential support, football can become a powerhouse in this country. It is a sleeping giant and won't be long till it wakes up and catches the rest of the world," he further added.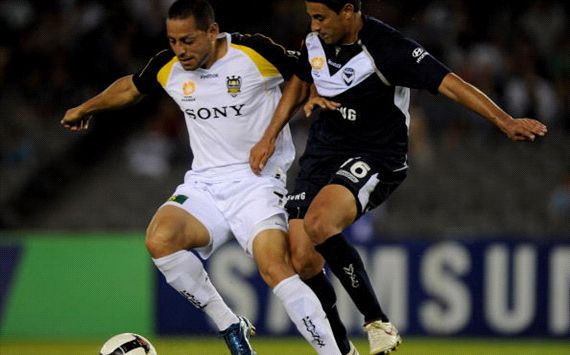 Bertos vying for the ball with Carlos Hernandez in an A-League match
The former Wellington Phoenix star also revealed how his move to India materialized after receiving a heads up from a friend.
"It happened through a friend of mine who played in the I-League last year. We spoke about the country, the people and the football and it became a place I was interested in trying. Through my agent I decided to put my name forward to the league and East Bengal showed interest. After researching about the club it didn't take long for me to decide this is the place I want to be," he told.

The 32-year old claimed that the chance to play in the AFC Cup was more a bonus than a motivation.
"This wasn't a big factor in my decision. It is actually a bonus to be a part of this premier competition. I am excited to see how well we can compete in the AFC Cup," he added.

The player who has also represented English outfits like Barnsley and Chester City stressed that he wants to adjust with his team-mates as soon as possible once he begins training with them.
"I do know East Bengal have a team full of great players that are hungry to win the I-League. I am looking forward to meeting them all, training and playing alongside them for the next two seasons.
"I hope to make many good friends in the team and also work hard together towards achieving success," he signed off.