Goal asks its I-League correspondents to pick their team of the season and then compiles Goal's team of the season for top flight football in India
---

BY KAUSTAV BERA

Follow @hopelessk on twitter
---
This has been an interesting I-League season to say the least with debutants Bengaluru FC winning the title in what was a fairytale season for them under Ashley Westwood. Sunil Chhetri was instrumental in his side's championship winning run as he picked up a career best 14 goals in the season.

East Bengal have again been second best as they have made a habit of being the epitome of consistency without picking up the all important crown.

We have looked through all the statistics and performances throughout the season before each of our I-League correspondents have arrived at their Best XI. At the end we have also selected a combined best XI after a lot of head banging and angry discussions.

We follow normal matchday guidelines which only allow a maximum of four foreigners in the 18-man team. Hence the XI also has a maximum of four foreigners.
Akash Manjunath's Best XI


Karanjit Singh
Salgaocar FC
Deepak Mondal
United SC




John Johnson
Bengaluru FC





Calum Angus
Pune FC





Narayan Das
Dempo SC




John Menyongar
Bengaluru FC
Beikhokhei Beingaichho
Bengaluru FC

Boithang Haokip
Shillong Lajong FC





Sunil Chhetri
Bengaluru FC
Balwant Singh
Churchill Brothers

Daryl Duffy

Salgaocar FC
Akash chose to go with a 4-1-3-2 formation with Bengaluru FC's deep lying midfielder, John Menyongar earning a berth owing to his all round performance this season.

While the superb Karanjit Singh was instrumental in Salgaocar's good showing this season, with the Goans only conceding 26 goals, is an obvious pick in goal. Akash opts for the veteran Deepak Mondal on the right side of his defence.
Although United SC could only escape relegation by a whisker, Deepak was ever present and did not give attackers even an inch on the right. The foreign duo of John Johnson and Calum Angus in defense arguably pick themselves. Dempo's young Narayan Das was consistent on the left of defense and gets the nod too.

John Menyongar sits as the anchorman in Akash's midfield in the deep-lying playmaker role with a popular midfield three in front of him. Beikhokhei Beingaichho has been the silent star of the vibrant Bengaluru FC with the running and desire that he brings to their play. Boithang Haokip has scored some tremendous goals from set pieces besides being the man to drive Lajong forward. Sunil Chhetri's goals lands him a spot on the left of the midfield.
Balwant Singh was among the best of the Indian goalscoring contingent and therefore makes the grade upfront. Daryl Duffy in his first season in India has managed a league best 14 goals and is rightly leading the line for Akash.


Arjun Namboothiri's Best XI


Amrinder Singh

Pune FC
Debabrata Roy
Dempo SC




John Johnson
Bengaluru FC





Arnab Mondal
East Bengal





Narayan Das
Dempo SC



Douhou Pierre
Pune FC

John Menyongar

Bengaluru FC
Victorino Fernandes
Sporting clube de Goa

Beto

Dempo SC

Sunil Chhetri
Bengaluru FC





Balwant Singh
Churchill Brothers
Arjun, our correspondent from Goa, has some of the Goan favourites in his team. The surprise inclusions are Victorino Fernandes on the right of midfield. Although not scoring a lot of goals, the Sporting clube de Goa player has impressed many with his hard work and direct running and an ill-timed injury prevented him from truly reaching his potential.

The Portugese playmaker Beto stars in his line-up. Although a hit and miss in the early part of the season and never reaching the heights of his earlier campaigns, Beto had in recent games been the reason why Dempo slowly climbed the table after a disastrous start and managed to finish fourth in the league. He has also scored 9 goals, not too shabby.

He picks Douhou Pierre to partner Menyongar in midfield. Although Pune FC had a dismal showing this time around, the one shining light was Douhou who dominated in the middle time and again.

He picks Arnab Mondal at center-back and rightly so as he has was vital to East Bengal's miserly defense which conceded only 23 goals, while John Johnson makes up the other half of the central defense. Narayan Das and Debabrata Roy from Dempo are his chosen full-backs.

Interestingly instead of Karanjit, Arjun has gone for the young Amrinder Singh in goal. While Pune have conceded 32 goals this season, Amrinder has been very good for his age, between the sticks.

Karanjit Singh
Salgaocar FC
Rino Anto
Bengaluru FC




John Johnson
Bengaluru FC





Calum Angus
Pune FC





Narayan Das
Dempo SC



Beikhokhei Beingaichho
Bengaluru FC



Pronay Haldar


Dempo SC

John Menyongar

Bengaluru FC

Sunil Chhetri
Bengaluru FC




Balwant Singh
Churchill Brothers

Cornell Glen
Shillong Lajong
Atanu goes with the popular trend in defense only differing by selecting Rino Anto as his right-back. Anto has been a revelation this season winning the I-League with Bengaluru FC. He has been equally proficient when defending as well as on the overlaps. Calum Angus who has won the maximum number of Man of the Match awards (5 with Sunil Chhetri) partners the towering John Johnson in central defense.

Going for a 4-4-2, Atanu selects the dynamic Pronay Haldar to partner Menyongar in midfield. Haldar who had impressed last year with the Arrows had joined Dempo after they disbanded. A dynamic presence in midfield, the youngster was responsible for Dempo's late revival.

Atanu also selects Cornell Glen to partner everyone's choice, Balwant Singh in his forward line.

Shilton Paul
Mohun Bagan
Pritam Kotal
Mohun Bagan




John Johnson
Bengaluru FC





Calum Angus
Pune FC





Narayan Das
Dempo SC



Beikhokhei Beingaichho
Bengaluru FC

Douhou Pierre

Pune FC

Cavin Lobo
East Bengal




Balwant Singh
Churchill Brothers

Cornell Glen

Shillong Lajong

Sunil Chhetri
Bengaluru FC
While going with the trend, I have decided to pick Pritam Kotal in defense. A fan of his since his Arrows days, Kotal has been consistent on the right and was instrumental in Bagan's miserly defense having conceded only 24 goals all season in spite of having a poor showing in other areas.

While his team has conceded 32 goals, Angus has been brilliant and his five Man of the Match awards clearly says so. He was the reason Pune started brilliantly.

Douhou Pierre has really impressed me with his ability to dictate the tempo and control the pace of the game and is my pick ahead of the equally impressive John Menyongar.

I would also have Cavin Lobo in my midfield to give it the much needed balance. Lobo has come into his own, especially when Mehtab Hossein was missing from East Bengal. It was his drive that allowed East Bengal to unlock opponents who sat back. He might not get much credit when he is playing with the Raltes and Khabras but he was the best East Bengal midfielder in my opinion.

While Daryl Duffy has been impressive, I would have Cornell Glen in his place since Glen has been the more consistent of the two and has also impressed with his repertoire of tricks.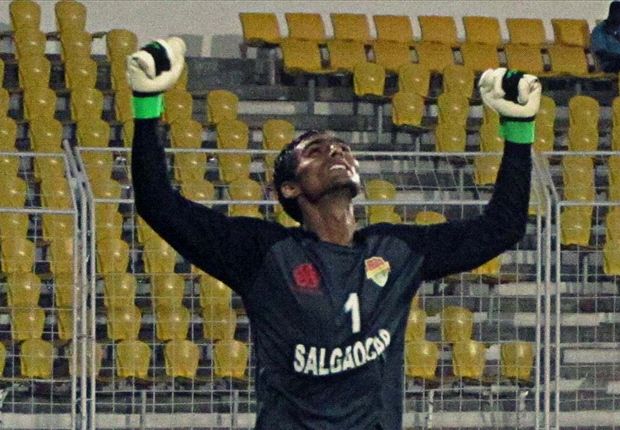 Karanjit Singh
has been everyone's favourite goalkeeper and he finds himself between the sticks in our team of the season. Having featured in all of Salgaocar's matches, not missing a single game, the Indian No. 1 has also kept out a penalty as his team finished third, conceding 27 goals but also boasting nine clean sheets this season.
Amrinder Singh
finds a place on the bench having missed only two games for Pune the entire season and is our pick for such consistent displays in spite of his age.
The likes of Shilton Paul, Laxmikant Kattimani and Ravi Kumar miss out as they have turned up for only a few games for their club and were not the undisputed first choice keepers in their respective sides.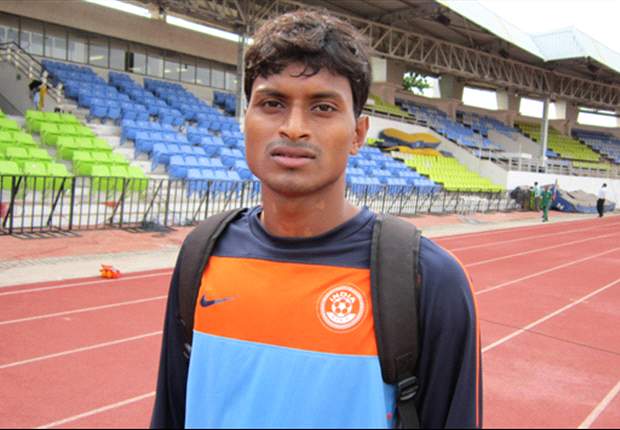 The centre back pairing of John Johnson and
Arnab Mondal
should have the capability to stop any striker in the league. Indian International Mondal was instrumental in East Bengal finishing 2nd and maintaining a stubborn defense this season.
John Johnson
picks himself too as he was instrumental in Bengaluru's title winning run having missed only a single match and also having scored 3 goals in 23 appearances.
Narayan Das
who has impressed many with his consistent showing on the left wing gets our left back berth while his former Arrows team-mate,
Pritam Kotal
who has turned up for Mohun Bagan this season was one of the reasons why the Mariners have conceded only 24 goals in spite of changing goalkeepers and is our choice at right-back.
Augustin Fernandes
of Salgaocar who has been a rock at the back and Bengaluru's
Keegan Pereira
will be disappointed to find themselves on the bench but have been consistent throughtout the season to merit a place. The likes of Calum Angus and Echezona Anyichie miss out due to the four foreigners rule.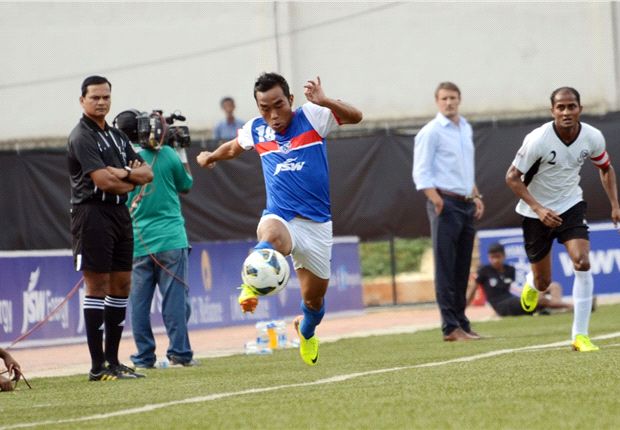 Moving forward, Bengaluru's
Beikhokhei Beingaichho
is the obvious choice on the right wing. The 23-year-old has bedazzled everyone with his scintillating pace and effectiveness. He has graced three team of the week selections.
Eric Brown
is our surprise pick in the midfield even though his team narrowly avoided relegation. The Liberian has been the driving force for a side in which Ranti Martins too was struggling and was eventually let go. He has also managed to get himself on the scoresheet 10 times in a team which was short of creativity.
Boithang Haokip
has two beautiful goals via free-kicks to his name while the Manipuri has been instumental in garnering results for Shillong Lajong FC.
On the bench, Sporting's
Rowllin Borges
is another engineer in the center of the pitch while Arturo Garcia who was the reason for Sporting's early surge misses out due to injury and leaving the club in the winter transfer window.
It is unfortunate that everyone's favourite
John Menyongar
cannot find a place on the bench due to the 4 foreginers rule.
Mumbai FC who could only finish eightt are nonetheless represented by
Ashutosh Mehta
who had a battling presence in midfield and has also scored 3 goals this season.
For a team that finished second, East Bengal are under represented and
Cavin Lobo
can only be on the bench in spite of his good showings this season amidst a hit and miss East Bengal midfield.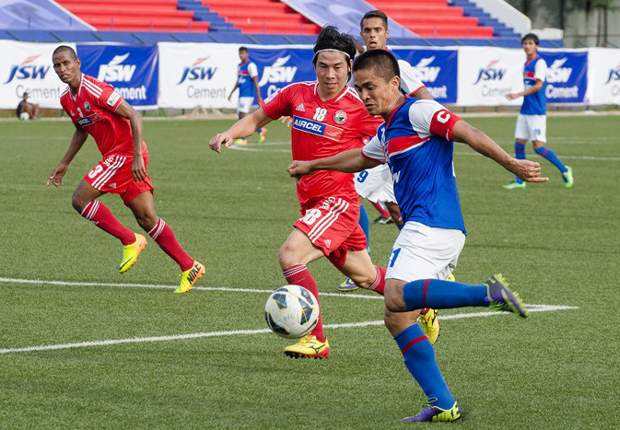 Among the top scorers in the league so far, with fourteen goals this season, the Bengaluru FC skipper
Sunil Chhetri
has shown why he was named All India Football Federation's (AIFF) "Indian Player of the Year".
Chhetri has done exceedingly well to adapt to his new role on the left side under coach Ashley Westwood without complaining while that has not stopped him from finding the back of the net either.
In the centre of our three man strike force is joint top scorer of the I-League, and recently voted best foreign player of the season,
Daryl Duffy
who has led Salgacoar with aplomb scoring 14 goals.
On the right of Duffy is Churchill Brothers SC's top scorer
Balwant Singh
who has scored ten goals for Churchill Brothers and is responsible for saving them from relegation with his crucial strikes. He has also been voted FPAI Indian Player of the year for his contribution.
Shillong Lajong's
Cornell Glen
narrowly misses out and can only sit on the bench. The 2006 World Cupper with Trinidad and Tobago is a treat to watch with his incisive first touches and tricks while also being of the opportunistic nature when it comes to scoring goals, having scored 13 in his debut season.

Karanjit Singh
Salgaocar FC
Pritam Kotal
Mohun Bagan




John Johnson
Bengaluru FC





Arnab Mondal
East Bengal





Narayan Das
Dempo SC



Beikhokhei Beingaichho
Bengaluru FC

Eric Brown

United Sports Club

Boithang Haokip
Shillong Lajong FC




Balwant Singh
Churchill Brothers

Daryl Duffy

Salgaocar FC

Sunil Chhetri
Bengaluru FC

Amrinder Singh

Pune FC
Augustin Fernandes
Salgaocar FC




Keegan Pereira
Bengaluru FC





Rowlin Borges
Sporting clube de Goa



Cavin Lobo
East Bengal





Ashutosh Mehta
Mumbai FC




Cornell Glen
Shillong Lajong



How do you stay up with football when on the move? With http://m.goal.com –your best source for mobile coverage of the beautiful game.