The Indian skipper spoke on a plethora of topics ranging from Bengaluru FC, his rich vein of form and the attacking midfield role where he has flourished in...
Goal: More than six months with your new club and top of the table already. How has the journey been with Bengaluru FC?
SC: It's been pretty well. I'm enjoying my football out there. It's a good set-up. Everything that's important for football to flourish is there in Bengaluru FC - right from the heart rate monitors to the coaching staff to the organizers to all the players who want to give their hundred percent for the team. Everything is going quite well in Bengaluru FC right now.
Goal: You have played in the north for JCT. In the east, you have plied trade with three Kolkata clubs including the traditional giants, namely Mohun Bagan and East Bengal. In the west, you have played for Dempo and Churchill. How different is the Bengaluru FC experience?
SC: The first thing that they had in mind was to have a ground and to have every other aspect of football organized and then go for the players. I think this is the first club which didn't go to buy players first. They already had an idea that they are going to come into the I-League but you must not have heard them going all out for players. They couldn't find anyone and actually we are a team full of discards if I may say so with all due respect to the players we have in our team. The first thing they did was to have a coach. They had a coaching system ready, had the kitchen, heart rate monitors, ground ready and then they went for the players. I think that's the right way because then the coach knows, even though he had no choice as he was an Englishman. All the teams had already made their teams. Still they knew who they were signing as they had Pradhyum Reddy. All the players, they knew who they were signing. This way always works and I think that's the right way to do it.
Goal: We have discussed in the past. Most Indian strikers do not play as number nine for their clubs. You too play on the left as an attacking midfielder. Even Balwant Singh who did well for Churchill Brothers in the Federation Cup doesn't always start as a number nine. What's your take on this subject?
SC: If there is one guy that comes to my mind right now along with Cornell Glen is Robin (Singh) who can do the number nine thing. He is in an absolute good form but it's just that Sean (Rooney) has got seven goals and it is difficult to give them both enough time. Robin is somebody who can hold the ball, he is fast, he is powerful and can score goals. He scored for us in the Federation Cup also despite the limited number of chances he has got because of Rooney being in fine form.
"You have to sign for the right team and coach so that you get a chance to play"
But it depends as number nine position has a lot of requirements such as a lot of off the ball running. As I said Balwant (Singh) is doing great but it's just that they (Churchill Brothers) have a new foreigner in Anthony Wolfe and that's why they are using him on the right. Otherwise he would have played upfront. Robin can go and start for any team that he signs for given the kind of form he is in right now. It's just that Rooney is doing really well. But yes, there is a dearth of enough number nines as Indians. But I think Dempo and JCT I was doing fine but now Dempo have opted for Tolgay Ozbey.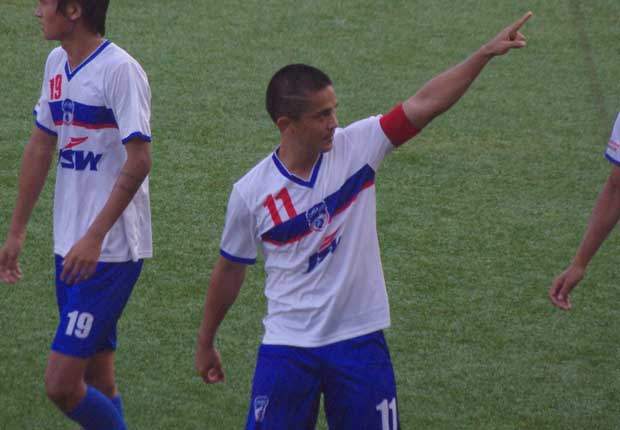 I am enjoying my football at Bengaluru FC
It depends as right now in my mind I cannot think of many players who can play as number nine. It's also a matter of fact that a lot of clubs chose foreign strikers as number nine and it doesn't give enough chance for the Indian boys but you have got to be smart enough to choose the right team. If you are a number nine then you have to make sure you sign for the right team and the right coach so that you get a chance.
I won't say that you can bully around and say 'I want to have 90 minutes in every game.' You have to have the right mindset and see which coach is there and how much time is he going to give you. This is important and you can't stop them (clubs) for signing two big foreign defenders, one foreign midfielder and one foreign striker. It is a cliché and there is nothing that you can do. You have just got to fight it as that's all what you can do. At the end of the day, not every striker is going to score goals. You just have to wait for your chance. It happened to me, it happened to Bhai (Bhaichung) and it happened to everyone. You just have to go through everything and wait for your chance.
Goal: You were at your prolific best at JCT and it seems that you are back to your best now at Bengaluru FC.
SC: A lot of people have told me that I am scoring a lot of goals this term. I will tell you a small fact. In East Bengal, I scored nine goals in twelve I-League games. Then at Dempo I scored nine in thirteen I-League games. Then at United Sports, I scored seven in seven games. Till now I haven't played a full season. After JCT, this is the first time I am playing for the full season. At East Bengal I cracked my ankle against Mahindra United. At Dempo, I signed for Sporting Kansas. At United, I came back from Kansas. I haven't played a full season yet. Even though I keep hearing about goals, I think I have been doing pretty fine. This season what's happening is I am fit, I am enjoying my game and I am not injured. That's a big plus point for a player. At JCT when I was scoring those goals, I was fit and didn't miss any game. It's very important for a player to score goals and give himself a chance to play a game. You won't score if you don't play a game.
"Westwood is one coach who could make the Indian captain sit on the bench"
This season, thankfully I just missed two games at the start because I had just comeback from the national team and the coach (Ashley Westwood) didn't want to put me because Melmnganba (Metei) was playing well and it's quite fair. He is one coach who could make the Indian captain sit on the bench and say 'You know what, you are not ready.'
Goal: Did it come as a surprise that you were on the bench for a new club?
SC: When I was in the team meeting, I was shocked as I didn't expect that. He brought me and Robin into a room and said, 'In two games, I will not put you because I don't know where you guys are. You don't understand our system because you were out for a month.' For him it doesn't matter where we were but he just said we don't understand. So two games I had to sit out. The third game, I and Rino (Anto) were substitutes and we were warming up. I told Rino that 'this is the first club where I had to fight for my position.' It was good. Rooney scored for the first couple of games and the coach told me 'If I have Rooney, Robin and you fighting for the same position, I will have two players sitting out which will not be beneficial for the team.' The thing is he wants to play with one striker, five midfielders of which two are attacking.
He asked 'Do you want to play left?' I just wanted to play and hence said, 'I will give it a try.' In the initial three or four games I was struggling as I didn't know the defensive part of it. I was puzzled and did a lot of bad runs which I shouldn't have done. Then I realized that the whole team wants me to play there and are helping me out, the coach is also helping me out. Finally it worked out and I said 'why not'.
Initially I was just running blind. I was desperate for it and there was no system to my running. Now I and Keegan (Pereira) who plays left back have a good combination and understand each other well. The team is doing fine. I don't want to be rigid and saying 'I am the Indian captain, I have scored so many goals.' At the end of the day I realized that I am getting goals. It's less than what you can get (in a number nine position) but it's alright. I come back and the coach says 'You did a great defensive work' and I feel happy. I have never heard these words. He tells that I have blocked three corners and done four defensive runs. It's a good thing for me and I feel happy about it. I just grab the opportunity I have got and want to be on the field. It doesn't matter where I am playing.
How do you stay up with football when on the move? With http://m.goal.com –your best source for mobile coverage of the beautiful game.