A late surge from the home side was not enough to stop the Red Lizards from taking all three points.
Welcome to Goal's new I-League feature: Top and Flop. For every game, a candidate will be put forward, as chosen by Goal, who deserves recognition for achieving something special. It won't necessarily be the best player in the league - but whoever we nominate will have done something amazing. In the same vein, we will also name a player whose performance wasn't up to the mark on the given day and eventually came to hurt his side.


The Ghana born Dutch striker scored a first half brace to give his side a solid start against a resilient United Sports Club outfit. He was always lively in the final third and linked up well with Douhou Pierre to attack the Purple Brigade's penalty box a number of times. He was quite rightly awarded the Man of the Match award for getting on to the scoreboard twice.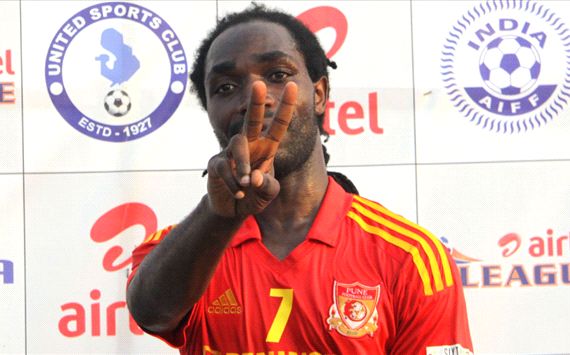 The left-back of United Sports Club had his worst day of the season against the Red Lizards. For the first goal, he played spoilsport in a United offside trap and Riga took full advantage of the goof-up by giving his team the lead. Only a few minutes later, he was once again caught out of position and James Meyer used that blunder to set up Riga who had an open net in front of him, doubling the lead for his side. He was taken off in the 26th minute but the damage had been done by then.
Do you agree with our choices? Let us know YOUR opinion by dropping a comment below