With the I-League kicking off, Goal brings you the complete A-Z of the 2013-14 I-League...
---

BY KAUSTAV BERA

Follow @hopelessk on twitter

---

With the I-League ready to kick off and Airtel having been roped in as title sponsor, Goal looks at the A-Z of India's premier competition.
A is for Arrows:
AIFF's masterplan to have a steady stream of talent into the national team by making a side comprising of only U-23 players ran through a lot of hurdles but peaked last season under Arthur Papas when they played a delightful brand of football, killing a lot of heavyweights on their way. So it was sad when the team had to be shut down as chief sponsors, Pailan pulled out. No more Arrows in this edition of the I-League.

B is for Bengaluru FC:
The new team, launched amidst a lot of fanfare with corporate owners will battle with the big boys for I-League supremacy. Roping in Indian skipper, Sunil Chhetri was a masterstroke combined with experienced foreigners in the guise of Curtis Osano and John Johnson.

C is for Cornell:
The Trinidad and Tobago striker was instrumental in his team qualification for the 2006 World Cup and also played all the group games at the event in Germany. It was a major coup when Shillong Lajong secured his signature. In all, he has featured 66 times for his country and is the fifth highest goalscorer in Trinidad & Tobago's history, out-scoring a certain Dwight Yorke.
CORNELL GLENN - STRIKER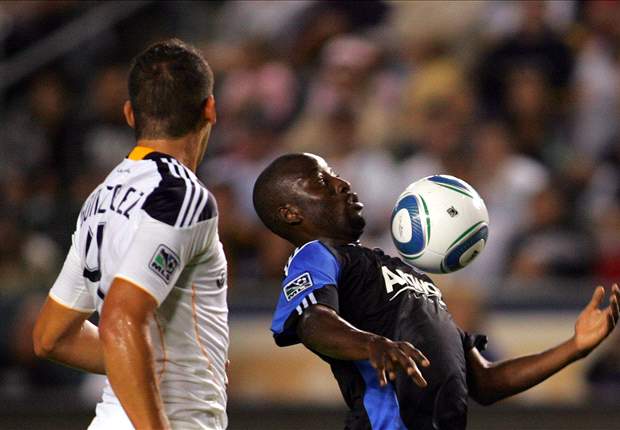 D is for Daryl Duffy:
The Scottish striker who had turned out for Rangers and Falkirk and also Swansea City has joined Salgaocar FC under Derick Pereira.


E is for Eric:
While Eric Brown moved clubs from ONGC to United Sports, Harrison Eric Muranda joined Mohun Bagan as their fourth foreign signing.

F is for Falopa:
After East Bengal and Trevor Morgan decided to mutually end their long and fruitful association, the well travelled Brazilian, Marcos Falopa took on the mantle of being the head coach of the Red and Gold. He started off well too, registering a crucial home win in the AFC Cup quarter-final.
G is for Goals:
With last season seeing a massive 530 goals scored (2.91 per game), this season has even more with teams recruiting top marksmen. More goals this time around?
H is for Honda:
We aren't speaking of the Japanese star Keisuke Honda who was linked with Milan all summer. Shinnosuke Honda, who had formerly played for J-League top division club, Jubilo Iwata has decided to come to India. He would be joining Arthur Papas' revolution at Dempo SC this season.
I is for Indians:
The All India Football Federation (AIFF) instead of applying measures to improve the condition of Indians in the top flight has taken a retrogressive step of allowing four foreigners to play-up from the three last season. Moreover with IMG-Reliance not coming to a settlement with the club sides over the new tournament, there are national team players who would be without match practice for almost the entire football calendar except for two-and-half months.

What about match practice?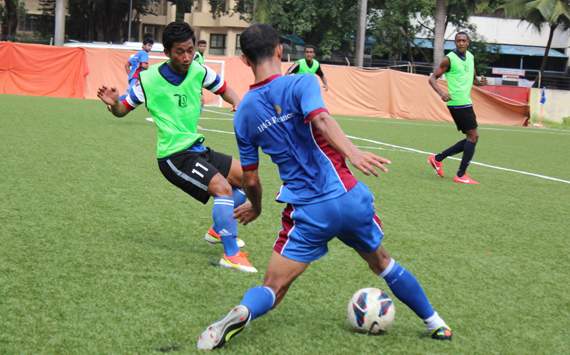 J is for James:
With East Bengal finding goals hard to come by last term, finding a partner for the prolific Chidi Edeh was their primary concern. It seems they have struck gold this time around as they have recruited South Sudanese hitman James Moga who has constantly topped goal scoring charts for both his former clubs, SC Goa and Pune FC.

K is for Karim:
We are talking about the Moroccan manager of Mohun Bagan who thought that last season's nightmare was a thing of the past. But things are looking not so good for the coach who faces a player rebellion with stories of dues not being paid and Anthony Pereira already back in Goa for supposedly 'personal reasons'.
Will the coach once again inspire a squad which lacks balance to punch above their weight.
L is for Luciano:
The 6 ft 1 in defender who was a rock at the back for Salgaocar for a few seasons decided that he needed a change and elected to join the newly promoted outfit, Mohammedan Sporting. His career there started with a bang too as his team captured the Durand Cup however he will be missing the start of the I-League after sustaining an injury.
M is for Moshood:
The new head coach of Mohammedan Sporting, Abdul Aziz Moshood has a big task ahead of him as he has to compete with the Big two of Kolkata. The Nigerian trainer also has to maintain the heritage of one of India's best supported clubs and ensure that they perform well in the country's top division.
N is for Navarro:
Centre back Arturo Navarro who rose out of the youth ranks of Spain's Valencia CF has decided to join the ranks of Sporting Clube de Goa for this season as I-League sees the inclusion of a clutch of players from the World and European champions.
Odafa - The One man Army?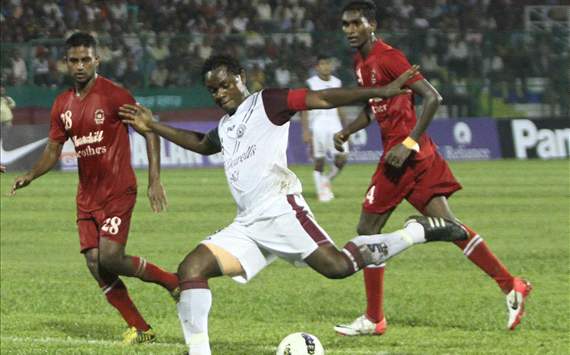 O is for Odafa:
If there was one redeeming factor for Mohun Bagan's failing season, it had to be the Nigerian Odafa Okolie who almost single-handedly carried them last time around. He will miss the opening two fixtures of the season and Bagan faithful would hope that he regains his fitness
to guide their team to the top.
P is for Papas:
One of the youngest and talented coaches at show in last year's edition, Arthur Papas did great things under constraints as he was in charge of the Arrows side which had only Indian youth players. Now at Dempo SC, he has to take the former champions back to where they belong after a poor last season.
Q is for Question mark:
It's all up for grabs as the top teams, namely East Bengal, Dempo SC, Pune FC, Salgaocar FC, have all seen a managerial reshuffle with probably the only team unaffected being Mohun Bagan AC.
R is for Rangdajied:
Rangdajied United is the second Meghalayan club to play in the I-League as they qualified as winners in the second division. With the wily Santosh Kashyap at the helm, their primary goal will be to play a brand of exciting football while also avoiding relegation.
Snoei the right man for Pune?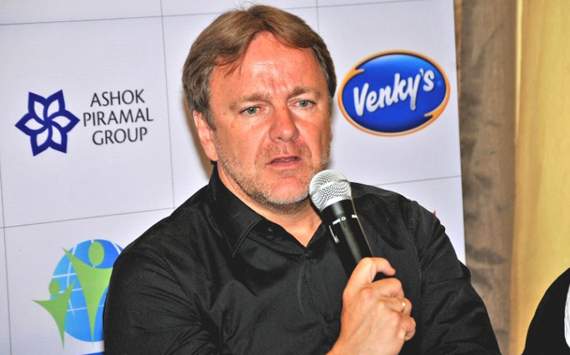 S is for Snoei:
Dutch tactician, Mike Snoei has taken charge of Pune FC from this season after Derrick Pereira switched to Salgaocar FC. Snoei who played for Feyenoord will have to go one step further than finishing in top 3 and win the I-League.
T is for Tolgay:
Tolgay Ozbey who has joined Mohammedan Sporting this season becomes a part of a select group of players to have played for the three giants of Calcutta football, having turned up already for Mohun Bagan and East Bengal before.

U is for Uga:
The Nigerian centre back was one of the reasons why East Bengal conceded a single goal in their first ten matches and is continuing on at the Calcutta club for another season.
V is for Villarreal:
Raul Fabiani, Pune FC's new 6ft 6in striker was part of the Villarreal youth setup but could not quite make it in the first team.


W is for Westwood:
Former Manchester United youth champion, Ashley Westwood has taken charge as manager of the recently unveiled club, Bengaluru FC.
Westwood - The New Bengaluru Boss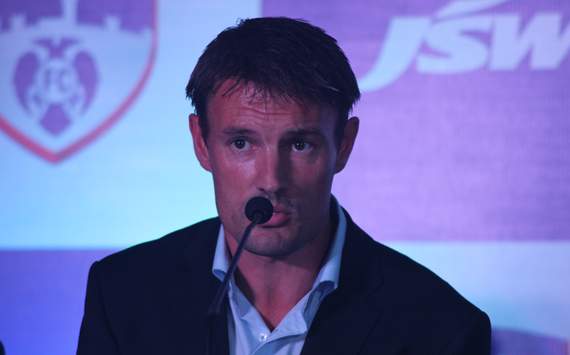 X is for X-factor:
The I-League will be an open battle this season, with each coach looking for the X-Factor that will lead their teams further forward than the rest.
On paper, East Bengal have the strongest squad.
Y is for Yusa:
Katsumi Yusa, who had a brilliant season last year for ONGC FC, has switched to Mohun Bagan and is certainly what the team needs to feed talisman, Okolie up front.
Z is for Zohib:
Zohib Islam Amiri, the 26 year old Afghan skipper recently broke Indian hearts leading his team to a 2013 SAFF Championship victory, defeating India 2-0 in the final and will turn out for Mumbai FC this season too.
Follow Kaustav Bera on