Mohammedan Sporting's first practice match against the Tata Football Academy (TFA), at the Salt Lake Stadium, Calcutta, has been labelled as a mixed affair by striker Tolgay Ozbey.
The team ushered in the new season with a raking 3-0 win, with Ozbey grabbing a brace and therefore opening his account. Joshimar scored the third. It was Tolgay's post-match interview that grabbed the headlines.
"We never expected such a turn-out for a practice match. It puts us under pressure. We knew we have to give full effort since the crowd will want us to win this match. We have a very strong squad this season and the expectations are really high," Ozbey warily illustrated to The Telegraph.
The total turnout at the stadium was an unanticipated to be around 2500, with Syed Rahim Nabi amongst the cheering crowd as well. There were carousals of firecrackers and fans, who went wild after each goal the team scored or when TFA's attack was nullified.
The club chairman, Sultan Ahmed was ecstatic at the fervour of the spectators and remarked, "Great mood."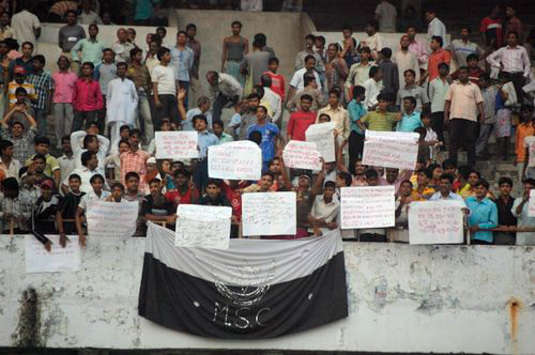 Mohammedan Sporting fans turn out in numbers
Tolgay Ozbey, praising Penn Orji, proclaimed that their partnership was beginning to click and bear fruit.
"During our days at East Bengal, Penn and I combined well. Here also, we are expecting something like that," the Australian enlightened. "Josimar played extremely well laying-off beautifully and that allowed me and Penn to roam in the free space.
"Jerry Zirsangha also worked well as the attacking midfielder. To be honest, I am happy with the way the team played. This is our first practice match and we need to build from this."
Diagnosing the match, the club's head coach Abdul Aziz Moshood was however not too impressed due to evidence of callousness still plaguing the team.
"There are loose ends. But I am happy with the way the team played. We will move forward from here on. It's a pre-season match. So I wanted to play with a team which is not that strong. As the season progresses, we will be a cracking outfit. The players are responding to my system. That's a very positive thing," Moshood stated.
The team play New Bani Sangha at the Basirhat Stadium, scheduled to take place on Wednesday.
How do you stay up with football when on the move? With http://m.goal.com –your best source for mobile coverage of the beautiful game.