With the I-League Professional Football Club's Association (IPFCA) making it clear, that they, atleast at the present moment, will not entertain players who have signed up for IMG-Reliance's proposed tournament, the All India Football Federation's (AIFF) marketing partners have had a tough time, getting players to sign-up for their IPL-style competition.
And the cats were set amongst the pigeons, when Ishfaq Ahmed, the former East Bengal player, who had signed up with the IMG-Reliance set-up, revealed to Goal that he would snub the IPL tournament if it stops him from participating in the I-League.
As can be expected, it did not help the AIFF's marketing partners' cause; when one of their high profile signings declared publicly that he preferred the I-League over the IMG-Reliance tournament.
And thus on Friday afternoon, Ishfaq Ahmed sent-out a press release, that 'he has signed a contract with IMG-Reliance for their proposed franchisee tournament.'
Well just to add a disclaimer before we proceed further, Goal has added the 'r' in the 'contract', which was printed as 'contact' in the press release, and one assumes it was a typographical error. Hopefully nothing has been 'construed out of context', as Ishfaq indirectly hinted at, regarding his interview with Goal.
Because quite frankly, and Goal has the records to prove the same, nothing was misconstrued in his interview dated 17th June 2013.
Ishfaq went on the record to Goal, to state his preference for the I-League...
As per the records, the midfielder confirmed that he was holding talks with East Bengal, and on twice being quizzed about whether he would sign for IMG-Reliance without the assurance of playing in the I-League, he confirmed that this is exactly what he wanted, which is to play in the I-League.
Infact in an earlier chat, which was not quoted in the article, he told the above mentioned correspondent that "I have told them (IMG-Reliance), I (will) play for them only if I will able to play I-league."
"No it's sure from IMG, I agreed on that only. They have no problem whatsoever," he further had added, when quizzed about the deal, to further underline his determination to play in the I-League
Hence, Goal can positively state that the former Salgaocar FC player's comments have never been tampered with, or as per his press release 'misconstrued'. So if anything has changed, it's definitely his priorities and decision regarding the importance of the I-League and IMG-Reliance tournament in his career.
Obviously, as the weeks have passed, and the player has realised that in the present financial climate, his chances of getting a good deal on the back of an average I-League season, is limited.
After talks with several I-League clubs, he has realized that none could come anywhere close to the deal offered by IMG-Reliance for a few weeks worth of playing time. And the press release has followed. Else what else can explain the eleven days that it has taken him, to come-up with the statement? Isn't that a rather long delay in 'setting' the records straight?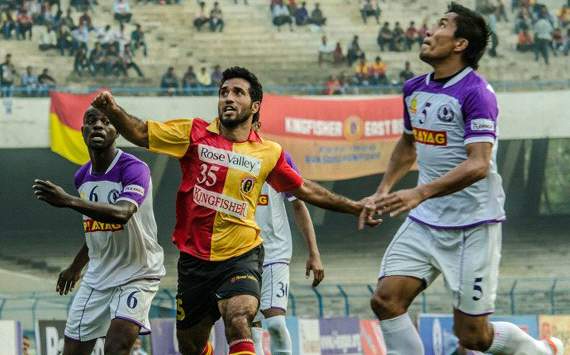 Playing for three months...and hoping to make the national team!
How do you stay up with football when on the move? With http://m.goal.com –your best source for mobile coverage of the beautiful game.