My love for Indian football began in Bangalore. In April and May 2010, Bangalore Football Stadium (still 6 months away from laying FIFA's artificial turf) played host to I-League 2nd Division's Final Qualifying stage. Two teams from the pool of eight 2nd Division sides would get the ultimate reward of playing in the I-League season of 2010-11. Although still figuring out the exact structure and blueprint of the nature of Indian football, I was somewhat familiar with its overwhelming support in the cities of Kolkata and Goa. Being passionate about the beautiful game and also being a well settled Bangalorean, something inside my soul desired a team in the I-League from my city, the Garden city.
The only local side in the final group stage happened to be HAL (Hindustan Aeronautics Ltd). I went to all 7 of HAL's matches, witnessing some spectacular end-to-end football. The thing that fascinated me the most was the passion, love and emotion of the home crowd. The anger on their faces, the frustration through their gestures after every misplaced pass by a HAL player, the constant nagging of referees when any decision went against the Bangalore side, the ecstasy and sheer joy of seeing their team score a goal and their unconditional love for local superhero talents like Xavier Vijaykumar, Satish Kumar Jr. and J. Murali was an overpowering experience for me.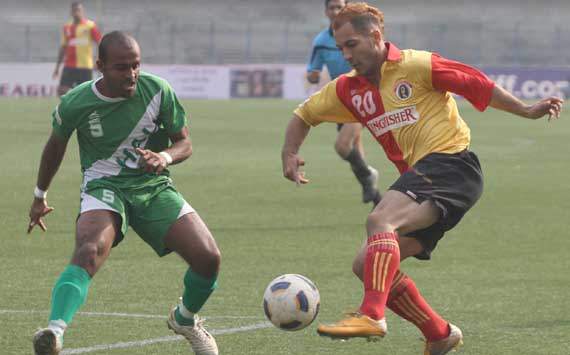 HAL took on the best and triumphed

Match after match I learnt that every fan inside the Bangalore Football Stadium actually believed in their team, and that made me a part of them. I learnt more about Indian football in that month of May '10, as I observed every match with keen interest. Out of our 7 matches, we won 5, lost 1 and drew 1, the most scintillating performances coming against the mighty Mohameddan Sporting, Vasco SC from Goa and a thrilling last minute draw against SESA Goa that confirmed our arrival into the I-League. I was over the moon, delighted for the players, HAL management and Bangalore fans. By now I had a fair idea about the top Indian players, teams and managers. The thought of watching players like Sunil Chhetri, Bhaichung Bhutia, Climax Lawrence, Steven Dias and Mahesh Gawli and also reputed managers like Trevor Morgan and Armando Colaco at the Bangalore Football Stadium in the coming season brought great satisfaction.
The subsequent season in the Garden City following HAL's promotion was far from satisfactory. A new artificial turf, part of "FIFA's GOAL initiative", was being laid at the Bangalore Football Stadium and hence our 'fortress' was shut down until the inauguration of the new FIFA approved Astroturf. All home matches of HAL were indefinitely shifted to Kanteerva Athletics Stadium, which neither boasted a great playing surface, nor felt anything like our real home back at the Bangalore Football Stadium.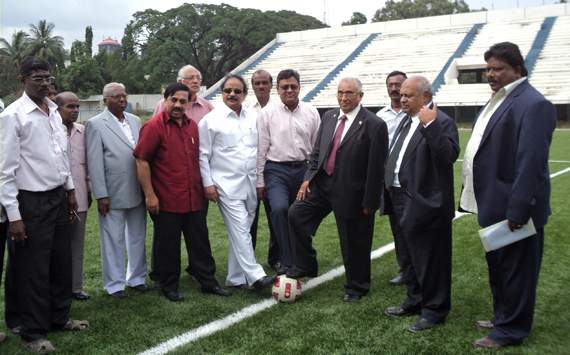 Bangalore Stadium now has astroturf
After a promising start to the 2010-11 I-League campaign which included a historic win against Mohun Bagan at the Salt Lake, the 'Aircraftsmen', as they were called by the media, began a downfall run that had them clinging above the relegation places by the skin of their teeth. By season end, Bangalore Football Stadium was renovated, refreshed and boasting a fabulous playing surface.
Stellar last-ditch performances against East Bengal at home and Dempo away made the 'Aircraftsmen' survive in the I-League for another season. But this campaign was far from convincing. The big guns of Indian football had noticed potential in many HAL players and the mass exodus of our best talents began. Xavier left for Churchill, Murali and Satish Kumar had been roped in by Mohun Bagan and our young right back Srikanth Ramu had signed for Pune FC. The next season absolutely demolished Bangalore's hopes in the I-League, with an embarrassing, humiliating 2011-12 campaign.
HAL finished rock bottom of the I League table! The demeaning statistics showed one of the worst I-League performances ever. In 26 matches they managed only 1 win and 5 draws conceding 68 goals, scoring only 19. They leaked in 4 or more goals on seven different occasions. Quite amusingly, HAL had accumulated only 1 point in the 13 home games. This had to be the most dreadful I-League experience in the entire history of Indian football!
Times have changed. Public Sector Units (PSU's) like HAL, Air India, ONGC, SBT have all been disallowed from India's domestic league as these teams fail to fulfill the club licensing criteria. Things have gotten more professional now with the Private sector companies willing to buy franchises. New investments brought in by the All India Football Federation (AIFF) have allowed Bangalore to bring back the lost I-League days. Jindal Steel Works (JSW) has successfully bagged the rights to own and run their own I-League club based out of Bangalore for the 2013-14 season.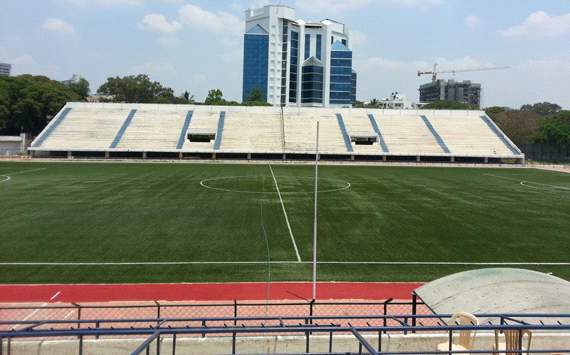 Bangalore's stadium is set for refurbishment
The $11 Billion steel conglomerate has massive plans for its club, including refurbishing the Bangalore Football Stadium and building a world-class football academy to produce home grown talent with the help of a renowned coach. With Pune FC showing that you do not need a huge budget to be competitive in the league last season, the added incentive of a 3 year relegation freeze will allow the JSW Bangalore outfit to build a competitive team.
The wonderful city of Bangalore is already a football-crazy one. Most European clubs like Manchester United, Arsenal, Liverpool, Chelsea, Barcelona, Bayern Munich and Real Madrid have a strong fan following here. The official supporter groups of these clubs from Bangalore regularly hold live screenings of big matches and are quite active on various social network sites.
During important tournaments like a FIFA World Cup or the Euros, most of Bangalore's youth are seen screaming and shouting at a live screening in a bar or restaurant. The passion and excitement for the game is very much here. To take Indian football to the next level, these passionate youngsters need to show a similar love and support for their local I-League team as well.
Better fans make better teams, and vice-versa! When the I-League 2013-14 begins, Bangaloreans must support this new ambitious team along with their beloved European clubs. Visiting the stadium, backing the players and supporting the club as a unit, all play a very crucial role in moving Bangalore football forward. If JSW can market their aims and goals for Bangalore in a systemized way, exploring new social media options, spreading the word, holding local competitions and serving the community, the fan base will automatically increase.
If JSW are looking at tapping local Bangalorean talent for their academy, the two hotspots to start looking are Gowthampura and Austin Town. These treasured football pockets in the Garden City have produced many stars who have gone on to play for top Indian clubs like East Bengal and Mohun Bagan and also represented their country on numerous occasions – such as Ahmed Khan, MA Sattar, KP Dhanraj, M. Kempaiah, I. Arumainayagam, Ulganathan and RC Prakash.
Until now, Bangalore has almost been a 'feeder city' for gigantic clubs from Kolkata and Goa. Now it's time for talent to be recognized and utilized locally rather than exported to other states. We, Bangaloreans, have been given a fantastic opportunity by JSW to play a role in the enhancement of Indian football, and this time it's up to us to finish what HAL started!