Dempo, the Goan club who could only manage a disappointing 5th place finish in the last edition of the I-League, is now trying to build a new combination blending youth and experience. The Golden Eagles had a roster where quite a number of players were on the wrong side of 30.
In an effort to keep their best players and to make ammends of the last season's performance, Dempo Sports Club has extended the contracts of Clifford Miranda, Samir Naik, Mahesh Gawli, Peter Carvalho and Cresson Antao, some of their longest serving players.
Clifford, who joined Dempo from Tata Football Academy in 2001 is keen to stay with his childhood club and has stressed that he would help Dempo regain the top spot in Indian football. "It was a difficult season last year but I am glad we had a respectable finish. We will work hard under Arthur Papas and help bring the I-League to Goa again," said the Dempo captain.
Commenting on his decision to stick with the club Clifford said, "There is no reason for me to leave the Club. We have a great team backed by passionate management. I respect our club chairman who has been very kind and supportive all these years. It is because of him that I have stayed at Dempo. He is the best boss one can have".
Arthur Papas, their new coach had impressed one and all by his tactics in the season, when he transformed the All India Football Federation (AIFF) developmental side Pailan Arrows into a formidable outfit.
"Having Clifford sign on again for Dempo has been of a paramount importance. Having got to observe Clifford over the last 12 months he epitomizes the traits that are required when playing for a club like Dempo and is integral to our future plans for the club," said Papas.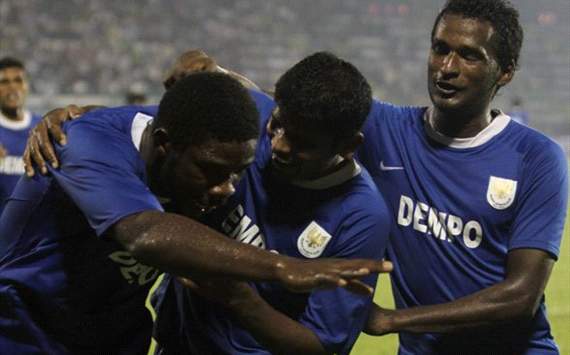 Dempo's roster have some long-serving players
In an age where football players change their clubs every year, Samir Naik gives some food for thought to budding footballers. Having joined Dempo's in 1999, the centre-back has been a figure of consistency for the Goan. Samir was a part of the legendary Dempo teams which won two National Football League (NFL) and three I-League titles along with a maiden semi final appearance at the 2008 AFC Cup in his 14 year career. "I have been here for 14 years and I cannot imagine my life without Dempo's. They have given me an Identity in Indian football" said Samir.
The final list of players for Dempo SC for season 2013-14 is expected to be declared by the end of this week.