Sunil Chhetri is easily one of the most recognizable faces in Indian football. The Delhi lad is the poster boy of the country's dwindling football scene as he has been part of clubs overseas over the last 5 years. However he made a return to India in January 2013 to join Churchill Brothers on loan from Sporting Lisbon and helped the Red Machine on their way to an I-League title. Goal caught up with the striker who clearly had something to say after this triumph.
When asked on whether he would remain in India, Chhetri said that he will not be leaving immediately but will return to Portugal.
"I go back to Sporting now, as I had a loan deal with them. I won't be going immediately as I want to spend some time with parents. I will go back and talk to them, try to understand the dynamics of what they think about me. They have already seen me for six months and know exactly the kind of player that I am. With a lot of people who thought that it was a marketing gimmick it was sad to hear all those things as if that would have happened I would have started the first match in the A team. I wasn't in the A team. I just trained twice with them. I was always with the B team," said Chhetri.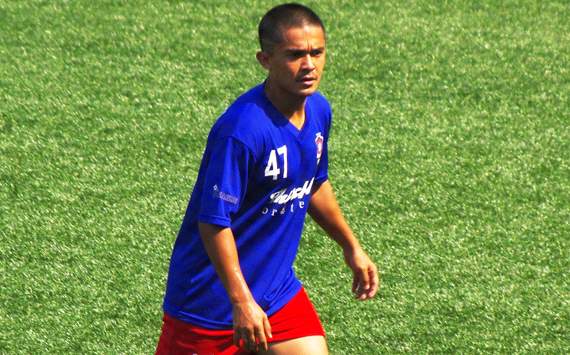 Chhetri's India stint was a resounding success
The striker, a key player for the Indian national team, endured a tough time in Portugal where he made only five appearances in the six months he spent there. After he was picked by national coach Wim Koevermans for the friendly against Palestine in February 2013 and subsequently the 2014 AFC Challenge Cup qualifiers in Myanmar a month later, there was a hue and cry being raised on the striker not gaining enough first team action to be considered for selection.
"The day that I was going to get a chance, training five days in a week, four guys from the A team had come for rehab and they had to play. These things really hampered my chances of playing even with top class facilities, top class players few of which you are going to see in big clubs very soon. I played just five matches. One for 45 minutes, one for 15 minutes, 10 minutes, one for 6 minutes. I didn't start any game. I was a substitute all the time. I didn't play a single game for the A team, but always for the B team which was doing better than the A team," revealed Chhetri.
It is hard for any player to remain condemned to the bench, even more so if they are the captain of their national side. Chhetri endured this for quite some time and admitted that it did shake his confidence a lot.
"It was difficult for me to get the fact that I'm not playing. Not playing on a Saturday was hampering. Even though you are training very hard, your BMI's, your fitness, everything was better than what you were because you are training at that level. It plays on your mind when you're staying alone, thinking too much and don't have friends over there, it was just killing your confidence. I had a long chat with my father and Wim Koevermans and I thought that it was good for me that I play here," said the former Mohun Bagan striker.
The Indian experience brought out a rejuvenated Chhetri, one who finally enjoyed playing. The forward took some time to adjust to his new surroundings, but clicked into gear soon and formed a devastating attack for Churchill alongside Beto and Henry Antchouet.
"I saw 14 games in two and a half months at Churchill. It was what I really signed for. They were eyeing the championship and also playing the AFC Cup. So I am very thankful for Churchill, the coaching staff and the players. The first two games for Churchill, I was so jittery that I didn't know what to do. I was running more but didn't know what to do. I've no bones accepting the fact that I didn't know what was happening in the game. Then when you start playing 90 minutes, you get your feedback and you get the confidence, the players helped me a lot. We started winning matches, we stood as a team and we became the champions," signed off the 28-year old.