Derrick Pereira didn't have a star studded team as some of the other I-League clubs but has managed to punch above the weight, especially in the season gone by where he Pune FC to a second place finish. It also highlighted the importance of Derrick's role at the club as he successfully moulded an average side into one of the top teams in the country.
"It's all about teamwork. Each one did their job professionally. There are areas which need improvement which I keep discussing whenever I sit with Chirag Tanna (Head of Operations, Pune FC). I know it will improve. They are one of the best clubs to work and have a good ambience. I think a lot of coaches who are coaching in India are envious of me! This year when I saw the team, I believed that we could win the title. If you plan it well, I think you can achieve," he told Goal.
With Indian coaches dominating the domestic scene having won the league title except on two occasions, Derrick opines that the local coaches do have an advantage over their foreign counterparts in terms of understanding the players better.
"I don't see whether the coach is an Indian or a foreigner but I think the Indian coaches can understand better than their foreign counterparts. There are some very good foreign coaches coming in but they take time and the club must also give them time to adjust. As far as all Indian coaches winning the title, it all depends on the team work. How the team gels," he stated.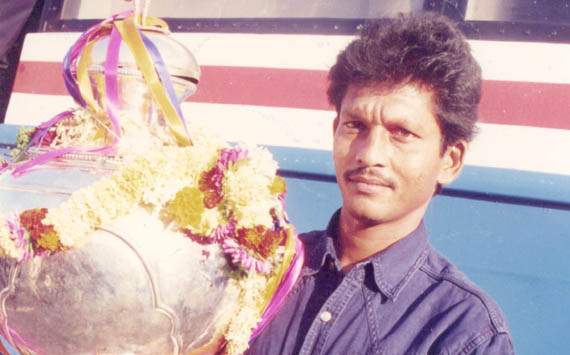 Derrick in his playing days
Derrick gave an example of his playing days where his coach at Salgaocar FC took around four years or so to build a championship winning squad.
"I was giving my experience to our bosses earlier in the season that to build a team it takes about four years. That's what I experienced during our playing career. Our coach Shanmugham recruited all youngsters. I was just 17 when I signed for Salgaocar in 1980. Till 1984, we were fighting to keep ourselves in the league. From 1984, we started reaching the finals and from 1986 onwards, we started winning the tournaments such as Federation Cup and Rovers Cup," he explained.
"It takes time to build a team. Last four years, I am happy that PFC have maintained that top five position. I think from here on, they will do better," he added.
The 50 year old, as he reflected on his time with the Red Lizards, shared his most memorable moment at the club.
"The first match in the I-League against East Bengal which we drew, it was a great atmosphere. We could have won that game and I think the crowd, the supporters, the fans and the atmosphere on the pitch was excellent besides our performance. I think that first match in the I-League was my most memorable game at the club," he reminisced.
He did admit that he was sad to leave Pune FC but was also pleased that he shall go back to his old stomping ground at Salgaocar.
"I will miss this atmosphere, the fans, colleagues in the dressing room and our pre-match meals. I will be missing Pune a lot. I'm happy that I'm going back to my family and sad that I've to leave Pune," he signed off.
How do you stay up with football when on the move? With http://m.goal.com –your best source for mobile coverage of the beautiful game.