From the lows of 2005, embroiled in a bribery scandal to the highs of 2013 where he led Chuchill Brothers to an I-League triumph, the career of Subhash Bhowmick has seen the entire gamut of emotions that it takes a normal person a lifetime to experience.
An explosive and talented player himself in his own heydays, having represented the BIG two in Kolkata with distinction, Bhowmick had the guts to absorb pressure at the highest level and hence it was no surprise when he decided to become a manager, especially with his intelligent displays on the field.
Although his first stint with East Bengal at the turn of the new century was an entirely forgettable one, Bhowmick turned on the style after he was brought in yet again in 2002 with Mohun Bagan looking good in the league having won the last edition. The master tactician however turned everything around for the Red and Golds leading them to back to back championships in the following two seasons, a feat not repeated in the National Football League (NFL) history.
However his feat in 2003 made him an integral part of East Bengal folklore as the Kolkata giants were the first Indian club to win in a continental competition. Under his tutelage, the Red and Gold's were the winners of the ASEAN Club championship, no mean feat especially considering the desperate condition of Indian football with a certain Bhaichung Bhutia top scoring with eight goals.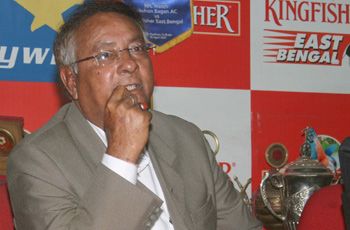 The early success that he had enjoyed was a cruel reality check for him in 2005 when he was allegedly involved in a bribery scandal for which he was eventually sacked from the East Bengal hotseat. In any case it was a miserable run for the Kolkata giants as the season began with them crashing out disgracefully from the Durand as well as the IFA Shield.
In relative wilderness from then on, with stints at Mohammedan Sporting, Salgaocar, East Bengal and Mohun Bagan, Bhowmick was missing his mystical touch during these tough times where leave alone gunning for Championships, it was all a downhill struggle.
However with Churchill Brothers having lost some of their stars in the 2011-12 season, Bhowmick came in the middle of the season to rescue the club and help them onto the third position as the Technical Director with Mariano Dias being the figurehead coach. This was a way of averting the Asian Football Confederation (AFC) regulations as a team manager needed to hold an AFC 'A' Coaching license which Bhowmick lacked.
With Dempo winning the league with apparent ease last season and Trevor Morgan's East Bengal hot on the heels, not many gave Churchill a chance to claim the title, being outside contenders at best. What Bhowmick did was instill his own attacking philosophy into the playing style of the Red Machines.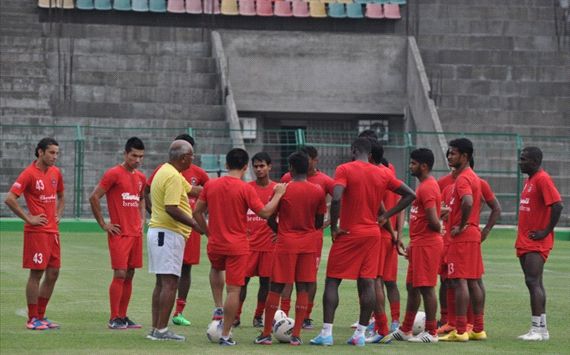 Shaping the Red Machines...
Bhowmick as he has often said is not a proponent of playing formations and hardcoded positions for his players. Instead he believes that formations should be something much more fluid and is just a marker for the players, not something that they should blindly follow. Instead he believes in each player having a specific role to fulfill on the field and if all eleven players successfully carry that out, then success is a must.
Although he did stick to a standard 4-3-3 formation his players actually understood his philosophy and adapted according to the conditions at play. His keen eye for talent saw him bring in two Lebanese internationals, Bilal Najjarin and Akram Moghrabi to bolster his squad. That brought instant results as Bilal was a rock in the heart of their defense easily taking out the best striker in Indian football, out of the
game. Meanwhile Akram added another dimension to the Churchill attack with his strong physical presence upfront. These two new recruits combined seamlessly with club captain Roberto Mendes da Silva who was at his devastating best and flourished under the gaffer scoring and assisting at will.
Even more than that, what is testament to his title winning season with the Red Machines is that when adversity came calling, instead of taking a step back, he dived into it with aplomb. With the Lebanese duo leaving and Beto down with a season ending injury, instead of relinquishing the title to challengers, East Bengal, Bhowmick did the opposite.
First he drubbed East Bengal 3-0 in Kolkata, taking his revenge for the reverse scoreline at Goa, early in the season. Then he managed to lure Indian captain Sunil Chhetri back besides adding Lamine Tamba in defense and the sprightly Balal Arezou in attack. Meanwhile his other foreigner, Henri Antchouet, who was primarily a substitute during Akram's stay, was solely responsible for taking charge after his departure ending up as the club's top scorer. The measure of a great coach is when players still follow him inspite of not making regular appearances.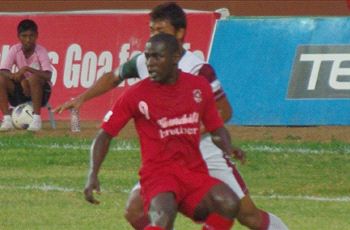 "I rate him as the best striker in the country at the moment. His speed is devastating and helps the team a great deal," said Bhowmick returning the trust and the faith that the Gabonese forward had placed in his gaffer.
With the triumph in Goa, Subhash Bhowmick has made his mark on Indian football history as he is the only manager to win top flight titles in both Goa and Kolkata, traditional footballing enemies. Yet the journey has certainly not ended for the veteran tactician, as he has outlined his next goal, just after fulfilling his present target, that of winning the AFC Cup with an I-League club.
And knowing Bhowmick's resolve and willpower, what would be laughed at by football watchers as a wild dream will certainly be achieved by the man, no matter if it takes 5 or 10 years.
Do you think Bhowmick will go in to win the AFC Cup with an I-League team? How do you rate him?
Follow Kaustav Bera on

How do you stay up to date with football when on the move? With http://m.goal.com – your best source for mobile coverage of the beautiful game.