Indian football is all set for some important tweaks in system for the highly anticipated season 2013-14. We can expect a few more teams being added to the existing cluster on the basis of pure financial strength and also being offered a never-seen-before method of "relegation freezing", which allows the new teams to settle comfortably into the league, without any anxiety of being relegated to the dreaded I-League 2nd Division.
Goal
reported that six corporate houses including Delhi DareDevils owners GMR, Jindal Group and Dodsal Group have asked for forms and other related papers, confirming their interest in buying I-League teams.
The other reward being offered by the AIFF to lure this much-needed investment into Indian football is the implementation of the 'Four Foreigners' rule from next year onwards. Unlike the "relegation freezing" situation, the governing body has quite sensibly been impartial in proposing this rule for all teams and not just the new teams! As per the current regulations, each I-League team can possess a maximum of four overseas players in their squad, but only three are allowed to be fielded in the starting line-up. If the AIFF Executive Committee passes the proposed rule, each team will be allowed to start their games with all four foreigners.
Now will this move improve the standard of Indian football as a whole? Will Indian players get squeezed out of the picture? Will local Indian talent not get the platform it deserves to develop? Will the I-League become even more entertaining?
Let us check out some of the following basic statistics. The top 13 goal scorers of the current season are as follows:
| | | | | |
| --- | --- | --- | --- | --- |
| S. NO. | PLAYER | GOALS | CLUB | NATIONALITY |
| 1 | Ranti Matins | 25 | Prayad United SC | Nigeria |
| 2 | Odafa Onyeka Okolie | 19 | Mohun Bagan | Nigeria |
| 3 | Edeh Chidi | 17 | East Bengal | Nigeria |
| 4 | James Moga | 15 | Pune FC | South Sudan |
| 5 | Henri Antchouet | 13 | Churchill Brothers SC | Gabon |
| 6 | Roberto Mendes da Silva | 13 | Churchill Brothers SC | Brazil |
| 7 | Ogba Kalu Nnanna | 11 | Sporting Clube de Goa | Nigeria |
| 8 | Akram Moghrabi | 10 | Churchill Brothers SC | Lebanon |
| 9 | Ryuji Sueoka | 10 | Dempo SC | Japan |
| 10 | Henry Ezeh | 9 | Air India | Nigeria |
| 11 | Tolgay Ozbey | 9 | Mohun Bagan | Australia |
| 12 | Yusif Yakubu | 9 | Mumbai FC | Ghana |
| 13 | C.K. Vineeth | 7 | Prayag United SC | India |
*statistics as on 7 May 2013 at 11:51 IST
The cosmopolitan nature of the top 12 goal scorers is fascinating – Nigeria, South Sudan, Gabon, Brazil, Lebanon, Japan, Australia and Ghana all have representatives in the table before an Indian finally salvages a place at 13th. The top goal scorer is Ranti Martins with a massive 25 goals, and the top Indian goal scorer is his Prayag United colleague C.K. Vineeth with a depressingseven goals. This gap shows the obvious lack of talent in Indian strikers.
This has much to do with the physical structure of the marauding African strikers. Along with the strength to bully their way past defenses, these overseas players also have the technical ability on the ball. Perhaps it's much to do with HOW they were brought up in their respective environments. African players play the game on their streets from day to night, in demanding conditions and in a certain foreign flavour. Hence they flourish in our domestic league, as their personal standards are way above the average here.
Whether the goals have been scored or not, have we even seen an Indian striker in the I-League who is shaped to destroy, or at least has the strength to hold up the long balls bombarded towards him? The best we have is C.K. Vineeth. Even our national team captain and main centre forward Sunil Chhetri fails to satisfy the above point.
A total of 503 goals have been scored in the I-League this season from the 173 matches so far. Imagine if we removed those 12 foreigners from our top goal scorers' list. Our top striker would be C.K Vineeth. It would be an understatement to say that foreign players bring some life into Indian football. These foreign imports are the reason goals are being fired in. I remember watching Hindustan Aeronautics Limited (HAL Bangalore) at the Bangalore Super Division League earlier this year. They possessed two Africans – a striker named Emmanuel and central defender named Kingsley. Quite literally, their performances stood out and they bolstered HAL all the way to the League title. The sight of a strong African player single handedly steaming past hapless Indian defenders proved that the gap remains even in the local football leagues.
India coach Wim Koevermans on most clubs having foreigners as strikers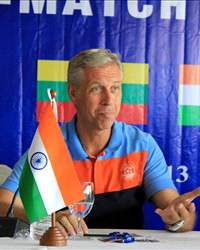 "Of course, that's a problem when it comes to selection. It happens everywhere to be honest. Sometimes I remember games in England when there is not one English player on the pitch or even in the selections. That makes it difficult for a national team coach to pick his players. The same for me here. I understand why coaches make those decisions [to play foreign strikers].
In a good way, the mix of foreign players and Indians helps to improve the game [in India], but when all the strikers are foreigners it becomes more difficult for me to pick players (strikers).
Sometimes, you have to pick players who don't play that many games but are still very good for the national team. So that's the way it is. I cannot change anything and I will not tell the [club] coaches that you have to put Indian players. It's their job to do that in the national league. I don't blame them."
The addition of just one extra foreigner into the starting line-up would certainly not harm Indian football. In fact, that extra player could be the difference for many teams, who might link-up play with other Indian players around him. The experience of training with these foreign players can be invaluable for the Indians. They can play football with a totally new outlook and improve their own standards. Better medical facilities and a more professional execution of the I-League can even better the physical structure of our Indian strikers.
The economic concept of import substitution can better explain the current situation of Indian football. Import substitution is a trade and economic policy that advocates replacing foreign imports with domestic production. In other words, you can ban or prohibit certain foreign goods from entering the Indian market (by maybe imposing heavy taxes on imports) and hence give protection to domestic industries and help them grow without tough competition. In footballing terms, the AIFF is limiting the number of immigrants into Indian football and hence giving the 'protection' to Indian players to grow.
Whether you consider football or industrialization, import substitution tends to make the domestic producers (footballers) lazy in the long term. Since they do not have foreigners to compete with, their standards fall drastically and a rotting glut is created in the market. This is precisely the problem with Indian football. Increasing a bit of competition can only help our footballers as they will have to keep up with the high performance levels of the overseas players.
Coaching levels have to be improved. We need to create at least 2-to-3 Indian forwards with the physical strength of Africans and technical ability of the Europeans. 'Catch them young' is the policy that AIFF needs to implement. Training our youth right from the grassroot levels can improve their ability on the ball.
Only when these attributes are found, our Indian players can compete with the likes of Africans in the I-League. Hence, limiting the number of foreigners will not improve our domestic talent. But improving coaching standards will prove vital for the Indians. Until then we will see people like Ranti Martins scoring 25 odd goals a season while Indians finish only 13th in their own league.
How do you stay up with football when on the move? With http://m.goal.com –your best source for mobile coverage of the beautiful game.