Goal.com's Sarthak Dubey highlights the professional nature in which Pune FC is being run and also sheds some light on their 2-2 draw with Shillong Lajong FC....
As the scrappy first half unfolded at the Balewadi Sports Complex between Pune FC and Shillong Lajong, enthusiastic young voices screamed and backed their team – "Who are we? … PFC! Who are we? … PFC!" leaving me gasping in disbelief.
Slogans at an I-League encounter? And this was no ordinary high school cheerleader stuff. These were highly passionate and vocal Pune FC supporters heard loud and clear throughout the game. Seeing the football model based in this city from Maharashtra, the first word that hits the brain is – professional. And as long as we can spring up a few more Pune FC's - no matter how painful it is to admit – there is hope for Indian football!
Take a look at their website (www.punefc.com) and you will know what I mean. No matter how well established your club might be in the I-League, no matter which millionaire is pumping the finances of your club, no matter which foreign manager you possess – You will not find such an informative website for an Indian football club. They are very much active in the social media world, connecting with fans on a personal basis.
The history, the players, the management, the sponsors, the academy and even a special "fanzone" appears quite professionally on the site. You can purchase your favourite PFC apparel at their official shop, buy match tickets from various outlets around the city and even follow regular updates and highlights by subscribing to their official channel called PFC TV!
Have we seen a Mohun Bagan or even a Dempo putting such hard work into off-field activities? Credit has to be given to the 'Red Lizards' for putting in dedicated effort into making Pune the next football hotspot of India.
Most big European clubs rely on home-grown talent. The academy coaches always try moulding the youngsters into the style adopted by the first-team and eventually inject the promising talent into regular opportunities for the senior team.
That is exactly what Pune FC aim at achieving. Here is the primary objective of the PFC Academy as stated on their website – "The objective of Peninsula Pune Football Club Academy is to provide the mainstream of Pune FC homegrown talent by the numbers year after year. That apart the aim is to hone talent and also begin a production line of young footballers trained and oriented to international standards available to clubs within India. The strategy is simple – "Spot and Hone Them Young" and give cadets the best, in terms of training with modern techniques, tactics, physical and psychological conditioning and related inputs."
Is it paying any dividends? It sure is! Pune FC were crowned Under-20 I-League Champions, for the second time running, as they comfortably beat East Bengal 3-0 at the JRD Sports Complex in Jamshedpur. They created history by becoming the first team to retain the U-20 I-League title. Many of these youngsters must now push for the first team and definitely thank the academy for giving them such fantastic facilities and exposure.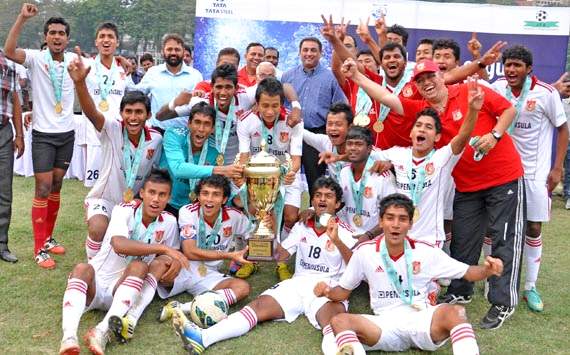 Pune FC were crowned I-League Under-20 Champions
The first team didn't have a bad day either. Playing out an exciting 2-2 draw against Shillong Lajong FC, who happen to call themselves "We Are the North East" on their website!
Tactics went for a toss in the first half as both teams played out a fiery 45 minutes of football, with needless tackles, scrappy defending and some Venky's irony for Balaji Rao (owner of Venky's) as he enjoyed the game from the VIP box. The Brazilian born, Portuguese forward Edinho Júnior on loan from Blackburn Rovers, scored twice against the Venky's sponsored Pune FC, making it a dream debut. There was more debut romance, but this time for the Red Lizards, as Liberian-Australian attacker Boima 'Jerry' Karpeh gave a super-sub performance to salvage a point for Derrick Pereira.
Arata Izumi can finally do a 'Sunny Deol from Indian' and say "Mein Indian hun!!" after obtaining his citizenship and also being called up to the National team. The ex-Japanese had a quite deep-lying playmaker role as he tried to unshackle the Shillong midfield, maintaining defensive discipline. The rhythm of play certainly shot up in the second half half with three goals flying in within a space of nine minutes. Dreadful goalkeeping altered the strategies as both teams tried the odd long-trajectory balls, bombarded straight towards the keepers.
Controversy prevailed when the referee chose not to award two clear-cut penalties to Shillong in each half, leaving the bench furious after the game. But that's football. The 18- year old Portuguese attacker Edinho Jr. visibly left the Pune centre-backs rattled, giving them a run for their money. His athleticism and raw speed shook Othallo Tabia so much so that the referee had to award a yellow card and at least 5 "last warnings" to the defender, preventing him from getting the marching orders.
It was a historic day for the club. Chances of winning the I-League are still quite slender, but not unrealistic. They should strive for perfection until it is mathematically impossible to win the league. Both teams seemed satisfied with the outcome and must now look forward to their next crucial encounters, as one team battles to survive the drop and the other tries to emulate its academy's achievement – winning the I-League.
How do you stay up with football when on the move? With http://m.goal.com –your best source for mobile coverage of the beautiful game.