Prayag United head coach Eelco Schattorie has revealed that he had predicted a draw against Churchill Brothers SC, before facing the Goan side in round 20 of the I-League at the Duler stadium in Goa, on Sunday.

"My expectation before the game? I thought it could be a draw. At this moment, we don't have Carlos [Hernandez] (who is yet to arrive from Costa Rica). Also Kayne Vincent has an injury," stated the Dutchman.

"I gave a chance to Lalu (Lal Mohan Hansdah) for the second time in the I-League. Last week, it was against Air India - a lesser opponent - he will learn through experience, and I gave him a chance (today) but (the performance) was not too good."

Kottayil Asif was also not available against the Red Machines, as the United SC coach continued to explain his tactical changes from their last match.

"Asif, who was not with the team, is a very stable factor (for us) on the pitch, that I had to change, but his replacement Tapan [Maity] did very well," he observed.

"Tactically, I made a change instead of the 4-4-2, I started playing 4-3-3 with [Mohammed] Rafique coming in, which resulted in two goals."

Explaining the difficulties his side faced in the build-up to the game, Schattorie said, "We had a very difficult preparation. We came a week earlier to adjust to the heat as it's colder in Kolkata. I missed some national team players but that's part of the job."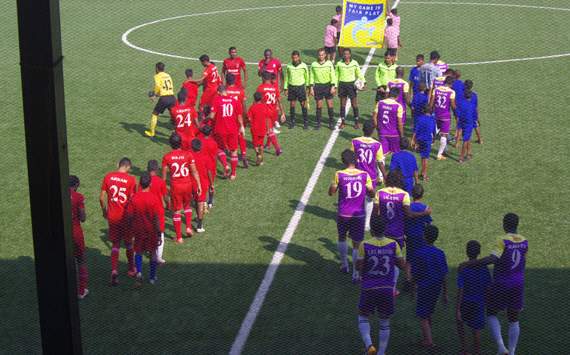 Did United SC deserve a win against Churchill Brothers?

Prayag United equalised twice against Churchill Brothers to snatch a point, but Eelco Schattorie was critical about his side conceding the first of the two goals through a set-piece and defended his goalkeeper over the penalty that allowed their opponents to regain the lead which his side cancelled three minutes later.

"The game in itself, if I see the 90 minutes, they scored a goal from a free-kick that we should have cleared. I thought it was a lucky goal or a mistake by us. The penalty, in my opinion, was not a penalty as the ball had already long gone and Sangram [Mukherjee] told me that he didn't even touch him (Akram Moghrabi). Even if he touched him, the ball was almost half-way out, so it could never be a penalty," Schattorie stressed.

"Over-all, I think the opponent team didn't have much chances. We didn't create too many chances either, but I think we were the better team. 2-2 may be [is] a good result," he continued.

Schattorie also took some time to pass a comment on the physical fitness of the Churchill Brothers players, while suggesting the All India Football Federation (AIFF) to have late evening kick-offs.

"What I look for, and I saw from the opponent team is, that they start falling on the ground and that tells you that they are not 100% fit, and that's something that I try to work on in my team from day one. Especially the last 20 minutes are very important.

"Having said that, to play in these temperatures is just ridiculous. I know, it's for all teams, it's not an excuse, but it doesn't give a positive influence to football. In the evening games, the tempo goes up much higher and I think it's something for the federation to look at," he signed off.


How do you stay up with football when on the move? With http://m.goal.com –your best source for mobile coverage of the beautiful game.