Dempo Sports Club
coach
Armando Colaco
defended his side against the non-compliance of Fair Play by his side in the 2-2 draw against
Mumbai FC
on Saturday.
A moment of controversy in the 89th minute saw Dempo equalise through Koko Sakibo from a Clifford Miranda throw-in. This was after a Mumbai FC player was on ground and Yakubu sportingly put the ball out of play. However Miranda chose to not give the ball back to Mumbai FC, and instead took a throw-in which the caught the Mumbai FC backline by surprise and Sakibo made the most of the opportunity.
This led to protests by the Mumbai FC contingent led by Abhishek Yadav and the two teams got into a scuffle with even bouncers being on the pitch so as to separate the sides.
After having a word with Dempo captain Clifford Miranda after the match, Colaco revealed, "Clifford told me that he did not touch anybody. My assistant coach was there. In fact, I came with the intention of suspending him (Miranda) more. But after he told me the truth, I had to take it back because he did not do anything.
"The bouncers have got no right to enter [the field]. They can prevent, but they have no right to push. I was asking the referee if I can enter and separate my players, but I was denied," he added.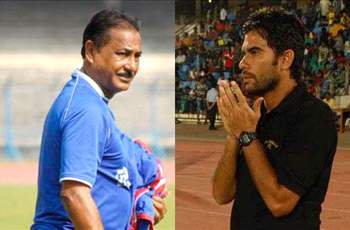 Armando Colaco lashes back

"They (Mumbai FC) are talking about Fair Play?," Colaco reacted to Mumbai FC coach Khalid Jamil's
claims
. "Throughout the tournament, look at their game! How many times their players fall off on the ground. Even today (Saturday), unnecessary disturbance in the game. They break the rhythm.
"In fact, you ask any of the coaches, they will tell you that the most unfair team is (Mumbai FC)," he stated.
Armando Colaco did however praise Mumbai FC for a better first half performance against his team but added that his side were the better of the two after the break.
"They really play well. They give their best and were spirited. Let me appreciate that. Yakubu at this stage is playing so well...magnificent! [Joaquim] Abranches and Clifford [were] nowhere compared to him. Let me be honest.
"They (Mumbai FC) played well in the first half. Second half we bounced back. They shouldn't talk about it (Fair Play)," the 59-year-old went on to explain.
"It was their own player who went down when [Yusif] Yakubu cleared the ball, but the player got up [after the goal was scored]. I don't think it is a goal because of (not adhering to) Fair Play. Nobody should dispute this," he claimed.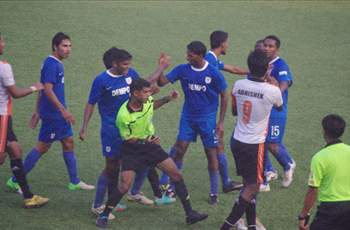 Fair Play or no Fair Play?
He continued: "In the second half, in the last 20 minutes, we came back. We worked hard and equalised. It's over. What does the scoreboard show? 2-2! Whether it is Fair Play or not. Diego Maradona scored the goal with his hand - the whole world saw, the referee didn't. There is are so many things to talk if you want to talk."
Armando Colaco meanwhile admitted that Dempo were lucky to earn a point from the tie, while claiming that his players weren't up to the expected mark.
"My boys had an escape," he said. "We had forgotten football in the first half. They were standing in the first half without any mobility. They got frightened, but the second half was totally different.
"You see, one day some players play well and the next day they are zero. I'm happy with the changes I made. Although Peter [Carvalho] was playing a little bit of an individual game; Johny (John Menyongar) and Koko [Sakibo] could have scored more goals. But I'm happy after being two goals down they came back strongly and scored two."
"I don't want to talk about any [Dempo] player like that (in the negative vein) because all players are good to me, but one should realise. I always say that the coach has to take some chances when nothing works. Koko was not fit to play, I said 'go, do something', and the poor fellow did it. Johny has also been a sensation for the last couple of games - he goes and changes everything."
How do you stay up with football when on the move? With http://m.goal.com –your best source for mobile coverage of the beautiful game.