Mumbai FC completed the double on Prayag United, as they got the better of the Kolkatan outfit, in a 2-1 win at the Balewadi stadium in Pune last weekend.
Prayag's coach, Eelco Schattorie, cut a frustrated figure at the end of the game and tore into Mumbai FC's timewasting tactics. He opined, "Teams like Mumbai will never become champions or get relegated. In my opinion they are anti-football. Staying on the ground (injured) all the time, I tried to make the referee aware that it was the same tactic they employed in our home game."
"Next game they could easily lose to a small team, when they have to make the game. I don't want to be disrespectful to anyone but it is frustrating. Their keeper had cramps three times, I have never seen something like this in my life. They did the same in our home game and the referee should take care of it. It is something I call anti-football," the Dutchman continued.
The coach was also agitated by the manner in which his side conceded the goals, while he was left to rue several missed chanced. He stated, "I am frustrated because we should not have lost. We had so many chances and the biggest frustration is that we concede goals to corners. We had a lot of chances and I told my team it will be a difficult game. We missed important players and were going for one point, but in the first few minutes we realised we could win this. Unfortunately we go back with nothing."
Schattorie though, did not think that his team could be blamed of taking the relatively smaller clubs of the league lightly.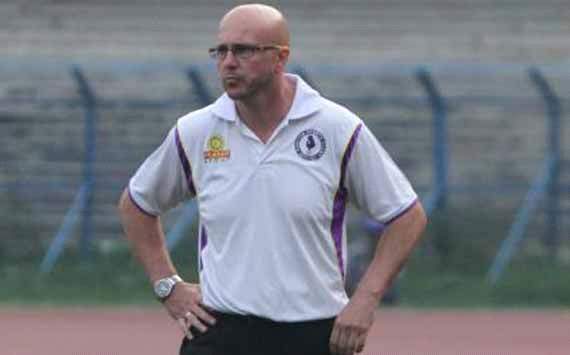 The Dutchman stressed that his team plays to win...
"Against all teams, even when we lost the games, we dominate. We play football to win. If you look at a glass, it is either half full or half empty, for me, it is always half full. You go to try to improve and the problem with Prayag has been consistency of playing with the same team. Finally in the last few games we played a consistent team and we won those. We need to have as many same players over a stretch as possible."
While in recent weeks, Sangram Mukherjee has cemented his place in-between the sticks for Prayag United, after both, Subrata Paul and Ishan Debnath failed to convince the Dutchman. Schattorie though, did not feel that a constant chopping and changing of the goalkeeper was one of the reasons for their inconsistency.
He revealed, "When I came here, the goalkeeping coach (Per Henrikson) told me that Subrata is the best keeper but he didn't have the best performance in those games. Sangram was outside the team at that time and due to the schedule, we could not check all the keepers. In a Calcutta league game, I gave him a chance, and from that moment he convinced me. Since then we did well. At times you take a while to get to know players."
"The problem is Prayag has 35 players and I see Pune have 20-to-24 players and have a second team, and that is how it should be. I take two trainings, one in the morning and then the second. I don't mind that, but then you don't have time to take a look at specific things, goalkeeping for one. He (Henrikson) told me that Subrata is number one, Ishan second and Sangram third choice, and he was wrong. You can't change when you don't know," the 41 year-old added.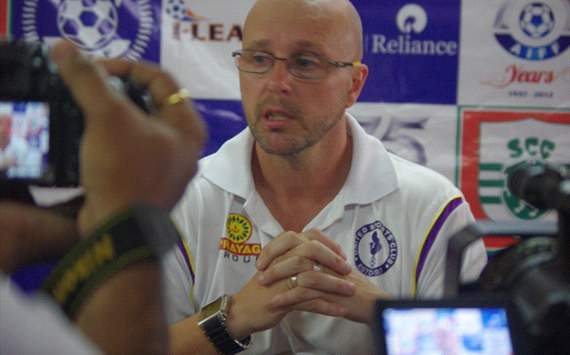 Schattorie feels other teams need to follow Pune FC's example...
The Dutch coach also had words of praise for Pune FC, whom he complimented for their over-all structure. He stressed, "Football is a process. To go for the title you need to balance the team. The best balanced team I see is Pune. Even though Churchill is top of the table, but the way Pune FC play compact football, and they have a strategy which is not based on luck or individual skill. Pune is going up every year. They have good facilities; I see they have a good field. For the long run, infrastructure is needed."
He went on to use that as a barometer to the progress Prayag United and other clubs need to make, in-order to advance in the right direction.
"I often see in the newspapers that the coach is looking for excuses, but that is not true. If the coach has 20 years of experience, any coach, and he works daily with a group, and he thinks certain things are not good enough, then these are not excuses. In order to really grow forward you need better facilities. Which means maybe our training ground is not good enough, but I am dealing with it."
"For example look at Pune FC's growth. I see their training field and that is how football should be. No exceptions, be it East Bengal or Mumbai FC. What you do daily in a week, you reflect in the game, and if you don't have proper facilities you won't see improvement. That is why most teams play long ball in India, relying on individual skills. Overall the I-League needs better infrastructure," he concluded.
How do you stay up with football when on the move? With http://m.goal.com –your best source for mobile coverage of the beautiful game.