Mohun Bagan
has recently been
re-instated
in the
I-League
where they resume their campaign with zero points in their kitty from 10 games.
On their return, they lost to Salgaocar FC 2-0 in the first of their remaining 16 matches on Sunday as coach Karim Bencherifa refuses to rule out his team's chances of survival.
"We are disappointed, no doubt about that (loss to Salgaocar), but I believe that we will bounce back because we want to win with pride. When we lose also, it's with dignity and pride. So there's no harm that we lost three points. Congrats to Salgaocar," said Bencherifa.
"I have always maintained that they (Salgaocar) have a very good squad and I always reminded you that, that squad were the semi-finalists in the Federation Cup," added the former Salgaocar coach.
MATCH REPORT: Salgaocar FC 2-0 Mohun Bagan
The 44-year-old further claimed that Mohun Bagan have most missed playing competitive matches lately but he hoped that they can soon turn things around for good.
"I still think we (Mohun Bagan) could get something out of the game. We had chances, we kept possession. We were better in the last 15-to-20 minutes of the first and the second half also, but the advantage that they (Salgaocar) had was that they had been playing continous competitive games.
"I'm sure that the fact we didn't play competitive games for the last five weeks or so didn't help our cause but I'm very happy and proud with my players despite the hype that was around the game. I think my players kept their cool and came out with a very decent performance which makes me hopeful for the coming matches."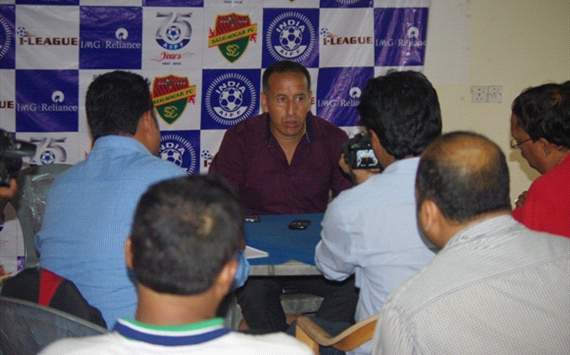 Everyone asks if Mohun Bagan can fight relegation this season?
Karim Bencherifa continued to explain how Mohun Bagan can avoid relegation and has full faith in the squad at his disposal. "We know, with zero points and 16 games, it will not be easy at all. I don't want to comment on how things are. I just want to face the challenge and face the situation. We know that we need at least eight-to-nine wins depending on the results [of other teams]," he said.
"I think we need around 28-to-30 points to be safe. If you look at the [I-League] table since they made it for 14 teams, sometimes it goes to around 25 or 26 points. It can also be less than that depending on the other results and other things, but as I told you, if you look at the last three years table, it was around that (28)," observed the tactician.
"If you look at 16 games (including the match against Salgaocar), and if we have to win eight, that means that we still can have days of bad games. This was one of them and we'll try to bounce back," said Bencherifa as he continued to talk about the importance of a win as they are set to face United Sikkim on Thursday, 24 January.
"The schedule is very tiring, but the positive thing about the schedule is that you if you lose, you don't have time to think about it. Within three days we will have another challenge and if we can get a win then everything will be in order," he asserted.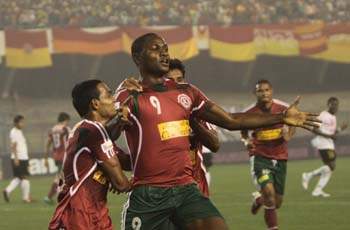 Can Odafa Okolie make the difference?
"The addition of Odafa [Okolie] will help us in our cause," Bencherifa admitted, given that the striker will not play in the next two games as well. "I'm happy with what [Syed] Nabi did, what Tolgay [Ozbey] did [against Salgaocar]. I'm sure that, with the addition of Odafa, we will have more impact on our game."
The Moroccan coach also stressed that he wants to only look forward after their loss against Salgaocar while explaining what might have gone wrong in the tie.
"This match for me is over. I want to only look forward from here. We were expecting that they will come hard. We defended well, let in first goal, slowly started coming back but second goal affected our morale. If you can call it a collective failure, there are a few reasons for that - tough game, away game, intense.
"I wish we had played few competitive matches in between, but I know that the team will always get only better from here. We may be fresh physically but we need the rhythm. We need to be fresh mentally which can only come through positive results that gives the confidence," he concluded.
How do you stay up with football when on the move? With http://m.goal.com –your best source for mobile coverage of the beautiful game.