Nathan Hall has became the youngest head coach in the I-League, as he oversaw his side's narrow 1-0 loss to Mumbai FC, who themselves are coached by a young trainer in the form of Khalid Jamil.
Giving his opinion on what transpired in the game, Hall commented, "I had told the players to stop crosses from both wings as Yusif Yakubu and ND Opara are so stong in the air. I had warned they will try that all the time, and to concede in such a way with 20 seconds to go in the (first) half is very depressing. It is a big difference when you come into the dressing room trailing by a goal compared to 0-0 with having played the better football. Then the mood would have been up, instead they were deflated."
"For me, the game was fairly even and we held them off well. We passed the ball well, which is something we weren't doing in previous games, from what I saw in the videos I have gone through. We kept possession; we were probing and looking for spaces but lacked the final ball. It is obviously a problem that we are not scoring enough goals, but we need to work on it in a training session," the former Muang Thong United assistant coach added.
Having taken over the team only recently, the 27-year old stressed on how had he was trying to make his imprint on the team and was content with how things have progressed at the club in the last week.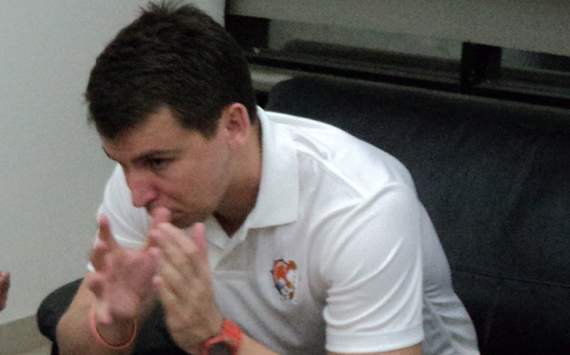 Hall felt his side gave a good account of themselves against Mumbai FC...
"I had a good week of training this week. Players understand me better now. We had a good week, we trained well. Spirit in the camp is very good. Everyone was motivated and focused on the match. Considering that Mumbai FC have been together for a long time, while we have been together for a short time, we can take credit for being the better team for long periods of the game. We created good chances but one mistake was the difference."
"Physically I thought we were okay, I have had 4 sessions till now with the team. I have no idea what they were doing before, but to be honest, I think the conditioning and the training program before was sub-standard. I am a modern coach, I have a background in coaching and sports science and we are going to improve, physically and tactically," the United Sikkim coach continued.
The Australian also mentioned that he has had no contact with Philippe de Ridder whatsoever, even though officially the Belgian is still at the club in an administrative capacity. He stated, "I have never seen or met him since my time here. Phillipe is not in-charge now, I am. I would be okay with meeting him for a coffee but I don't care about the past. I want to move forward. I and Bhaichung (co-owner of United Sikkim) have a good relationship. He knows it (change in fortunes) shall not happen overnight. Teams needs time to understand my ways and results will get better."
Giving more details about his background in football before joining United Sikkim and his playing philosophy, Hall revealed, "I was a head coach in Australia but at State league level, not A-League. I have come from Thai Premier League, which is the top league in South-East Asia by far. You see clubs like East Bengal come to Thailand and play Chonburi FC, where they get beaten by a huge margin."
"I have been coaching since I was 18, so I don't care about being younger than some of my players. I have been a professional since I was 22, I can coach and know how to talk to players and know how to organize the team. I am Australian and I don't like to lose and want to ingrain that in my players. Professional football is about winning."
Hall was under no illusion about the job he has taken up, and was realistic about how high the Snow Lions could aim this season. He was keen to stress that he would do everything in his power to see to it that United Sikkim are not embroiled in a relegation struggle at the end of the season.
"All I can do is work hard. I will work 15 hours a day to see that this team stays in the league. If we work hard then we will do okay. We need to improve our home form, which is the key. We are dropping too many points and that puts pressure on our away games. I don't want to be in a position to need 7 points from last 3 games, and want to steer clear of the relegation zone."
How do you stay up with football when on the move? With http://m.goal.com –your best source for mobile coverage of the beautiful game.