Ayush Srivastava




Analysis

|

I-League




Follow on
A little over 48 hours after Mohun Bagan refused to take the field citing security concerns, thereby making it the first ever Kolkata derby to be suspended, the blame game continues.
Certain sections of people are quick to point out that the stone or shrapnels that rained down on the players, in particular injuring Syed Rahim Nabi, came from an end largely filled by the Mariners faithful. The Mohun Bagan supporters meanwhile, justifiably, ask for evidence of the same.
Of course the referee's handling of the game, Odafa Okolie's gesturing towards the officials and the reaction of the Red and Gold's players have also come under the scanner as reasons for instigating the crowd.
Amidst all the hue and cry over the above issues, the real problem has been overlooked. Who allowed the fans to enter the arena with rods, glass bottles, stones and other projectiles which could be thrown on the pitch?
There is no way that anyone can defend hooliganism in the stadium, no matter what had happened on the pitch.
Agreed that such incidents are not India-centric, as even the Manchester derby saw coins being thrown on the pitch, but that was an act by a dozen or so fans, and did not end with a player in a hospital and 40 fans injured.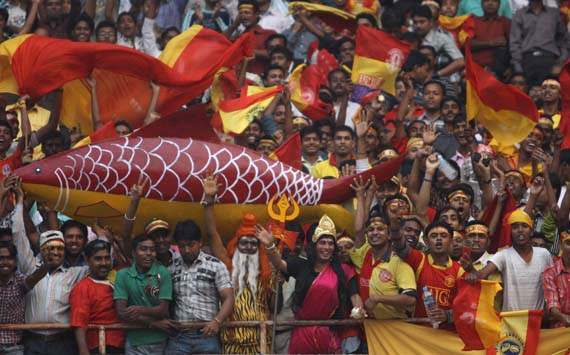 Flags and not rods, stones or glass bottles should be allowed in stadiums...
Therefore stringent action needs to be taken, as seen in countries like Italy, Greece, Turkey and other European countries, where flares and coins are often thrown in the stadium.
Clubs should be punished, in order to make fans think twice before resorting to such hooliganism. It is high time they are forced to either play in empty arenas or are fined points, which would help curb such incidents, as seen in the above mentioned countries with heavyweights like Fenerbahce, Besiktas, Lazio amongst others being forced to play their home games without an audience, and at times clubs have even been asked to play their games elsewhere.
Another method that could be used is to possibly install crowd netting, a method recently advocated by the English Professional Association (PFA) chief Gordon Taylor.
However while that would protect the players, which is of huge importance, it shall still leave the fans at the mercy of each other, and with police often resorting to brutal methods in order to discipline the crowd, often innocent supporters get targeted.
In a bid to stop this from happening, stringent checking needs to be done outside stadiums, to stop fans from smuggling in such stones, glass bottles and rods, which can lead to such unsavoury scenes.
With such lax security and little importance being given to the safety of the crowd, one shudders to think of the mayhem mischievous elements of the society could create, if they decided to. Especially considering the dilapidated state of the stadium, such that the broken steps and corners are used as concrete stones by fans!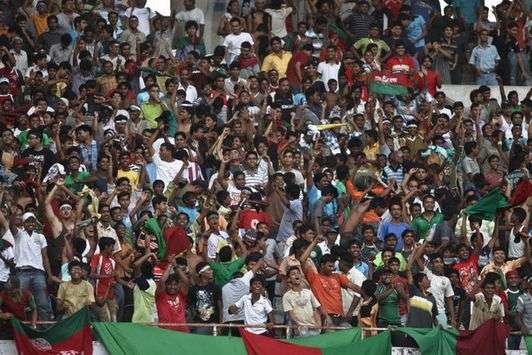 Fans and player safety is of paramount importance...
If cricket stadiums in the country, which often see huge crowds during International matches, can assure that the fans going into the stadium do not even get to carry a water bottle, then why can't the same be done in football arenas of the nation?
Infact if such a blanket cover and safety cannot be assured of, then such high profile matches should be moved elsewhere, both as a method to discipline unruly crowds, while also ensuring security of the spectators, who often bear the brunt of other people's mistakes.
It is unfortunate that an event that was expected to showcase the potential of Indian football market ended up as such a farce.
However if this is to end up as a rarest of rare slip-up, then a mixture of self control from fans and tough measures, including moving matches elsewhere, are needed from the authorities, to see to it that fans and players do not suffer due to such issues ever again.
How do you stay up with football when on the move? With http://m.goal.com –your best source for mobile coverage of the beautiful game.