The events of Sunday, December 9th 2012 will be another chapter in the history of the Kolkata Derby. The crowd at the Salt Lake Stadium decided to give their own verdict to referee Vishnu Chauhan's decision to send Mohun Bagan striker Odafa Okolie off by pelting the pitch with missiles one of whom struck Bagan's Syed Rahim Nabi.
Mohun Bagan did not send their players out for the second half of the match while their rivals East Bengal were already on the pitch. The Bagan officials had written to the All India Football Federation (AIFF) that decreasing player safety issues resulted in that decision being taken. Such an act as per
Article 22 in the I-League Rules and Regulations
is deemed an offence and can result in a ban from all competitions for upto two seasons for the club.
The AIFF however has decided to consult a former High Court judge, before taking a decision on banning one of the most iconic teams in India. "As per regulations, the AIFF is not obliged to call an I-League committee meeting to ban Mohun Bagan," claimed a senior official to
The Telegraph.
"But we don't want to take a chance… It is always safe to take a legal opinion as that would tell us where exactly we stand," he added.
This cautious approach is based on the assumption that Mohun Bagan will seek legal action if they were to be banned for two-seasons under the
AIFF Rules and Regulations
.
"According to the match commissioner's report, the law and order situation was under control and the match could have been continued," a federation official said. "A match commissioner's report is considered final, but we also want to be sure on the legal aspect," he added.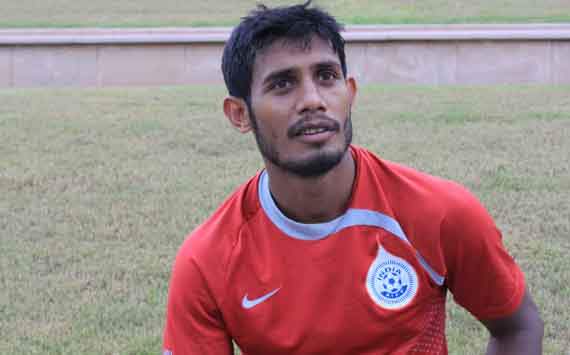 Mohun Bagan's Syed Rahim Nabi was injured during the Kolkata Derby
Gulab Chauhan, a former FIFA referee said that the police had the situation under control after Syed Nabi was struck in the face and the match was played for two-minutes till half-time after the security forces had given the green light.
Meanwhile Mohun Bagan has retaliated saying that player safety was not ensured by the Derby organizers East Bengal. "Nobody told us that after Nabi (Syed Rahim) was injured that the safety of other players would be ensured. It was East Bengal's home match. They were the organizers. But they never told us that they would ensure the safety of our players," said Mohun Bagan general secretary Anjan Mitra.
"When the commissioner of police of Bidhannagar City (Rajeev Kumar) can get hurt, how can the players feel safe?" Mitra questioned. Mitra said that the players were very disturbed after hearing about Nabi's injury and also went on to state that Bagan would be claiming compensation for Nabi's injury from East Bengal, till the time the player was fit to play for the team.
Syed Nabi has undergone surgery to repair a fractured zygomatic bone which was elevated, reduced and fixed internally by four-hole titanium plate with four screws. The wing-back was learnt to be stable after the surgery and is expected to be discharged within six days. The footballer,though,will be out of action for at least six weeks.
The Bagan officials have also asked coach Karim Bencherifa to go ahead with the preparations for their next I-League match, a home game against Pailan Arrows on Saturday at the Salt Lake Stadium. "We will start training for our next assignment from Tuesday. I will make sure that the players focus is only on the game and no other issue is on their mind," said Bagan coach Bencherifa, who was at the Salt Lake Stadium on Monday to watch Arrows in action against the Churchill Brothers.
Mitra also said that the club would approach FIFA and Asian Football Confederation (AFC) is justice was not delivered to them.
AIFF president Praful Patel had a round of discussions with senior officials including general secretary Kushal Das. Patel had reportedly asked Das to consider all possible angles before reaching a decision. The federation, on receipt of a positive legal opinion, will call for a disciplinary meeting to issue the ban on Mohun Bagan. However this decision has to be taken before the Mariners take the field against Pailan Arrows on Saturday.
East Bengal midfielder Mehtab Hussain was against any ban being slapped on the Mariners. "East Bengal and Mohun Bagan are integral parts of Indian football. It's unfortunate that Mohun Bagan didn't want to play in the second half. It's up to the AIFF to decide what kind of punishment will be meted out to them. But personally speaking, I'm against any move to ban them. Had it been a case against East Bengal I would have taken a similar stand." Mehtab told the
Times of India
on Monday.
East Bengal secretary Kalyan Mazumdar too echoed Mehtab's sentiments to the
Times of India
. "A lot of damage has already been done to Bengal football, we don't want any further harm via a ban slapped on Mohun Bagan
,
" said Mazumdar.
How do you stay up to date with football when on the move? With http://m.goal.com – your best source for mobile coverage of the beautiful game.