Karim Bencherifa
is a master of mind games and he takes the pressure off his side ahead of the derby. He backs his skipper
Odafa Okolie
to come good against the arch rivals and wishes all the best to his former club – Salgaocar FC.
Here are the excerpts of an interview with the Mohun Bagan coach:
Goal.com: Do you think East Bengal are odds-on favourite for the game?
Bencherifa: Taking into consideration their current position, form and options available for them and also our issues with injuries of many key players, the answer is yes. But the derby is a strange game and anything can happen.
Goal.com: Still, with the poor start to the season in general by the Mariners, do you think the pressure is on you and the players to get a positive result?
Bencherifa: We are aware of our responsibilities and the challenge we have in hands but this is a difficult time and we need all our fans and supporters behind us.
Goal.com: What was your most memorable moment in the derby from your last stint as
coach of Mohun Bagan?
Bencherifa: All of them were full of emotions; we lost few and won many. Of course the special one was the 5-3 (win over East Bengal) as it meant a lot to the fans.
Goal.com: Having coached in the two traditional hotbeds of football in India, Goa and Kolkata, is there any other match that comes close to the intensity we see in this Kolkatan derby?
Bencherifa: With intensity, pressure number of fans, no game can be compared to the derby.
Goal.com: Has the come from behind draw against Pune FC lifted morale in the camp?
Bencherifa:Absolutely. We had started the game with many injuries, we was also forced to make 2 substitutions because of injuries. Also the momentum was with Pune FC and yet we came back from 2-0 down to draw that shows the character and fighting spirit of the team.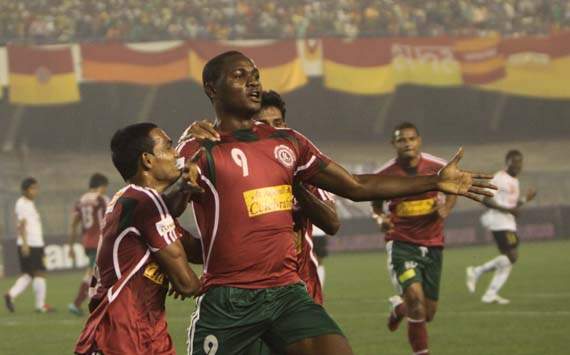 Can Odafa spring his magic against East Bengal?
Goal.com: With East Bengal strikers not having a particularly great season, do you think Odafa Okolie's form might decide how the tie goes?
Bencherifa: I think the strikers of East Bengal are still doing a good job. And yes, Odafa can decide any game he is involved in. He has always scored and even at times man of the match in the derby.
Goal.com: Your teams are known to play a certain brand of entertaining football as well as have a lot of runners on the flanks – wingers/full-backs. With Bagan players suffering many muscle injuries, would you still want to persist with the same strategy or opt for an alternative?
Bencherifa: Strategy will definitely depend on the players available and also on the opposition. We will have to adapt to the situation we are in.
Goal.com: How different is the Bagan team now than the one you had coached earlier. What do you think has changed?
Bencherifa: Each team has its plus and minus points. I am not looking at the past I have to focus on the current players I have at the moment.
Goal.com: Having the number of injuries in your squad, will Mohun Bagan be active in the January transfer window?
Bencherifa: It's not that easy as it depends on the budget if available. I wouldn't mind taking few players on loan especially in some positions.
Goal.com: Lastly each time Bagan draw or lose, several fans have taken this as an opportunity to take a swipe at you for having left Salgaocar FC which they perceive as an act of traitor ship. How would you want to explain to them once and for all to end the perceived animosity?
Bencherifa: Past is past and I have moved on already. I wish luck to Salgaocar FC and I do respect the fans. There are several of them who have and still support me. There will be some disappointed ones but that fine, its football.


How do you stay up with football when on the move? With http://m.goal.com –your best source for mobile coverage of the beautiful game.