Trevor Morgan
has brought in a sense of stability to
East Bengal
since his arrival at the club. The Englishman has made them a title contender and one of the strongest sides in the country.
In an interview with
Goal.com
, Morgan explains that how form doesn't really matter going into a derby game and that his side are ready to sweat it out to seize the three points this Sunday.
Goal.com:
With Mohun Bagan's recent struggles, do you think this is a match that your side is odds-on favourite to win?
Morgan:
Recent form is not a concern in the Derby game, we have been on a good run recently with a high standard of performance being achieved constantly. In any I-League game at the moment teams are capable of beating each other on any given day. We know that to get three points we will have to work harder than the opposition, be strong and resilient in defending and ruthless in front of goal
Goal.com:
Do you think the team has sacrificed some attacking intent in its bid to stay a solid unit at the back?
Morgan:
That is for other people to decide, in my opinion we are a hard side to play against and break down and we create opportunities in every game we play in. A large percentage of goals conceded come from errors made by your own side. At the moment as a team we keeping these mistakes to a minimum.
Goal.com:
How much pressure is there on you as a coach, when heading into the Kolkatan derby, with the scrutiny being so intense, from both media and fans.
Morgan:
The majority of the pressure is put upon us by the media, we have tried to do things in a more professional way by not giving full access to the media of our players and training sessions and by the captain and myself talking at a press conference the day before games as well as immediately after the match.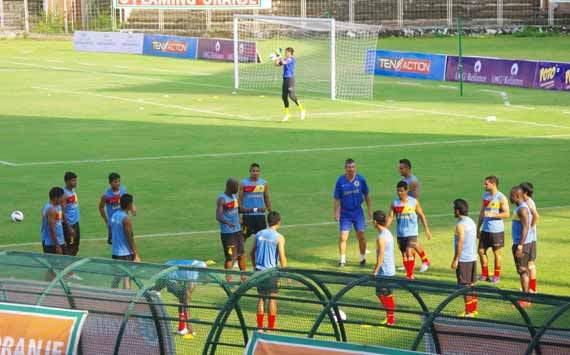 Trevor Morgan and the boys feel relaxed
As there is nothing to report on during the build up, from our side anyway, there is less chance for the players to be put under the microscope here so they will feel more relaxed going into the game which is a good thing.
Goal.com:
Do you prepare differently for a match of such magnitude or follow the usual routine?
Morgan:
No, we do nothing differently. I try to keep training as familiar as I can for the players and keep them as relaxed as possible. Matchday is another matter completely as the adrenalin flows and the players prepare for the kick off, the importance of the game is very evident then
Goal.com:
Since you have come to India, how surprised have you been by the extreme emotions that the derby between East Bengal and Mohun Bagan evokes amongst both set of supporters? Have you ever been disturbed by any of it?
Morgan:
Any Derby game evokes passion, no matter what country it is played in or what teams are competing. There is always animosity between sets of rival supporters and I believe they should support their team as passionately and as vocally as they can inside the Stadium.
Once the game is over so the rivalry should be as well and I hope both sets of supporters can adhere to that.
Goal.com:
Overall, how hard was it to settle in a system as unique as that of Indian football, since you came here?
Morgan:
It was very easy as the players at East Bengal made it that way for me. From day one they have worked hard, learnt, listened and bought into the system we play and are maturing as footballers
Goal.com:
Any special plans for Bagan's in-form striker Odafe Okolie since he poses the biggest threat for your team?
Morgan:
No, none. The players are aware of what he can do and his strengths but the game will be about what we do not what the opposition do
Goal.com:
It has been suggested that East Bengal have a good squad so much so that they can field two different starting XI's at a time when Bagan are struggling with injuries. Do you take this as a compliment of a good summer transfer strategy or a sarcastic remark to ease the Mariners off the pressure?
Morgan:
Our bench is the strongest it has been since I arrived, it is good to know that we have players who can change games on the sideline if all is not well. All teams get injuries and suspensions that is why having a good squad is important especially given the amount of games we are involved in over a season.
I cannot make any comment an any other teams policies, that is there own decision
Goal.com:
Would you still want to sign a fourth foreigner in the January window?
Morgan:
Yes, hopefully Andrew Barasic will be joining us in early January
.


How do you stay up with football when on the move? With http://m.goal.com –your best source for mobile coverage of the beautiful game.