Japanese striker Seiya Sugishita made his I-League debut for Sporting Clube de Goa in a round six encounter against United Sikkim and scored to help his side register a win. Though the Flaming Oranje haven't been in the best of forms, Sugishita continues to impress with his tireless displays for the Goan side.

"I was so eager to play [in the I-League] and make a good impression that I was very focused on performing for the team," said the 23-year-old.

"However with that being said, reflecting on the game I noticed that the game here is much more direct than in Japan which is something I quite enjoy," he added, referring to the quality of football played in India.

Given that Sugishita is not fluent in English, he believes that football breaks the language barriers and that a team-mate body language is enough for him to understand what they mean.

"I try my best to communicate through body gestures and basic phrases. And I also think that we've all been playing football for such a long time that to a certain extent, even if you don't speak the same language, you can click with your teammates," he reasoned.

"I had an offer to join Tokyo Verdy (J2) but I turned it down," Sugishita went on to reveal.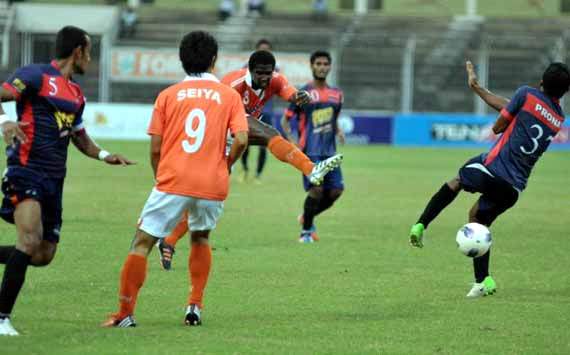 Seiya Sugishita enjoying his first stint in the I-League

Seiya Sugishita however admitted that he had limited knowledge on the I-League before joining the circuit.

"To be honest I didn't know too much about the I-League until Libero Sports approached me and spoke about it," he explained. "They told me what an exciting league it was, and after that I was eager to join something that's progressing every year.

"I think the experience of living abroad while doing something you love is a big factor. Japan is an island-mentality country and chances to play abroad are hard to come by. I am very pleased that the likes of Ryuji Sueoka play here (Dempo SC) because it has made my move so much easier," he continued.

"He (Sueoka) has helped me to settle and I think with more and more Japanese players arriving, people in Japan will take notice and there will be more players wanting to move out here."

Sugishita played for Kagoshima Highschool in Japan which is a famous footballing-school and thereafter moved to Shobi University, where he played in the first division of the University League.

"I had a few trials with J-League teams after but none of them seemed to work out for one reason or another. Soon after Libero Sports, and their consultant Mr. Mukai approached me and here I am today," he signed off.


How do you stay up with football when on the move? With http://m.goal.com –your best source for mobile coverage of the beautiful game.