The Salgaocar General Secretary has responded to Karim Bencherifa's statements in the media regarding his sudden resignation...
Salgaocar FC
have been silent regarding the matter of
Karim Bencherifa
's sudden resignation but the coach's recent statements in the media have shocked the club's officials and fans alike.
"It is difficult to understand what Bencherifa is trying to do" said R.A.J. Gomes, General Secretary of the Goan club. "Despite hearing that he has been seeking meetings with other club Presidents and local officials to give them his version of his resignation, we were gracious enough to not even comment on his departure till his latest public expression of displeasure," he continues.
Bencherifa is understood to have sighted several reasons for his resignation - young players, the management's lack of trust in him, misunderstandings, and mistreatment.
"I really don't know what to make of this maneuvering; there is no need to create confusion around the issue when it is clear that he left Salgaocar at the beginning of a season, for a better offer" said Gomes.
It is fairly surprising that the coach has decided to find fault in his young team after he benched several senior players last year.
"There is no doubt that he is an excellent coach" declares Gomes. "We won the I-League in 2010-11 under his guidance with young players. Of course he has hasn't left Salgaocar because of the fresh team - getting the most out of players is his forte. In fact after all the negative feedback that appeared in the media and social networking sites about senior players leaving Salgaocar last year because of the coach, I'm amazed that he has mentioned this as a cause of unhappiness, especially after Salgaocar has only supported him during that phase."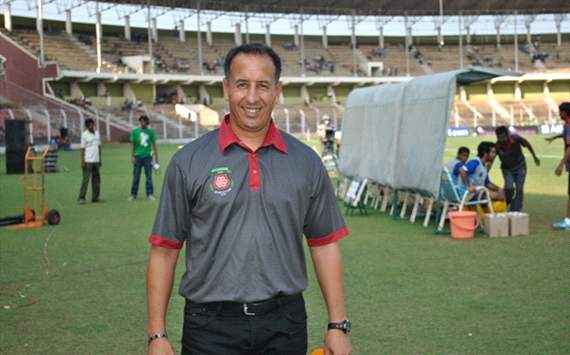 Karim Bencherifa's longest stint with an Indian club was at Salgaocar
Bencherifa has gone about trying to silence talks of him being a 'traitor' from fans and media by claiming that he sacrificed the opportunity to coach the national team in favour of Salgaocar but the fact remains that a coach cannot take up that particular post without the prior consent of the club he is attached to at the time.
Gomes was notably surprised at Bencherifa's accusation that the club should have treated him better andresponded, "He has been with Salgaocar FC for almost three years, the longest he has been with any club. You are quite mistaken if you think Karim would take any sort of mistreatment lying down, that too for so long."
Gomes went on to expresses his dismay over Karim's desire to leave Salgaocar FC on a lighter note - "Just as it is difficult for a coach who is fired mid season to leave a club on a happy note, it is difficult for a club to be happy about their head coach resigning for a higher bid, two months into the season. Karim understands that I'm sure, he's not unrealistic"
He remains bemused by Bencherifa's statement, 'It's not all about the money, but the family too does require security.'
"In fact just at the beginning of this season, Karim mentioned that he would want a three-year contract with Salgaocar as his wife and children need stability and want to settle down in one place. Less than a month later, he has moved to Mohun Bagan for an 18 month contract. Maybe his definition of stability has changed now," he says.
"The irony is that just two days before he resigned, he sent our club President an article from
The Hindu Business Line
about the wrong-doings of Mohun Bagan's management and Officials regarding the career and reputations of their coaches," he concluded.
Meanwhile, Karim Bencherifa seems keen on putting the whole experience behind him. "I have moved on from Salgaocar. As of now, I am focusing only on the next game against Mumbai FC", he determined.
How do you stay up with football when on the move? With http://m.goal.com –your best source for mobile coverage of the beautiful game.