Former
Mumbai FC
players, Friday Gbeneme, Ebi Sukore and Kingsley Chioma are yet to receive their salary for May 2012, according to their agent Adewale Abdylateef Seriki.
The trio weren't paid for the last two months of their contract until August this year wherein Mumbai FC cleared the due for the month of April, but not of May.
"They (Mumbai FC) had promised to pay April salary by end of May and the salary of May by middle of June respectively," Seriki told
Goal.com
.
"Furthermore I had to tell my players to vacate their flat after their last match (of last season) and that their due will be sent to them, which I conveyed to my players. Unfortunately the promise was not kept and after many calls, they (Mumbai FC) later paid April's salary in August instead of the promise to pay my players in May," he revealed.
"My players have been patient for so long, but Mr. Atul Badgamia (Mumbai FC official) showed no indication of paying my players. First he said June, later July, later he said August and later shifted to September," he added.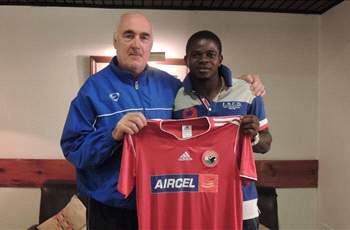 Friday Gbeneme, who is currently playing for I-League side Shillong Lajong FC this season, feels very disappointed with the attitude of Mumbai FC over his unpaid salary.
"I haven't received my salary for the month of May [2012] and I am very disappointed at the attitude and behaviour of the club. They are not being professional at all. They promised that they will pay us immediately after the season but unfortunately they have not kept their word and we feel so cheated," he exclaimed.
"I met the manager last month, and he said that he will pay within three months, that is by December, he will clear everything. But I fear that it might not happen," he added.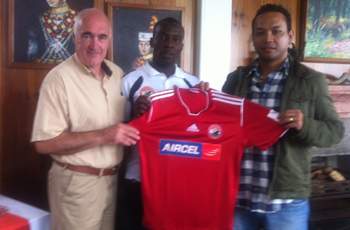 Ebi Sukore, also at Shillong Lajong, mentioned that the club needs to get their act together and not behave unprofessionally.
"I feel terrible because I contributed so much towards Mumbai FC. I was with them for two seasons and scored 23 goals in all competitions. So, to treat me this way is unacceptable.
"When the season got over, they asked us to vacate our appartment. They said that they will send the money to Nigeria. They initially had to give us three months' salary (March, April and May 2012).
"At present they have to pay us only of the month of May (they cleared of March and April recently). But it is taking them so long to pay us our money and it's six months now."
Sukore went on to question how Mumbai FC is paying their new recruits while keeping their salaries pending. "What surprises me is that, the club has signed new players and from what I heard, they are paying them good money and it is really sad to know that.
"We were the ones who worked so hard for the club, to help Mumbai FC stay in the I-League, but the club cannot even pay us our hard earned money," he continued.
"We have been thinking to approach the AIFF (All India Football Federation) about this issue or maybe even go to higher authorities because they (Mumbai FC) should pay and clear all the payments of the former players. Only then should Mumbai FC should think about signing new players."
Goal.com
also contacted Mr. Atul Badgamia of Mumbai FC to seek his clarification on the said issue. "We (Mumbai FC) never said we're not paying them. One month's payment is pending, yes. It's not only theirs. There are a lot of other players whom we were not able to pay," he told
Goal.com
.
He agreed that the club had promised the players' that the salary for the month of May will be cleared by the end of the current calendar year.
How do you stay up with football when on the move? With http://m.goal.com –your best source for mobile coverage of the beautiful game.