Dempo coach Armando Colaco believes that his team were hard done by some questionable refereering in their I-League match against East Bengal last week.
"The referee overlooked a clear penalty. Ryuji Sueoka was brought down. That is a sure penalty. Instead the referee shows a yellow card to my player for diving. Everyone knows what happened. The East Bengal player admitted to it, their coach too admitted it was a penalty," said Colaco.
When asked if the club would be appealing against the decisions, Colaco said that no further action would be taken. "What I said against the referee was in the spur of the moment as it was a tightly contested match. But the referees have to know where they are going wrong in such crucial games. I have never complained against match officials and we will not be pursuing this matter further," he added.
Colaco then expressed that despite those refereeing decisions, he was happy that his team came away from Kolkata with a point.
"East Bengal is always a tough place to get a result. Our record there has not been good. To come away with a point is special. I'm happy with the performance," said the former Dempo player.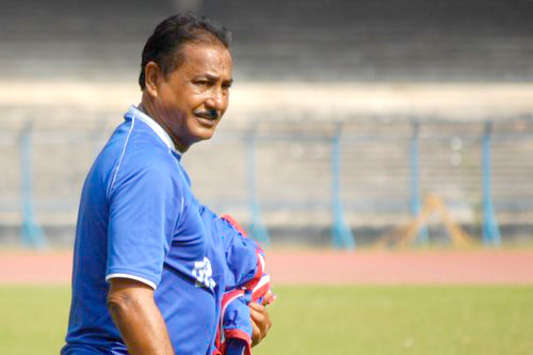 'Happy with draw against East Bengal'- Colaco
Colaco also took time to share his views on the passing-based game that coach Wim Koevermans is attempting to implement with the Indian national team.
"I have always been an advocate of possession football. It is not something new. My team have been following this approach religiously over the years. Now every side wants to play just like that and score goals," stressed Armando.
The veteran coach also highlighted the role of senior players in a team and said that youngsters in every team must look up to them as they have so much experience to share.
"Players like Climax Lawrence and Samir Naik bring so much to the team and youngsters learn so much from them. Senior players are very important in a team setup," Armando told
Goal.com.
When asked about the issue of Sanjoy Sen's impending departure from Prayag United, Colaco minced no words when he said that the Indian people and media do not respect their own coaches.
"Hasn't Sanjoy Sen done wonders with that club? Look at the football they are playing. Our people don't have trust in our own players and coaches. They feel that an Indian coach will not know anything about football. That attitude has to go," said the 59 year old coach.
The Goan has also been involved with the national team for a brief period and believes that the fact he wasn't offered a longer contract by the All India Football Federation (AIFF) was another instance of not respecting the work of an Indian coach.
"It's a case of Indian coaches not getting respect. My methods were well received by the boys. They adapted to it well. I asked for 3-years from the All India Football Federation (AIFF). I did not get it," recalled Armando.
Colaco also revealed plans regarding the opening of Dempo's football academy cum school near Old Goa. This, according to the former Dempo captain, is being done so that the youngsters will not have to travel elsewhere for their education and will be living and training inside the academy premises
How do you stay up with football when on the move? With http://m.goal.com –your best source for mobile coverage of the beautiful game.