Played
April 17, 2013 6:30 PM IST
Tilak Maidan Stadium — Vasco da Gama, Goa
Referee:‬ P. Singh‎
FULL TIME: Churchill Brothers SC 2-2 Dempo SC
90′ +3
SAVE!!! Antchouet's shot blocked by Roychowdhury and the rebound mistimed by Jaison
90′ +3
Antchouet flagged off-side
90′ +2
Godwin Franco's flag-kick caught in the air by Churchill keeper Nandy
90′
Three minutes added time
89′
Antchouet's shot blocked again
87′
GOAL-LINE SAVE!!! The ball was still in play and Antchouet's header across the face of the goal was headed away just in front of the goal-line by Dempo defender Samir Naik, after a cross was sent in by Churchill substitute Jaison Vales
87′
SAVE!!! Dempo keeper Roychowdhury blocks a powerful right-footer by Lenny
86′
Substitution
Bineesh Balan
Jaison Vales
86′
All substitutions done with, while the Churchill subs have shown more promise on the pitch
85′
Substitution
Koko Sakibo
Joy Ferrao
84′
Both, Dempo's Sueoka and Churchill's Chhetri still look like their full of energy as both sides seek a winner
81′
Substitution
Anthony Pereira
Nicolau Borges
80′
Antchouet tries to find Arezou..cleared by Samir Naik and a feable shot by Churchill's Gabonese striker goes rolling towards Roychowdhury
78′
Good play between Chhetri and Arezou...the latter crosses in...but Antchouet's shot is blocked by Samir Naik
77′
Asley Fernandes' shot...straight to the Dempo keeper
70′
Substitution
Clifford Miranda
Joaquim Abranches
69′
Yellow Card Climax Lawrence
68′
Yellow Card Samir Naik
67′
Sueoka falls short of a cross in the area as Dempo aim for a fight-back
64′
Substitution
Sudhakaran Naveen Kumar
Satish Singh
64′
CLOSE!!!! Lenny's shot from the right is sent out by Roychowdhury on the far side
57′
It's a neck-to-neck affair out here
55′
No match can get as exciting as this when you're shouting from the stands especially
53′
Goal Sunil Chhetri
GOOOAAALLL!!!! It's Chhetri again....his free-kick beats Dempo keeper's outstretched arms towards Roychowdhury's right
52′
Peter Carvalho was guilty of bringing down Asley Fernandes
51′
Churchill with another free-kick
48′
It would be interesting to see who scores first in the second half
46′
Second half resumes
HALF-TIME: Churchill Brothers SC 1-2 Dempo SC
45′ +1
Goal Climax Lawrence
GOOOAAALLL!!! Dempo regain the lead as Koko Sakibo sets up Climax Lawrence inside the Churchill box, and the latter smacks it past Nandy
45′ +1
Assist Koko Sakibo
45′
Two minutes added time
44′
Goal Sunil Chhetri
GOOAAALLL!!!! Chhetri places the ball at the back of the net rather easily off the resultant free-kick
43′
Dempo defender Samir Naik brings down Chhetri just outside the penalty area for a Churchill free-kick
40′
BALAL AREZOU!!! moves around the left wing and shoots...but wide!
38′
It's hard to say which is the better team today, as Churchill and Dempo are sweating it out
36′
SAVE!!! Chhetri's shot from the edge of the box, after being squared by Balan, thwarted out by Dempo custodian Roychowdhury
32′
CLOSE!!! Dempo's Peter Carvalho clears the ball in the air against an onrushing Arezou, as Antchout charges in an innovative shot wide
30′
Lenny's shot blocked by Godwin, who almost instantly gave it back to the red shirts, saved by an alert Peter Carvalho however
29′
Yellow Card Anthony Pereira
27′
OHH!!! Denzil's failure to effect a clean clearance could have had his side in trouble if it wasn't for a cover-up by his team-mate Tamba against the run of Sakibo
26′
Churchill meanwhile need to keept he pressure on East Bengal in the title race, also having to play a double-tie against Mohun Bagan among their remaining fixtures
25′
It's a steap task for Dempo to climb up to to the third spot, but they can regain the fourth place if they win this match
23′
Churchill Technical Director Subhash Bhowmick forced to make the early change after Steven Dias injured himself by kicking the bench
22′
Substitution
Steven Dias
Balal Arezou
21′
Miranda's cross for Sakibo, but Tamba cuts it out
19′
Sueoka's cross drops into Nandy's lap
18′
Dempo also seem to be cutting out almost all of Churchill's forward arrays in their own half
16′
Dempo look like an all new side as compared to the one we saw in the last match...the passing seems to be going right
15′
SAVE!! Sakibo moves ahead fluently and releases the goalscorer on his left, but Churchill keeper Sandip Nandy charges out of his line to block Sueoka's shot on target
12′
Goal Ryuji Sueoka
GOOAAALLL!!! Debabrata overlaps on the left wing and picks out Ryuji Sueoka, who was unmarked across the face of the goal, as the Dempo man headed home gloriously
12′
Assist Debabrata Roy
9′
Chhetri and Antchouet seem to be marked well for the moment
8′
Balan shoots from distance
5′
It's a quick game on the cards today from both sides as the two Goan teams battle for possession
3′
CLOSE!!! Balan's header off a Steven Dias cross is tipped above the bar by Dempo keeper Subhasish Roychowdhury
2′
Yellow Card Peter Carvalho
2′
Churchill free-kick as Carvalho fouls Denzil
1′
And we're underway...Dempo in white from right to left
TEAM NEWS

Churchill Brothers SC: Nandy (gk), Denzil, Ravanan (c), Tamba, Naveen, Steven, Lenny, Asley, Balan, Chhetri, Antchouet

Churchill Brothers Subs - Thapa (gk), Satish, Yumnam, Balmuchu, Biswajit, Jaison, Arezou

Dempo SC: Subhasish (gk), Debabrata, Carvalho, Selwyn, Samir, Miranda (c), Climax, Anthony, Sakibo, Sueoka

Dempo SC Subs - Kattimani (gk), Borges, Shallum, Menyongar, Romeo, Joy, Abranches
Also worth looking at: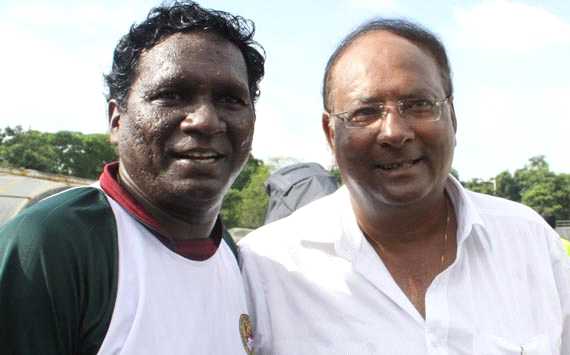 The veteran Technical Director has overseen his team's chances from also-ran's to title contenders in the I-League...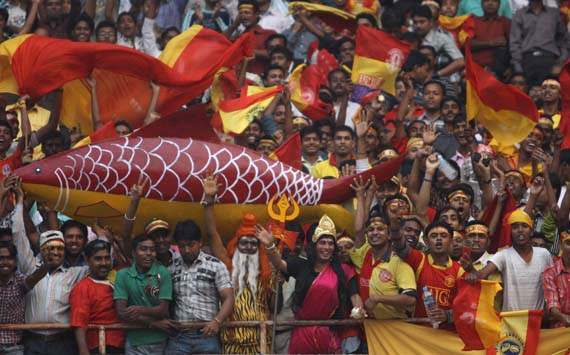 With Churchill Brothers still to play a double header against a Mohun Bagan battling relegation, they might just help out the floundering title challenge of rivals, East Bengal..
Churchill Brothers can take a huge step in their quest towards becoming the I-League champions of the 2012-13 season if they defeat Armando Colaco's Dempo. The Red Machine are on the back of a 1-0 loss to Warriors FC in the Asian Confederations Cup (AFC) Cup and will look to avoid an extension of that in the I-League.
FACTs & STATs:
Churchill Brothers have won only one of their last five encounters with Dempo SC.
Churchill Brothers are one among two sides in the I-League who have conceded less than 20 goals this season with 19 goals. East Bengal is the other team to have been breached only 15 times this season.
In the nine home games that Churchill Brothers have played this season they have lost only once while Dempo SC have lost three of their six home games.
Dempo head coach Armando Colaco is also believed to be absent from the technical area, assistant Mauricio Afonso hence taking over
Star midfielder Beto is still out injured and Churchill Brothers head coach Mariano Dias being in Germany, the club's technical director will take over the bench
Can the Red Machine take one step closer to the title?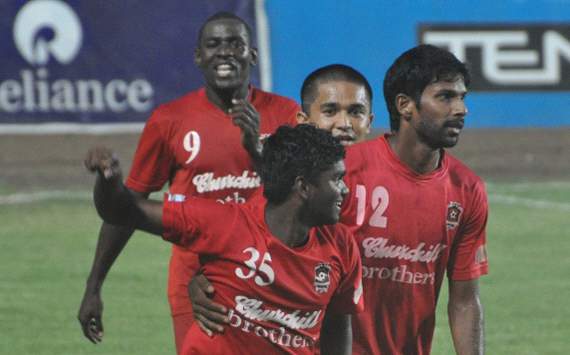 I am Anselm Noronha and you may follow me on Twitter - my handle is @apnoronha
Welcome to Goal.com's LIVE updates as the Red Machines take on the Goldon Eagles in the Goan derby I-League clash at the Tilak Maidan in Vasco, Goa...
Live Final scheduled Suspended Cancelled Postponed