Played
April 23, 2013 6:15 PM IST
Stadium Shah Alam — Shah Alam

Selangor - East Bengal Preview: Red Giants look to revive their AFC Cup campaign against group leaders
Irfan Bakti's men can close the gap on the group leaders if they win against Trevor Morgan's side
By Nik Afiq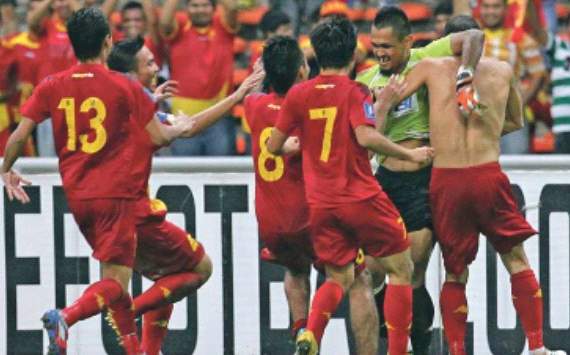 SELANGOR Razali;
Mahali, Nasriq, Griffiths, Asraruddin;
Kubala, Veenod, Jusoh, S. Kunanlan;
Ramzul, Azmi

EAST BENGAL


Abhijit;
Naoba, Okpara, Gaikwad, Saumik;
Khabra, Mehtab, Ishfaq;
Penn;
Barisic, Chidii

Selangor will go into this match still without their import star striker, Francis Forkey Doe, and the absence of the powerful forward has been felt by the whole team in their recent fixtures in the M-League.

The Red Giants were knocked out of the FA Cup by Johor Darul Takzim after a penalty shootout, and in that match they were never the same team following the injured Forkey's substitution in the second half. In last weekends match against bottom side Negeri Sembilan they were also toothless and could only manage a 0-0 draw.

In the AFC Cup, Irfan's men look set to go all out in what is a make or break game for them. They failed to pick up any wins in their first three games, including a loss to East Bengal in their opening match. However, a win against Sai Gong in their last match has given them hope that they can close the gap on the top two if they pick up maximum points here.

East Bengal, on the other hand, will want to continue their fine form in the AFC Cup after picking up 10 points out of a possible 12 in their first four games in the AFC Cup.




S. Veenod of Selangor


This is East Bengal's fourth consecutive venture (seventh overall) in the AFC Cup and this year they have qualified by becoming Federation Cup champions.
East Bengal holds the unique record of being the first Indian club to reach the quarter-finals (knockout stage) in their maiden appearance in the AFC Cup in 2004.
In 2008, East Bengal became the first Indian side to win against a Middle-Eastern team at home, when they defeated Al Wheedat of Jordan 2-0 at Amman.
Selangor are currently third in the Super League, four points adrift of league leader Lions XII.
Selangor's best performance in AFC competition was in 1967 where they came second in the Asian Club Championship.
East Bengal and Selangor have met once before this season, in the 1972 IFA Shield in Kolkata wherein the Indian outfit emerged winners by a margin of 2-0.
Field Report
Top 3 Predictions
Selangor 0-2 East Bengal F.C.

17.86 %

Selangor 1-2 East Bengal F.C.

10.71 %

Selangor 2-0 East Bengal F.C.

8.93 %