live
Chime in with Goal.com and other users and share your opinions.
Euro 2012 Day 16 LIVE - Spain vs France
Join Goal.com as we build up to the third Euro 2012 quarter-final between Spain and France tonight. Send us your comments
@goal_india
and
Facebook
235257
2012-06-23 20:50:00
Laurent Blanc, visibly disappointed had this to say...


It was possible (to beat the Spanish team). We planned things, but they didnt work. But we have shown much solidarity, and we much ran to fill the spaces. We have had a few opportunities to score, and I am only sorry that the Spanish have scored in their first opportunity. Because they had possession, but not opportunities. If it was entered at halftime with 0-0, we would have had a little more moral for the rest of the match..
When we lost a match, it still lacks something. I don't know if it is the ambition, or the technical correctness. But the boys gave everything. We planned things, and when it fails, it is certain that things are missing, as percussion.
I don't know if its our level (quarter-final), but what I know is that the great nations of the Euro will be present in semi finales, and not us
235255
2012-06-23 20:45:00
Nice night for Xabi Alonso. Two goals, his 14th and 15th for Spain, and a 100th cap for the Basque midfielder. It couldn't have been much better. Spain are in the semi-finals and a mouthwatering meeting with Cristiano Ronaldo awaits. Partidazo and if Portugal learned anything from tonight, it will be to not play like France. Benzema needed to show up - and he didn't. Nor did his team-mates. Spain don't score many, but they are still on target for a third major tournament in a row. Can anyone beat them?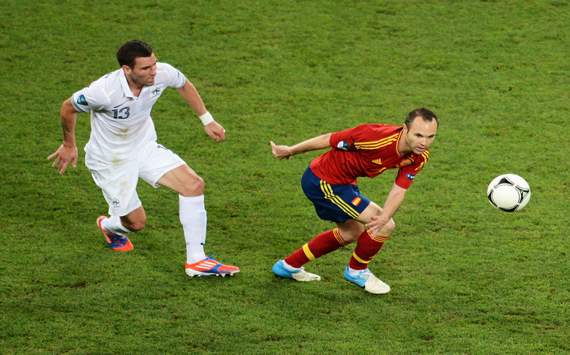 235253
2012-06-23 20:40:00
235252
2012-06-23 20:40:00
PASSING ACCURACY IN THE OPPOSITION HALF: Spain 88.5%-65.6% France.
Fireworks light up the night sky in Barcelona as the city celebrates Sant Joan, but there are few fireworks now in this match and France, incredibly, are still in it. Fernando Torres looked level as he went through on goal moments ago but was adjudged offside. "What a shame," the commentators complained on Telecinco. It would have been, had he scored it. But he didn't - and there is the feeling that Spain are still winning within themselves.
235251
2012-06-23 20:35:00
"Jump, Guignols, jump!!", the Spanish fans celebrate their team's victory by dedicating it to the French TV show that has stirred the controversy between the two nations once and again by accusing the Spanish top athlets of doping.

FULL TIME: SPAIN ARE THROUGH TO THE SEMI-FINALS TO PLAY PORTUGAL!!!

235248
2012-06-23 20:32:00
And Pedro is brought down in the box. Its a PENALTY!!!!
Xabi Alonso steps up and Scores. Game Over. 90' Spain 2-0 France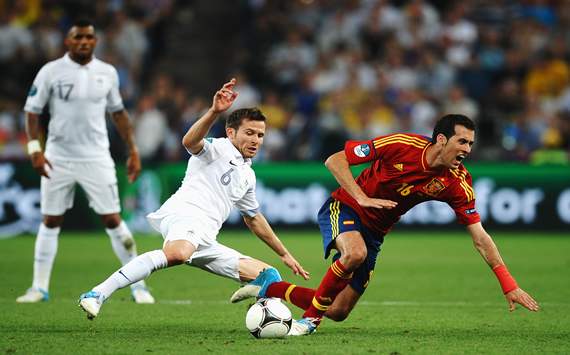 235241
2012-06-23 20:27:00
So Santi Cazorla walks in and the man Zidane said who is as good as he was, Andres Iniesta is off. 6 minutes of normal time to play for.
235237
2012-06-23 20:20:00
Long ball up to Benzema is nodded down the nobody. Menez fouls Alba and gets booked for his reaction, he will mis the semi-final if France manage to sco... hmmm yeah.

Oh and finally Olivier Giroud makes his appearance. Off comes the anchor, Yann M'Villa
235234
2012-06-23 20:15:00
Crikey this game is dull. France doing a Spain and just knocking the ball around only without the clever movement and killer pass that La Roja occassionally muster.
235228
2012-06-23 20:10:00
Changes on both sides. Menez and Nasri on for Debuchy and Malouda for France

Meanwhile for Spain Torres on for Fabregas and Pedro on for Silva.
235221
2012-06-23 20:00:00
France
, sort of attacking as
Debuchy
trundles his way into the box but trips
Alba
and a momentum-killing free-kick is given.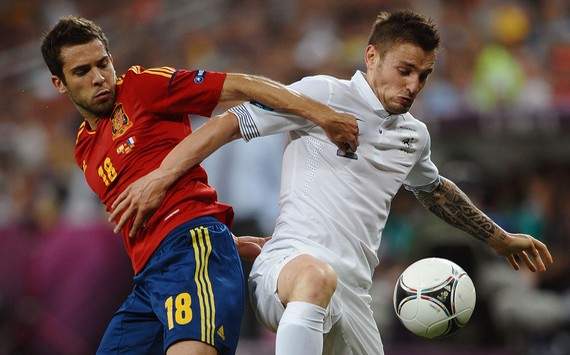 235206
2012-06-23 19:50:00
Can
Karim Benzema
come up and score in the second half?
235201
2012-06-23 19:48:00
235199
2012-06-23 19:45:00
Some thoughts on that first half from our Spain Expert, Ben Hayward, "Xabi Alonso is Spain's number 14 and his header to put Spain in front after 19 minutes was his 14th international goal on what is his 100th appearance for La Roja. At the moment it separates the two teams following a first half almost entirely dominated by Vicente del Bosque's side. And on this evidence, Spain will be playing Portugal in the semi-finals. In order to avoid that or to try to at the very least, France need to come out of their shell in the second period."
235192
2012-06-23 19:40:00
Here is the man of the moment.
Xabi Alonso
who scored a brilliant header on his 100th appearance for La Furia Roja.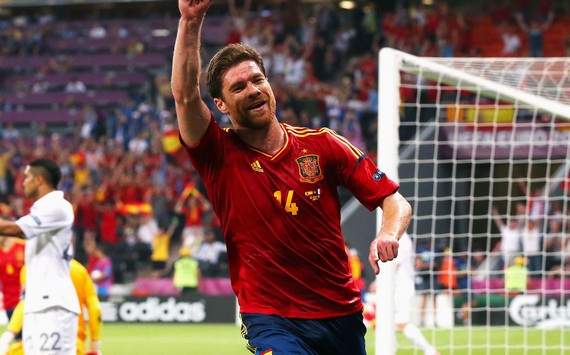 235187
2012-06-23 19:32:00
And its half time and Spain lead France by 1 Goal.
235179
2012-06-23 19:20:00
We've got 34 minutes on the clock and
Spain
have already made over 200 passes, while enjoying two thirds of the possession, don't believe me? Check the
Live Match Centre
and get involved with the chat on the sidebar!
235154
2012-06-23 19:06:00
GOAL!! SPAIN (ALONSO) 1-0
FRANCE
And Xabi Alonso puts Spain in the driver's seat scoring in the 19th minute with a great header.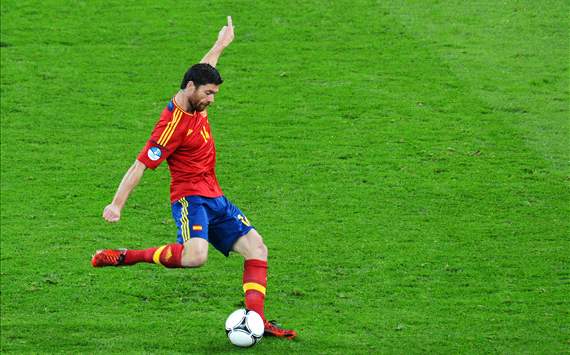 235144
2012-06-23 19:00:00
Ten minutes down, Ben Hayward analyses: "We have just seen both sides of the false-nine role there, with Fabregas dropping deep to pick up possession on the halfway-line before exchanging passes with Jordi Alba and moments later going down in a much more advanced postition - in the penalty area.

"For the system to work, it's all about movement and quality passing. Executed correctly, it could be devastating - even though Spain don't have Lionel Messi."
235143
2012-06-23 18:50:00
Cesc Fabregas takes a tumble in the box under a challenge from Gael Clichy but the referee Nicola Rizzoli waves away his claims.

Les Bleus struggling to string many passes together so far.