Robbie Keane detailed at the pre-match press conference ahead of Ireland's clash with Latvia his determination to start anew with Martin O'Neill and Roy Keane at the helm, declaring that the squad were looking forward to playing under their new management duo.
Keane, a boyhood Celtic supporter, pointed towards his desire to work with O'Neill - a man who achieved momentous success at club level with the Bhoys.
"It's been great," the captain said after agreeing a new contract with Los Angeles Galaxy. "Obviously I haven't had the pleasure of working with Martin before. I didn't think I'd get the opportunity again but thankfully I have."
"We're certainly looking forward to a new chapter in Irish football."
UPLIFT
Keane again put on record his respect for Giovanni Trapattoni and his spell in charge of the national side, but reminded that the Boys in Green are ready to move on as the public embraces the new men in charge.
"It's a results business isn't it? We didn't qualify. That's gone, it's in the past now. We've got a manager certainly that everybody has respected from afar," said Keane.
"I think you've seen the response in the last few weeks from the whole nation has been incredible, and I think that's the lift that everybody certainly wanted. You don't get two bigger characters than Martin and Roy so I think everybody's enthusiastic about this partnership, and certainly the players are."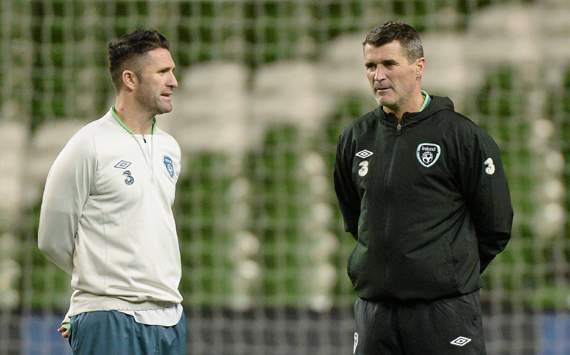 JUST LIKE STARTING OVER -
Back to the future with the two Keanes

FRESH START
Unlike Trapattoni, O'Neill gave no clues as to his starting XI on Friday night, nor the formation that he would utilise, but stated that he would use the two fixtures against the Latvians and Poland to give various players a chance.
"I don't want the players to treat these two as friendly games. They are very, very important," said O'Neill.
"We'll try get some enjoyment out of it. For me, the best enjoyment is to go and win the game. We'll try and play with a bit of drive, enthusiasm and determination."
Asked about the lack of goalscoring options available to him up front when the captain is removed from the equation, O'Neill voiced his frustrations recent obsessions over statistics.
"I know the game just seems to be full of stats now. Stats for passing, stats for picking your nose," he said. "The important stats are scoring goals."
"I'm absolutely convinced that some of the club players that I've had go by these stats. I could have one or two players playing in my team who statistically would have been better players than Xavi, who wouldn't actually be as good as Xavi."
O'Neill also spoke of his respect for his Italian predecessor and threw in another niggle at his successor at Sunderland. "Trapattoni did brilliantly. He's been a great manager all his life. Slightly better than Di Canio."