The Boys in Green must step up to the mark against Sweden and Austria if they are to come out on top in the battle for the coveted World Cup playoff spot
COMMENT
By Ronan Murphy
Come Tuesday night and Irish fans will be one step closer to either booking their tickets for Brazil next summer or consoling themselves with the fact that Euro 2016 will have eight extra teams, and surely the Republic of Ireland will be playing on Europe's biggest stage by then.
Almost every game in Giovanni Trapattoni's reign has been billed as a "crucial" affair, milestone after milestone along the road to qualification. However, despite the term being bandied about ahead of most matches, Ireland have come to the point where it really is now or never.
Three teams are locked in the battle for second place in Group C, all on 11 points, and all optimistic of making the play-offs. In the next five days, Ireland will play both Sweden and Austria. After these games, the final outlook of the group will be a lot clearer.
Leaving aside a dismal Euro 2012, Giovanni Trapattoni has performed well as Ireland manager, but could be at the end of his tenure if the next five days don't progress as planned. At this stage, every Irish fan knows Trapattoni's plan, and his opposing managers are no different. Trapattoni never keeps his cards close to his chest, preferring to reveal his lineups the day before a match.
It would be foolish of Irish fans to believe that the 74-year-old will change anything now. Everybody knows the system by now, and on Friday evening at the Aviva Stadium, it will be put to the test by Sweden. This is the time for the players to stand up and be counted. There can be no excuses. People may blame Trapattoni should Ireland fail, but the players must bear the burden of responsibility as well.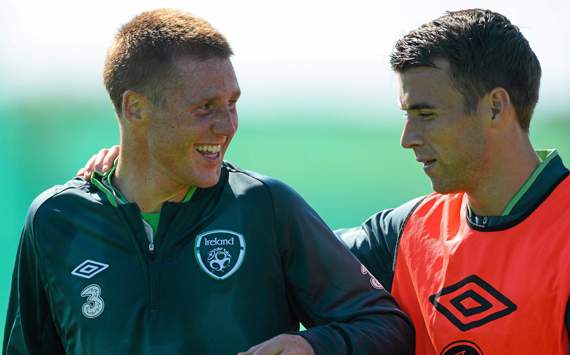 No place to hide |
Everton duo James McCarthy and Seamus Coleman in Ireland training
Although it has taken time, Trapattoni's XI is very similar to what the fans themselves would choose to put out on the field. Seamus Coleman, Marc Wilson, James McCarthy, James McClean, and Shane Long are all in the line-up for Sweden, while Wes Hoolahan, Ciaran Clark, and Robbie Brady are now valued squad members. Trapattoni was unlikely to throw Anthony Pilkington in at the deep end, but he could be set to feature from the bench on Friday.
There is little more Trapattoni can do to appease the public. The players must take responsbility for what happens on the field. Many pundits blamed Trapattoni's lack of change for the last equaliser in Vienna, but the defenders were as culpable as the manager. The veteran Italian won't take to the field at the Aviva Stadium or the Ernst-Happel-Stadion, so it is up to the players to make the difference.
Seven of Friday's starting XI are Premier League players, while captain Robbie Keane is in fantastic form for club LA Galaxy. Ireland are not bereft of quality anywhere on the pitch, and should be capable of taking the maximum six points from the next two games.
James McCarthy is no longer an upcoming player in the Irish midfield, he has now made the position his own, and as a £13 million footballer, must put in a performance to match his price tag. Similarly, Shane Long was close to a £6.5 million move, and needs to prove his international quality after his shooting let him down in August's friendly with Wales.
There is no room for excuses. Should the Boys in Green fall short, each and every squad member will have an extended summer holiday next year, with plenty of time to analyse where it all went wrong. By then, it will be far too late. It's now or never.