COMMENT
By Patrick Corbett
Football fans across Ireland went to their local or settled down in front of their televisions on Monday night as two of the top clubs in England, Manchester United and Chelsea, played out a dull 0-0 draw, but at the same time in the west of Ireland, an old-fashioned stand off was developing. Almost 100 diehard supporters came together in a meeting chaired by the Galway United Suporters Trust (Gust) in the Galway Rovers clubhouse to discuss the increasingly precarious future of League of Ireland football in Galway.
The Galway United Supporters Trust was set up in 2001 to raise funds for the now-defunct League of Ireland team Galway United and by 2010, despite not owning a single share, they had taken over the financial reins of the club. Unable to deal with both the mounting debt and the cost of guiding a team through the League of Ireland season Gust decided to walk away from the owners of Galway United at the end of 2011. However, their subsequent application to the league in 2012 failed and, as a result, one of Ireland's main cities was left without its most prominent League of Ireland side.
The group operates under the slogan 'One City, One County, One Club' and so the plans that are afoot involve joining the existing Galway-based League of Ireland teams Salthill Devon and Mervue United, teams from the Galway suburbs who lack support outside of their neighbourhoods, to create a new team representing Galway City and county. The name of this proposed new entity is, as of yet, undecided but there are certainly strong feelings within the grouping on how that should play out.
Salthill Devon, established in 1977, refer to themselves on their official website as the pre-eminent soccer club in the west of Ireland, while Mervue have a history stretching back over 50 years in Galway. Currently both teams occupy last and mid-table in the First Division and are struggling to get crowds to attend their games. Speaking to Brian Hehir, Galway United supporter and an active member of the Republic of Ireland Soccer Supports Club West (RISSCW), it is clear what the issue is. "Galway is too small to support more than one League of Ireland team," he told
Goal
. "Attendences at home games for Mervue and Salthill Devon are poor and unlikely to grow.
"Galway United have a strong supporter base and supporters don't swap teams because their team folded. I can't imagine Shelbourne fans would support Bohemians if their club folded."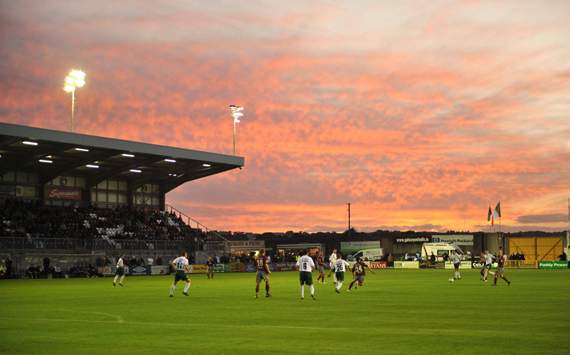 Uncertainty | Will League of Ireland football make a return to Eamon Deacy Park?
The ambition of Gust is to have the controlling stake in this new club, to be held in a co-operative operated by the supporters. This would appear to be an admirable ambition for several reasons. Firstly, having the ownership of a club in the hands of dedicated local supporters can be a good thing for both club and community alike; the League of Ireland is struggling and it will take committed people at grassroots level to keep the league going. In addition, in an environment where the first instinct for young Irish football fans is to look across the water to Britain for their football fix, community owned clubs that are heavily involved with local schools and junior clubs, can return a sense of ownership and pride.
Indeed, only a few hours from Galway, the example of Premier Division side Cork City shows the positive affect supporter-ownership can have on a club. When the Leesiders ran into severe financial hardship between 2008 and 2010, it was the supporters trust Friends of the Rebel Army Society (Foras) that stepped in to keep the club alive. However, such a venture must be carefully managed, warns lifelong Cork City supporter Gareth Allen. "It's been great in that it saved Cork City from oblivion," he told Goal. "But unless the structures are very secure it is not a long term solution."
Further afield, supporters have also made a positive contribution to the running of clubs. English Premier League side Swansea City have been one of the real success stories of British football in recent history culiminating in a League Cup win in 2013. However, less than 10 years ago the club was on their way out when Swansea City Supporters Trust was established to ensure that supporters always had a voice on the board through their 20 per cent stake in the club.
What appears to be the most successful model for supporter ownership is the one operated in Germany. Under this system supporters, under the guise of club members, own 51 per cent of the club, which means no other single party can control more than 49 per cent of the club. Full stadiums, incredible atmospheres and an emphasis on homegrown talent has seen the German leagues go from strength to strength without the cycle of 'boom and bust' that is associated with clubs who follow a more individual free-market ownership. Anybody who has witnesed a Bundesliga game on television or watched as Dortmund and Bayern Munich marched through Europe last season cannot deny the growing success of the league.
As well as the key stakeholders in Galway, the Football Association of Ireland (FAI) must also work to facilitate a smooth transitional phase in the coming months. The association commissioned the independent report, published in October 2012, that recommended the establishment of one team in Galway, but there has been little progress since. Nevertheless, the FAI has stressed that they remain committed to the goal of a single, united, entity. Indeed, as the governing body for football in Ireland they have a responsibility to ensure that Galway has a strong well supported football team playing at the top level, giving opportunities for players to play in their home city or county. They must make sure that they do not fall asleep at the wheel regarding football in the region.
Two clubs have never been combined to create a new entity in League of Ireland history and it will not be an easy road for those who want to see Galway United return. This new team will start from stratch and will have to work hard to win friends in a community that has been let down by the club's previous incarnations. However, if the passion and tone of Monday night's meeting is anything to go by then there is certainly a will in Galway to make it happen.