The Liverpool defender has ruled himself out of consideration for the Green and White Army with suggestions that the player could declare for the Republic of Ireland
COMMENT
By Ryan Kelly
Liverpool defender Ryan McLaughlin has recently indicated to Northern Ireland manager Michael O'Neill that he does not wish to be considered for selection at international level, preferring to concentrate on his club career. That pronouncement by the 18-year-old has led O'Neill to resoundingly declare that the player had assured him that he has no intentions of switching his international allegiance to the Republic of Ireland, who he believes are sniffing around.
"Ryan has decided that he just doesn't want to make himself available to play for Northern Ireland," said the former Shamrock Rovers manager. "We had notification from Liverpool that he wanted to stay and concentrate on his club career at this minute in time and he wouldn't be available for the under-21 team or the senior squad."
He added: "The player has assured me that [switching allegiance] is not in his thinking or an issue. I would not be surprised if he has been targeted in some way by the Republic of Ireland but when a player sits down and tells me face-to-face that it isn't an eligibility issue, I have to believe him."
O'Neill's declaration is, in a sense, an attempt to allay the fears held by many Northern Ireland fans due to the nature of Fifa's eligibility rules, which allow players with Irish nationality to play for the Republic of Ireland as long as they have not featured in a competitive senior international match for Northern Ireland. In the past, highly-rated players such as Shane Duffy, James McClean and Darron Gibson have chosen to declare for the Republic of Ireland after playing for Northern Ireland youth teams, while recently Wolves striker Liam McAlinden has followed a similar path.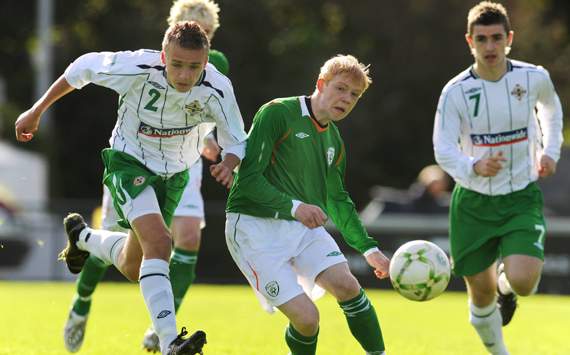 Torn allegiances|
McLaughlin, left, in action for Northern Ireland against the Republic of Ireland
At this stage, there is no further indication that McLaughlin is considering a switch and Ireland assistant manager Marco Tardelli said that he was unaware of any such development. Indeed, aside from demonstrating enthusiastic support for Giovanni Trapattoni's team on Twitter during Euro 2012, McLaughlin has not made any public utterances about where his international aspirations lie. In a recent interview with Liverpool's official website, the defender explained that his main intention was to impress Reds boss Brendan Rodgers. "I hope to just be playing well," he said. "And hopefully the performances can impress the first-team manager."
In the summer of 2011, at the age of 16, Ryan McLaughlin joined Liverpool from Irish Premiership side Glenavon and in the space of two years, his stock has risen considerably. The Belfast-born full-back has not been significantly involved with the Liverpool first-team, but was included in the pre-season tour of North America last season, where he impressed with his performances and application. He made his debut for the senior team on that tour against Serie A outfit AS Roma, where, according to the club's official website, he "was given the task of man-marking Italian legend Francesco Totti" and after playing an important part in Liverpool's under-21 team in the 2012/2013 season he was awarded a three-year contract last month in recognition of his improving stature.
A right back by trade, he has been capped at all youth levels by Northern Ireland and his potential is such that Michael O'Neill has endeavoured to include the defender in a number of his squads. Despite his lack of experience at club level, McLaughlin was initially called up to the Northern Ireland senior squad by O'Neill as a 17-year-old for a friendly against Finland in August 2012 before a hip injury precluded his involvement, but he was later named in the squad for a home World Cup qualification game against Azerbaijan three months later at Windsor Park. The defender remained an unused substitute in a game where Northern Ireland were extremely lucky to escape with a 1-1 draw as David Healy's last-gasp equaliser salvaged a result.
After being included in O'Neill's squad for the friendly encounter with Malta in January 2013, he once again withdrew from the squad as a result of injury and he did not feature for Stephen Robinson's under-21s in their 3-0 defeat to Cyprus a few months later in March. McLaughlin, whose brother Conor has been capped at senior level by Northern Ireland, is not the only one to have temporarily ruled himself out of consideration and he could very well make himself available in the future. In June of this year for example, Swansea's Rory Donnelly rejected a call-up from Northern Ireland as he was apparently considering his options at international level. Donnelly, however, has again returned to the Northern Ireland set-up, accepting a call-up for the forthcoming under-21 game against Denmark.
Nevertheless, given the potential for Northern Ireland-born players to declare for the Republic of Ireland, when it comes to players who have yet to be capped in a senior competitive game each squad withdrawal, regardless of reason, is viewed with a degree of suspicion; fans are aware that not even a senior cap in a friendly match is binding, as Alex Bruce and Adam Barton have demonstrated.
Therefore, along with his frequent squad withdrawals, McLaughlin's forthright decision to make himself unavailable against the wishes of O'Neill and indeed his club boss Brendan Rodgers sends out a worrying message about his international future with Northern Ireland.