Ireland's striking options have stagnated and the Yeovil Town forward could become the best man to replace veteran 59-goal captain
COMMENT
By Peter Staunton
Paddy Madden was Irish football's best performing player in England last season. He scored 23 times for Yeovil in League One and can claim to be one of the chief reasons why they were promoted to the Championship for the first time on record.
The splendid opener he hit at Wembley against Brentford in the play-off final in May was indicative of a confident player. On the edge of the box, with the outside of the right foot, Madden instinctively bent the ball into the top corner. It was a great goal that could only have been scored by a man with form and belief in his own ability. Ireland cannot count on any other forward with the style or gumption to try something like that.
More than any other position on the field, the striker is nourished by form and confidence. Look at the career trajectory of Kevin Doyle for evidence of what happens to an industrious forward once the goals dry up. At the beginning of his career in England, following solid progress in the League of Ireland, Madden looked to be heading the same way as Doyle.
He failed to settle at Carlisle with fans in Cumbria still failing to grasp how it went so wrong for the Dubliner there and so right for him in Somerset. Madden never earned the trust of his manager, Greg Abbot, who fielded him out of position at times in a formation that did not suit the player's strengths.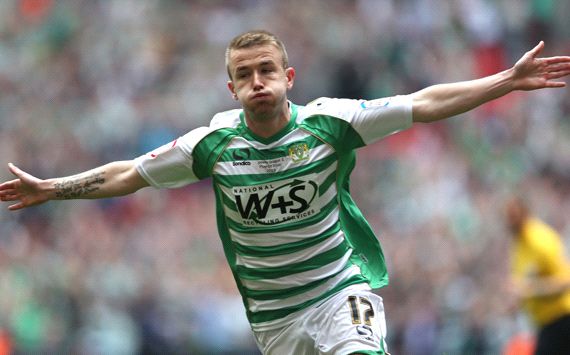 Cometh the hour, cometh the Madden |
Celebrating at Wembley
Madden likes playing on the last man's shoulder, looking to make the run in behind and feed off through balls. He caused Abbot no small degree of frustration with the rate at which he was caught offside and a loan move was in the best interests of all parties.
The Yeovil manager, Gary Johnson, is delighted to have him in the ranks on a permanent basis while Carlisle lament their worst piece of transfer business in recent history. A nominal sum of around £15,000 is all that was required to finalise a deal. Madden would easily command 100 times that amount now in the transfer market.
A huge amount of credit for Madden's form last season should go to James Hayter, the veteran forward who played in a withdrawn role up front, prompting the former Bohemians man with his creative passes. Behind those two, Yeovil played two lines of four. With one striker, another forward-thinking, creative player in behind and two lines further back, the Yeovil system bears a basic semblance to that which Giovanni Trapattoni is attempting to instil in the Ireland team.
The Irish set-up has, in the recent past, been predictable due to the Italian's conservatism in selection but there is a willingness to change since the October showdown with the FAI which almost cost Trapattoni his job. Familiarity, in a playing pool as limited as Ireland's, is important. Partnerships all over the field must be worked on to ensure that communication and coherence is optimum to compensate for talent levels beneath those of opposing teams. Defenders and midfielders excel when they are well-drilled and coached into patterns and routines.
One area, however, where there should be room for manoeuvring and a degree of unpredictability is up front. The 74-year-old has attempted to use Wes Hoolahan just off the front man, as well as in centre midfield, and it is precisely that kind of player who could spring Madden with clever service. Keane is also capable of filling in the 'Francesco Totti role' as Trapattoni likes to call it.
His recent effort at replenishing the striking options within his squad was met with indifference though. Conor Sammon is adept at providing support, in an aerial sense, to a more accomplished line-leader, like Keane or Shane Long, but is unproven as a finisher. Beyond that, things have stagnated with the emphasis remaining on Keane bailing out the Boys in Green when goals are unforthcoming elsewhere.
Madden is a different prospect entirely. He is not the type of forward who primarily relishes hustle-bustle and the battle for set-pieces. Positively, the process of weaning the Republic off Keane starts here. Here is a forward who possesses the goalscoring knack absent in most of Ireland's other front men.
At 33, the captain is showing few signs of slowing just yet but with a decent integration process, Paddy Madden could emerge as the most dynamic, assured prospect to alleviate the great man's goalscoring burden.