Cultural identity is commonly expressed in football grounds around Northern Ireland and as Cliftonville host Celtic, it is a game with a strong Irish current running through it
COMMENT
By Ryan Kelly
When Cliftonville were drawn against Scottish Premier League giants Celtic in the second qualifying round of the Champions League, the Uefa compere's eyes lit up as he announced what he believed to be a "British derby". Media outlets around the United Kingdom subsequently carried the line of an all-British showdown in Europe's premier club competition, but to describe the tie thus is to deploy a drastic misnomer; British derby? Verily, it is not.
Technically speaking, the game between Cliftonville and Celtic is a match-up between two teams that are based in the United Kingdom, so ostensibly it would seem fair to brand it as a British derby, but it betrays an alarming lack of understanding. In reality, it is a game between teams that are imbued with obvious Irish identities. These identities exemplify the nuanced issue of nationality, Irishness and Britishness, and the way in which political ideology manifests itself in sport.
Football stadiums lend themselves to notions of tribalism, of the stark demarcation of 'us and them' and as a result, they are easily transformed into symbolic battlegrounds. Around the world, fans will display their team's colours and taunt their rivals with antagonistic chants for the duration of a game, but in a place as politically volatile as Northern Ireland, where two polarised national communities routinely clash, the football ground can often become just another stage on which to assert one's identity.
While British Union flags and the unionist Ulster Banner are frequently displayed by the supporters of many Irish Premiership clubs in Northern Ireland as an expression of national identity and political allegiance, the flag of choice for Cliftonville fans is predominantly the Irish tricolour. Since the 1970s in particular the club has been increasingly associated with Irish nationalism due to the North Belfast community from which a significant portion of its support base is drawn. This perception has subsequently contributed to the growth of rivalries between the club and others that are traditionally seen to be representative of opposing communities.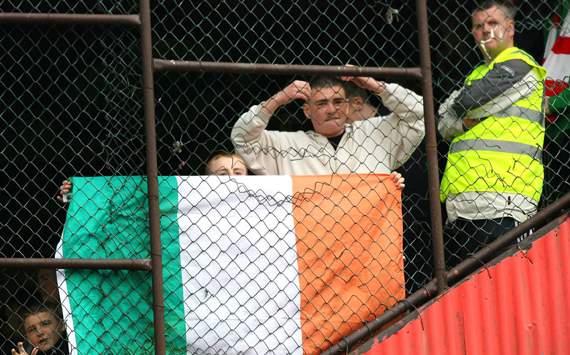 British derby?| Cliftonville fans display an Irish tricolour during a game
Similarly, Celtic are a club with a clear Irish identity, possessing strong links to Ireland that stretch back to the time of their foundation in 1887. Although they are domiciled in Scotland, the Glasgow outfit has long drawn support from the Irish immigrant community, as well as football fans in Ireland due to the deep connection between the club and the emerald isle, which includes colours, symbols and countless players and staff. Supporters of Celtic adorn stadiums with Irish flags, sing popular Irish folk songs and have even been criticised for their explicit sympathies for Irish republicanism. Indeed, the original sod of turf at Celtic Park actually came from Donegal in the north-west of Ireland.
The extent to which Celtic plays a part in Irish society is perhaps encapsulated by the fact that an Irish tourist initiative, in tandem with the Irish government and the Football Association of Ireland (FAI), have arranged a friendly fixture between the Scottish champions and English Premier League side Liverpool, dubbed 'The Dublin Decider'. "It's not every day that you can welcome two famous clubs from overseas with such strong Irish connections," said Irish Minister for Tourism and Sport Michael Ring at the launch of the fixture.
The marriage of identity politics and football is by no means unique to Ireland. In Spain, for example, Barcelona represents a powerful symbol of the Catalonian desire for self-determination and independence. In Northern Ireland, where society is in seemingly perpetual conflict, it is practically inescapable. If the game between Cliftonville and Celtic was merely a clash between two British teams there would probably be no lingering concerns about the political subtext that is currently gripping Northern Ireland, involving contentious loyalist parades and concomitant riots. However, due to the traditional perception of both clubs as being associated with Irish nationalism, there are implicit fears that the fixture could become a flashpoint, a target for loyalist violence and sectarianism.
The Police Service of Northern Ireland (PSNI) reassured supporters that efforts are being made "to ensure that this occasion passes off peacefully" but Cliftonville director David Begley issued a foreboding message, asking fans to "avoid wearing colours" in Belfast ahead of the game at Solitude. "By doing that you can avoid difficulties," he told reporters. "It can be tricky as 100 yards in the wrong direction and you could be in the wrong place."
Ultimately, when Cliftonville and Celtic meet at Solitude, there will not be a preponderance of British flags and it will not capture the imagination of the British public. As two Irish managers pit their wits against one another in Ireland's second city, in a stadium littered with tricolours, the game will have an altogether Irish feel to it.