COMMENT
By Ryan Kelly
The palpable sense of collective spirit generated among fans of the League of Ireland by the draws for Uefa competition is a microcosm of what European football can do for the Irish game. In such a modest domestic environment the prospect of trading blows with Europe's elite invigorates the league and its fans at a visceral level. For example, spectators watched keenly as Gianni Infantino conducted ceremonies during the draws for the Champions League and Europa League. With the draws streamed live on the internet from Switzerland, supporters were granted real-time access to the event and social media outlets were truly buzzing with anticipation, reaction and commentary.
On Twitter, St Patrick's Athletic fans and players alike urged the bald-headed Italian to conjure a more local opponent this year and cursed in unison when they were once again told that they would have to make a long trip, this time to Lithuania. Elsewhere, upon the announcement that they would face Trabzonspor in the second qualifying round of the Europa League, the official Derry City website actually crashed as it dealt with an influx of zealous Turkish fans who inundated the Candystripes on social media, greeting them with the familiar phrase, "Welcome to Hell". There were well-wishes from clubs not participating in Europe and fans debated the merits of each respective tie on forums while also gleefully indulging in bouts of nostalgia, recalling the momentous days-of-old.
More importantly, involvement in European competition also brings with it an injection of finance and prestige, things that are extremely helpful to the long-term development of the Irish game. Even at the lowest levels, the financial incentive is astronomical in Irish terms. Sligo Rovers, for example, will compete in the qualifying rounds of the Champions League this year and, even if they are eliminated at the first hurdle, they stand to be in receipt of a relatively hefty sum of money. In 2012, an outrageous total of €754.1 million was distributed to teams that competed in the group-stage onwards, but clubs who competed only in the qualification rounds were allocated "solidarity payments". That is to say, clubs that failed to qualify were given €130,000 per qualifying round and if that club was a champion in its country, then it also received an extra €200,000. Ostensibly, in the context of world football, such figures are nothing special but, to a League of Ireland club, they represent a positively lucrative reward.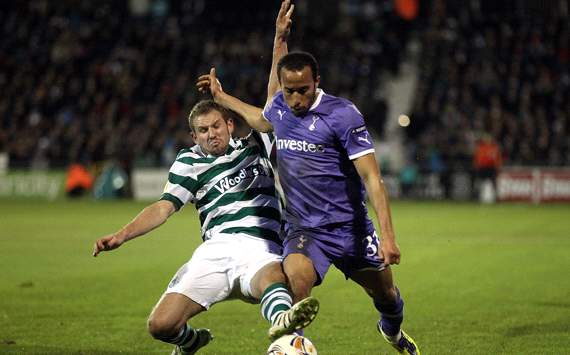 European dreams |
Shamrock Rovers made history in the Europa League in 2011
Of course, the advantages of success in Europe are not limited to those of a financial hue. The better the performance of a league's clubs in European competition, the greater their coefficient grows. Winning clubs elevate their standing which increases the likelihood of seeding and thus engenders a greater chance of progression. St Patrick's Athletic, for example, were seeded for this year's first qualifying round draw. It represents a small, but significant step. Furthermore, the collective performances of clubs also contribute to the overall standing of the league in the coefficient table, which dictates how many clubs enter into a competition and at what stage. These technical details are not be viewed flippantly, but rather as a further motivation to do well.
Clubs are no doubt aware of the corresponding effects of their performances in Europe. Unfortunately, however, there appears to be a tendency in the culture surrounding clubs to allow the negative to outweigh the positive. Any display of optimism is inevitably shaded with a tinge of realism, an intrinsic propensity to see the negative. Granted, the logistical aspect of a European campaign can certainly prove expensive, not to mention arduous, and trips can weary the legs and minds of part-time players. However, such considerations must be perceived on balance with the aforementioned potential gains. All players and clubs should aspire to the pinnacle, regardless of their stature, and they have it all to gain.
As Drogheda United and St Patrick's Athletic embark on their respective European odysseys, they must not be fearful of navigating their way through the realm of European competition. The Saints and the Drogs are worthy competitors, they are capable and, frankly, they have earned the right to be there.