After Shamrock Rovers qualified for the Europa League group stage, Irish clubs must attempt to turn the exception into the rule and aspire to greater heights in Europe
COMMENT
By Ryan Kelly
When Ian Baraclough told his players that he wanted to reach the group stages of the Champions League, he said there were no raised eyebrows in the dressing room. Outside the dressing room, however, such an idea continues to be met with derision. Renowned ex-players and pundits trot out the same old tropes, iterating the view that, due to a lack of finances, facilities and ability, the Irish domestic game is irrevocably detached from the higher echelons of European football. Even Michael O'Neill, the man who masterminded a watershed moment in the history of the Irish football by guiding Shamrock Rovers to the group stage of the Europa League, blithely dismisses the notion as inconceivable. However, as Irish teams patiently wait to learn the identity of their opponents in today's draws for Uefa's two main club competitions, it is the spirit of Baraclough that must prevail.
Sligo Rovers are unseeded for the second qualifying round of the Champions League and could very well be paired with a team with discernible European pedigree. An encounter with Barcelona-slaying Celtic or Romanian behemoths Steaua Bucharest, clubs that already have their names etched into the honour roll, is entirely within the realm of possibility. But, with a bit of luck, the Bit o' Red could find themselves drawn against teams on a similar level to themselves. Nordic sides Elfsborg and HJK Helsinki have unhappy memories against Irish opposition, while Serbian champions Partizan know all-too-well what Irish clubs bring to the table.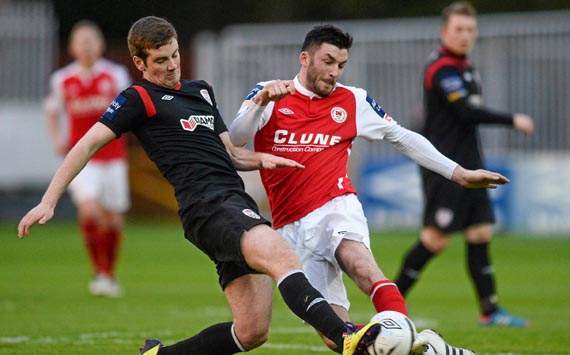 Euro aims |
Derry City and St Patrick's Athletic to compete in Europa League
The 2012 Airtricity Premier Division champions are entering the Champions League draw for only the second time in their history. Indeed, history is strongly stacked against Sligo, who have only won once in European competition – when a goal from John Brennan granted them a home victory against Maltese side Floriana in the Cup Winners Cup in August 1994. Nevertheless, there is a growing familiarity with winning in Europe for Ireland's other competitors, something which will inevitably act as a source of inspiration. St Patrick's Athletic, for example, have acquitted themselves admirably in recent years, something that has ensured they will be seeded in the draw for this year's first qualifying round of the Europa League, while the remarkable performances of Drogheda United and Derry City in the Uefa Cup in 2006 are examples of what is achievable.
St Pat's currently occupy top spot in the league and their fluid brand of football is very much suited to the rigours of European competition. Liam Buckley has managed to maintain the majority of the squad that reached the third qualifying round of the Europa League last year, so experience will be on their side as they prepare to get their campaign under way. Drogheda United, on the other hand, have regressed since finishing second in the Premier Division, but veteran coach Mick Cooke will look to Europe as a chance for redemption. Meanwhile, Derry City, as cup-winners, found themselves handed the unenviable reward of being placed straight into the second qualifying round, which means that they will not only be unseeded for the draw, but also miss out on any potential prize money from competing in the first qualifying round.
Nevertheless, it goes without saying that participation in European competition is an honour and a privilege. It is a lucrative award for clubs who have performed over the course of a long domestic season and in the long-term it represents an opportunity to lift the entire Irish domestic scene, to inject confidence, belief and life into the league. As League of Ireland clubs await their fate, they must realise that they have every right to compete with the greatest Europe has to offer. Shamrock Rovers' historic qualification for the Europa League in 2011 is an anomaly, but that can change. It will absolutely not be altered by a meek acceptance of current limitations; it requires, rather, a progressive outlook married with a gritty determination. Otherwise, as Ian Baraclough says, "if you reach for mediocrity, you'll only get mediocrity."