COMMENT
By Ryan Kelly
The ugly scenes at Windsor Park during the Setanta Sports Cup quarter final between Linfield and Shamrock Rovers on Monday, March 11, were sadly inevitable. A week before in Dublin, the first leg had witnessed a tense stand-off between police and fans, and the sectarian chanting and provocative behaviour of a minority within both sets of supporters elicited widespread criticism from local politicians. The second leg proved no different.
Of course, the tie was practically over, with Rovers leading by a healthy aggregate score of 4-1. As a consequence many fans chose not to brave the elements and the overall attendance was relatively dismal, but, typically, among those who did show up was a strand that was intent on spouting hatred. Remarkably, Linfield fans actually found themselves outnumbered in their own backyard, but this did not stop them from finding their voice, as the blatantly sectarian 'Billy Boys' quickly echoed through the ground. However it was not long before Shamrock Rovers fans announced their arrival, firing a flare onto the pitch and reportedly vandalising seating, all to the tune of their own choral range.
Sectarianism has been an extremely live issue in Irish football over the years and the recent events at Setanta Sports Cup games serve as a reminder of its truly unedifying existence within the sport and indeed wider society. There are instances where sectarian references are blithely assumed to be less severe, such as the jibes aimed at Derry City supporters regarding the fact that the club is based in Northern Ireland. Apologists will argue that such behaviour is simply a part of football, to be accepted as a natural manifestation of the unbridled passion felt by loyal supporters, but in reality, it is nothing more than mindless bigotry draped in a jersey. It is form of hooliganism, relatively mild admittedly, but no less disgusting.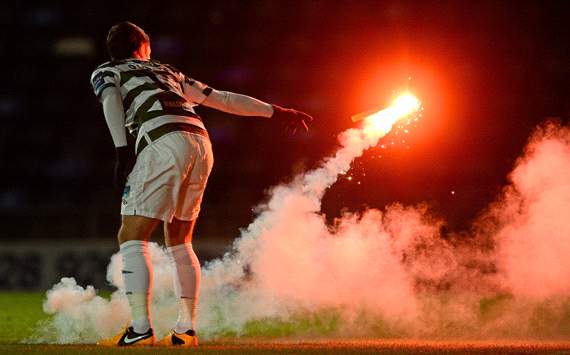 Tensions Flare |
Sectarian chanting and crowd trouble has been a feature in games
What remains to be seen is how it will be tackled. Social Democratic and Labour Party (SDLP) MLA for South Belfast Conall McDevitt has been vocal in his condemnation of the sectarianism that has been on display during the recent ties between Shamrock Rovers and Linfield, calling upon the authorities to prosecute offending supporters. "Everyone must share responsibility for the reputation of their club," he told
Goal.com
. "If anyone really loves a football club, the last thing they'll want is for the reputation of that football club to be undermined and sectarianism undermines and damages the reputation of football clubs." Shamrock Rovers, meanwhile, have indicated that they will take appropriate action, issuing a frank statement that expresses disappointment at the behaviour of a minority of their support.
Linfield may have lost the quarter final, but as their manager David Jeffrey pointed out at the end of the game in Windsor Park, it is football that is the ultimate loser when such scenes prevail. Indeed, the events such as those on Monday night are frankly detrimental to the game in Ireland and will only serve to dampen the appetite for future cross-border competition.