COMMENT
By Ryan Kelly
It will come as no surprise to many observers to learn that James McClean is once again in the headlines for the wrong reasons.
His 'crime' in this instance is, ludicrously, his taste in music. Democratic Unionist Party (DUP) politician Gregory Campbell, a Member of Parliament (MP) from McClean's hometown of Derry, strongly objected to player's endorsement on Twitter of the Irish folk band The Wolfe Tones and in particular his enjoyment of the song 'Broad Black Brimmer', which is set in the context of the Irish Civil War of the early 20th century.
"Young people should be taught the folly of terrorism not encouraged about it being idealistic and patriotic," said the incensed MP, before describing McClean's comments in relation to the song as 'disgusting' and 'utterly inappropriate' considering the player's status as a professional footballer. However, Campbell's implication that, by listening to The Wolfe Tones, McClean is promoting terrorism is preposterous. Indeed, the band itself released a statement in response the the comments from the MP which asserted that their music was 'a reflection of history, not the cause of it.'
Furthermore, the Sunderland winger was not the only footballer to have expressed favour for The Wolfe Tones' music. Former Celtic defender Darren O'Dea and Hull City midfielder David Meyler, both of whom are current Ireland internationals, each professed that they were fans, but, crucially, neither found themselves at the centre of controversy.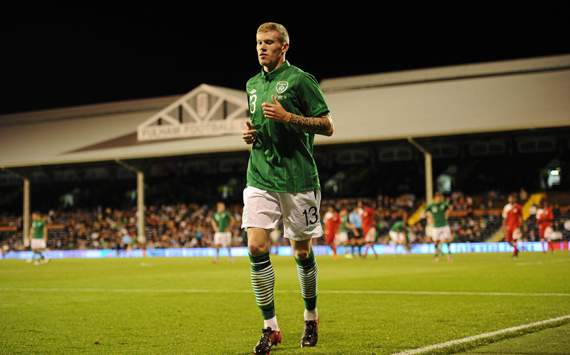 Figure of hate|
James McClean has been targeted for criticism
That these players escaped the ire of politicians is a demonstration of McClean's status as distinct from others in his profession. Dublin-born O'Dea and Cork-born Meyler do not merit the same glare of scrutiny because they're not viewed as 'controversial' enough. The persona which has been erected of McClean dictates that he is forever the irreconcilable villain and he is thus deemed an easy target by commentators and sections of the media.
Since making his move to Sunderland in August 2011, McClean has not been far from controversy and as recently as November 2012, he was embroiled in another contentious issue. After appearing without a poppy on his shirt against Everton on the eve of Remembrance Day, the 23-year-old was widely castigated. At the time, McClean did not explain why he chose not to wear the emblem, but any explanation soon became irrelevant and the former Derry City player was terrifyingly metamorphosed into a colossal figure of hate. Indeed, the magnitude of the hatred was such that he actually became a target for a zealous individual who wanted him dead and police were eventually forced to investigate. Remarkably, it was not the first time he was subjected to such vitriol, as he had previously received threats in May 2012,
following his inclusion in the Republic of Ireland Euro 2012 squad
.
It is often blithely remarked that McClean brings such treatment upon himself, that he somehow knowingly attracts contempt and, as a result, deserves derision. After all, his frequent interactions on Twitter have certainly, at times, been inflammatory, as Giovanni Trapattoni has found, and his club manager Martin O'Neill feels that he should learn how to temper his behaviour on such a public forum. Sunderland have since banned him from the medium. Indeed, there is also the suggestion that McClean could have silently toed the line and avoided his Remembrance Day brouhaha.
But then again, why should he have toed the line? Is one player's personal choice any less deserving of our respect? Moreover, such a dismissive attitude towards McClean merely absolves others of holding prejudice against him. The real villains are those who wish impose their will on an individual, or those who would do someone harm for indulging in the innocuous behaviour of not wearing a flower. In truth, the recklessly constructed persona of James McClean, which ensures that the winger can do no right, is a dangerous one and may yet yield grisly consequences.