COMMENT
By Ryan Kelly
The dust had barely settled on a disastrous Euro 2012 campaign for Ireland when Shay Given announced his retirement from international football. The 36-year-old custodian had amassed a record-breaking 125 caps for the Boys in Green and decided that the time was right to call time on his exploits on the international stage, in order to concentrate fully on his club career. But just four months and five appearances later, Given is intimating that he would consider coming out of retirement.
"I have been thinking about it for a while, for weeks and months," Given said of his retirement in August 2012. "And I just felt now was the right time to make the decision before the new [World Cup] campaign starts. It's time for someone else to try and qualify and now was the right time to step aside."
Indeed, at such a late stage in his career, not many Irish football fans would have begrudged the vaunted veteran the luxury of declining international duties. After all, he had put his body on the line for his country for more than 16 years, having made his debut as a fresh-faced 19-year-old in 1996. Furthermore, there was a sense that the winds of change were due to ruffle up the Irish international set-up following the calamitous Euro 2012, with a number of pretenders waiting anxiously in the wings for a chance to stake their claim for a place in the squad.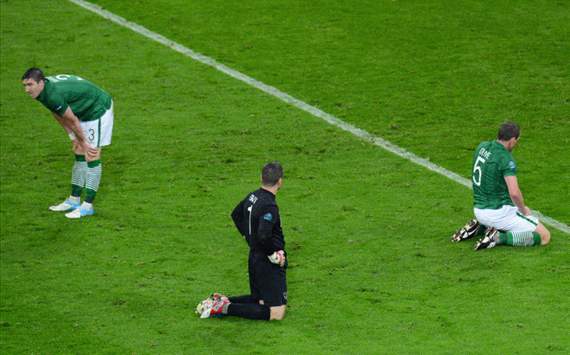 Never go back |
Ireland's old guard should remain out of the squad
Given's long-time deputy Kieren Westwood demonstrated his mettle by assuming the number one jersey with confidence, with David Forde, Darren Randolph and Stephen Henderson, as well as Norwich City's Mark Bunn, not far behind the Sunderland goalkeeper. Damien Duff's retirement, along with the enforced absence of the 33-year-old Richard Dunne ensured that exciting players such as Ciaran Clark, James McClean, Robbie Brady and David Meyler were integrated. Guaranteed places suddenly were vacated and, as a result, the next generation is being ushered in with players vying enthusiastically for several positions - a positive consequence arising out of the loss of such talented and experienced individuals.
It is crucial that this new crop be allowed to bloom; Ireland must not look back and the desperation of a player struggling to sustain a club career, regardless of their standing, must not take precedence over the long-term well-being of the international team. Quite simply, no player can be allowed to rest on their laurels. This principle rings true for both Shay Given and Richard Dunne.
Having forsaken his international career to concentrate on investing his energy into Aston Villa, Shay Given has fallen behind Brad Guzan in the pecking order at Villa Park. And according to Villa boss Paul Lambert, the decision to drop the Irish goalkeeper at the beginning of the season was completely justified. "I think it is the right decision. You can't have favouritism," Lambert coldly stressed when asked why he dropped the 36-year-old. In truth, there was method in Lambert's action. Having suffered a spate of injuries over the course of 2011 and 2012, Given had been experiencing a steady decline in form, which was perhaps exemplified during Euro 2012 and which eventually culminated in his usurpation by Guzan. It was simple: Given was no longer the world-class goalkeeper that he once was.
A similar charge can probably be levelled at Given's Aston Villa team mate Richard Dunne, who is currently battling a recurring injury and has undergone a series of surgeries in order to correct the issue. Dunne almost joined Damien Duff and Given in retirement after Euro 2012 only to be cajoled by Trapattoni into remaining. However, the 33-year-old has not played a single game since the conclusion of the competition in the summer and it is looking increasingly likely that he will not receive a new contract at Villa Park when his current deal expires at the end of the season. Even if Dunne manages to regain fitness before the end of the season, there is absolutely no guarantee that he will replace either Ciaran Clark or club captain, Ron Vlaar.
The adage holds that all good things must come to an end. But as one age ends, another inevitably begins.