COMMENT
By Ryan Kelly
76 caps, eight goals, 12 years. The international career of Richard Dunne has elevated the defender to a permanent place in the exclusive pantheon of Irish football greats – that place reserved only for names such as McGrath, Moran, Keane, Brady. His performance against Russia in Moscow has been heralded as one of the greatest ever individual performances of an Irish athlete and that alone ensures that he will forever be idolised by fans of the Irish national team. However, for the sake of Irish football, Giovanni Trapattoni must now legislate for an era post-Dunne.
At 33-years of age and with a senior career spanning 16 years, the former Manchester City captain can justifiably be termed a veteran of the game. He has consistently proven himself at the highest level and his talent is widely recognised. Nevertheless, he must now pass the baton on to the next generation, just as it was passed on to him, because the unfortunate reality is that the Aston Villa man's time at the top is shuddering to an end.
RICHARD DUNNE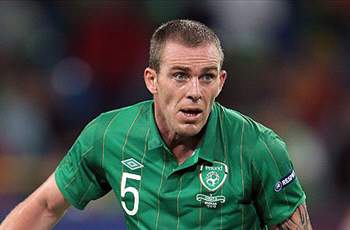 Caps, Goals: 76,8

Age: 33

Club: Aston Villa

Ever since the end of the European Championships in the summer of 2012, Dunne has struggled for five whole months with a groin complaint and as a result has been forced to undergo a series of surgeries in order to rectify the issue. And while he has now returned to training, his club manager Paul Lambert has repeatedly expressed nothing but uncertainty when asked to suggest a time-frame for the big centre back's return to action, instead stressing that it would take quite a while for the player to get back up to speed. It is patently obvious that Dunne has grown worryingly injury prone. For example, he also missed a significant period of the previous season, due to a broken clavicle and a shoulder complaint, which among other niggling concerns, cast doubts over his involvement in Euro 2012. In the 11 games played by Ireland in 2012 thus far, Dunne has been involved in less than half of them and he has not been involved in any of the five international fixtures that have followed Ireland's elimination from Euro 2012.
In the absence of Dunne, Ireland's defence looks disturbingly fragile and the preferred reserve options at centre back simply do not inspire confidence. For Trapattoni, aside from shifting John O'Shea from right back into the centre, the go-to replacement in the event of a forced Dunne absence is Darren O'Dea, an honest but desperately average footballer whose inability to secure a contract in England recently led him to sign for Canadian MLS side Toronto FC. Dunne's partner during the Trapattoni regime has been Sean St Ledger, a player who was part of the Preston North End team that was relegated to League One in 2011. He too, has suffered his fair share of injuries and is, in fact, currently nursing a hamstring complaint. Fulham full back Stephen Kelly has also been deployed out of position at centre back.
Trapattoni and his assistant Marco Tardelli have both spoken of their desire to look to the future when choosing recent squads, yet there is very little evidence from their final selections to suggest that they are willing to implement radical change. For the friendly against Greece on November 14, for example, the same old faces are in contention for the centre back spot. Only Aston Villa's 23-year-old Ciaran Clark can be considered a fresh inclusion, with Everton's 20-year-old centre back Shane Duffy – who, despite his age, has more Premier League experience than both Darren O'Dea and Sean St Ledger – placed on standby. Reading defender Alex Pearce does not appear to have done enough in his goal-scoring debut against Oman in September to have convinced the Ireland boss that he is a viable option.
It is true to say that there is a dearth of alternatives to which Trapattoni can turn in the event of a crisis at centre back, but the Italian can arguably shoulder some of the blame for that fact. Take, for example, Ciaran Clark. At 23-years-old and despite having an abundance of Premier League football under his belt, the man who has been a regular in the Aston Villa side this season has picked up just two caps for Ireland. Both of those caps came at left back, as Trapattoni opted instead for "experienced" players such as Paul McShane, Sean St Ledger, Stephen Kelly and Darren O'Dea.
Moreover, the idea that the experience of these players automatically makes them better options is a ludicrous one. Richard Dunne made his debut for Ireland in his early twenties, just as John Terry did for England – two players who went on to become bulwarks of their national teams. By way of comparison, the make up of the Irish defence sits in stark contrast to that of Ireland's World Cup qualification rivals Germany, whose first choice centre-back pairing of Mats Hummels and Holger Badstuber are both 23-years-old, with each of them amassing over 20 caps each – they possess the requisite ability and are improving as they age.
After four years, Giovanni Trapattoni is now well aware of what Paul McShane and Darren O'Dea bring to the table, but he is less informed about the wares of Ireland's emerging youth. With Richard Dunne's international curtain call imminent, the former Juventus boss simply cannot afford to prolong the integration of the next generation.