COMMENT
By Ryan Kelly
It seems that an atmosphere of inevitability pervades the Irish domestic game when it comes to European competition, one that appears to dictate an all-too predictable mantra of premature resignation among clubs. The script is circulated, with managers and players automatically praising the perceived physicality and all-round ability of their next continental opponent. Their talk of progression in Europe must always be accompanied by a disclaimer, while less wealthy clubs view European football as a financial and logistical nuisance, an unwelcome disruption to the 'bread and butter' of the league. Norwegian side Rosenborg were left flummoxed at the sheer lack of professionalism of the 2012 Setanta Cup champions Crusaders whose manager Stephen Baxter and captain Colin Coates were holidaying on the day of their initial Europa League encounter in July.
Nevertheless, there is a degree of rationale behind the pessimism that exists. In terms of Uefa coefficient, for example, the Irish domestic game, in stark contrast to the fortunes of the international team, has long languished at the lower rungs of the ladder. At present, the League of Ireland is ranked 36 out of the 53 top league competitions, alarmingly finding itself below that of countries such as Azerbaijan and Moldova, while Lithuanian and Kazakh leagues threaten to overtake Ireland's premier competition. Uefa coefficients take into account the performance of clubs over the last five seasons and as a result of their relatively consistent progress in Europe in recent years, St Patrick's Athletic are the highest ranked Irish team at 209 in the rankings. Shamrock Rovers, whose qualification to the Europa League group stages in 2011 was a landmark achievement, follow in 225, while Bohemians come some distance later at 262. The newly-crowned League of Ireland champions, Sligo Rovers, find themselves ranked much lower at 307.
| | |
| --- | --- |
| | Ireland's European ranking |
| 14 | Czech Republic |
| 15 | Norway |
| 16 | Republic of Ireland |
| 17 | Bosnia-Herzegovina |
| 18 | Belgium |
| 19 | Serbia |
| | |
| --- | --- |
| | Airtricity League Coefficient |
| 34 | Bosnia-Herzegovina |
| 35 | Moldova |
| 36 | Republic of Ireland |
| 37 | Lithuania |
| 38 | Kazakhstan |
| 39 | Latvia |
There is a vicious cycle at play here: Irish clubs have low expectations because of their lowly stature on the European stage and their lowly stature on the European stage stems from their entrenched low expectations. However, Irish clubs are capable of much more and should not harbour fears when they are drawn against the best of Icelandic, Serbian, Bosnian or Slovakian opposition. In truth, the attainment of a Europa League group stage place by Shamrock Rovers is the latest in a series of unlikely stories that includes Shelbourne's trip to Estadio Riazor to face Deportivo La Coruña in 2004 and Derry City's European run of 2006 that ended in the Parc des Princes at the hands of Paris St Germain. Following the departure of Michael O'Neill as manager, however, the Hoops failed to build upon their success and instead utterly capitulated in the Second Qualifying Round of the Champions League. Likewise, Sligo Rovers struggled in the Europa League. The mighty Bit O' Red team that brushed aside competition at home were powerless to resist Slovakian side Spartak Trnava as they succumbed to a 4-2 aggregate loss in the Second Qualifying Round. With the two top teams in Ireland ejected from European competition, St Patrick's Athletic were left to fly the flag for the Irish domestic game.
Despite their elimination in the Third Qualifying Round of the Europa League by Bundesliga side Hannover 96, St Patrick's Athletic demonstrated great determination to succeed. In six European games, a freshly cobbled-together Inchicore side, exhibiting the right attitude in tandem with the club's overall professional ethos managed to hold their nerve and compete with teams that otherwise would have haunted and embarrassed Irish clubs. Saints manager Liam Buckley instilled his players with confidence, a belief in their ability to play football and to rival their continental counterparts. "We're part-time, but everything is done like a full-time club," said Saints striker Christy Fagan, ahead of his side's clash with Hannover. "We're as professional as it gets, and we've been working hard to keep in condition for games like this."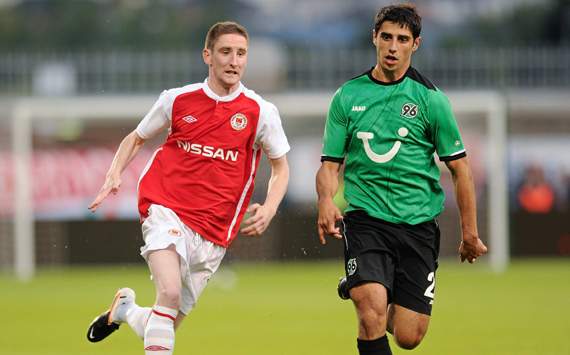 Euro pedigree |
Ian Bermingham of St Pat's takes on Hannover's Lars Stindl
It is no great surprise that St Pat's competed strongly for league honours and currently find themselves in contention for FAI Cup glory on November 4. First must come the attitude. There is absolutely no reason why teams such as Shamrock Rovers, Sligo Rovers and St Patrick's Athletic, with the talent they have at their disposal, cannot continue to compete in Europe. Indeed, one might say that it is vitally important that they do so, especially with coefficient in mind - more Irish success in European competition eventually leads to greater involvement and thus the opportunity of an increased flow of finance into the league.
For participating in the qualifying rounds for the Europa League, for example, St Patrick's Athletic earned a figure of €100,000 per round, which is startlingly around the same figure awarded by the Football Association of Ireland (FAI) to the eventual winner of Ireland's premier league competition. Shamrock Rovers received a total of €1,154,031 from their involvement in the Europa League group stage - the equivalent of winning the league for the next 11 seasons. And despite their failure to qualify for the Champions League group stages this season, or even to reach the Third Qualifying round, the Hoops are entitled to a figure of €200,000 under Uefa's solidarity distribution scheme, while there is a reward of €140,000 for mere participation in the Second Qualifying Round.
Internally, the Irish domestic game suffers from deeply rooted issues; it has always struggled to cope with a myriad of problems, ranging from financial to political, to just plain organisational. It is duly in need of a radical overhaul and, while it is certainly not the remedy to all of the ills that afflict football in Ireland, a change in the attitudes held towards European football can be a springboard from which clubs can begin to repair the domestic game. It is most certainly not a nuisance; it is privilege and an opportunity.