Ronnie Whelan

Ireland Columnist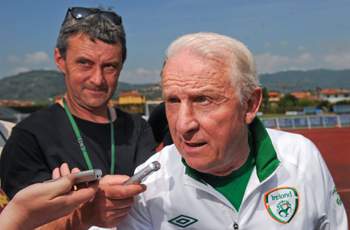 "The players no longer care about what the manager says"
GERMANY GAME SHOWS TRAP HAS LOST THE DRESSING ROOM
I don't think I have ever seen such a listless and uninspiring Irish performance as the one against Germany. We have all lost games, but to go down without fighting, especially at home, is a problem.
If you think of all the nights in the old Lansdowne Road, top teams from around the world came to the ground frightened to death, and if they beat us they struggled to beat us, but the game against Germany on Friday was basically a non-event.
I think a lot of it is down to the fact that the players are not particularly worried, or don't particularly care, about how the manager feels and the way he says things and I think that's when it's time for a change.
After the game, Giovanni Trapattoni was right when he said that he could not be angry with the players and that he had to lift their spirits in order to inspire a performance in the next game. Indeed, that is his job. However, I don't think that he can get a performance out of the players - even to get a result in the Faroes.
Bear in mind, that the only reason Trapattoni went with 4-5-1 was because he had to - Robbie Keane and Glenn Whelan were injured and I think that it was a formation that was forced upon him more than anything. Granted we saw the inclusion of Seamus Coleman at right back as well as three men in midfield and it is fair to say that there was not an awful lot more that Trapattoni could have done on the night.
He has taken a lot of flak for the performance against Germany, but the players have got to look at themselves as well, because it was a very, very uninspiring performance.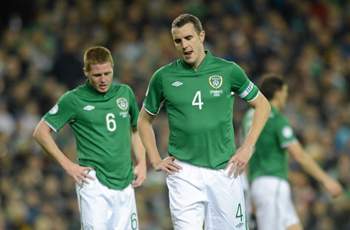 "Players are very good at hiding behind the manager"

LACK OF LEADER GIVES PLAYERS PLACE TO HIDE
There was a noticeable lack of leadership on the pitch. There was nobody in the team who could grab a team-mate by the collar and drag him through a game - in the absence of Richard Dunne especially, there doesn't seem to be anyone in the leader mould.
Footballers are very good at hiding behind the pressure that the manager endures. When the criticism hasn't gone their way, which it hasn't after the Germany game, they can be found to step back, saying nothing.
I thought that Jonathan Walters was the only player that really tried against Germany and that is a sad indictment of the team. There are worse teams than Ireland that have played Germany and not been beaten 6-1, because they have a bit of pride, courage and desire to work and Ireland just seemed to lose that completely the other night. It was sad and worrying to watch in the knowledge that this could drag on a little bit longer.
It could change, they could win the game today against the Faroes, and everybody would say, 'Well, we have six points and we only thought we'd have six points'. But the result in Kazakhstan papered over a lot of cracks in the team and those cracks appeared again in the Germany game.
I think that this performance was actually worse than the Cyprus performance under Steve Staunton when Ireland lost 5-2 away from home. I know that Germany are a better team, but I really thought that, at home, at Lansdowne Road, we would have got more from the players, so it was certainly worse in that respect.
Ireland have got to win this game, with Austria and Sweden on the horizon, and it will not be an easy game on astroturf.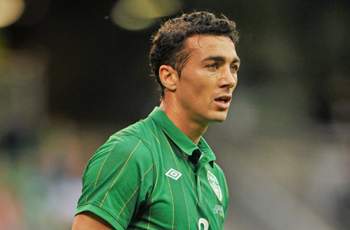 "Arguments with players show Trap has got to go"

This is a difficult match to play after taking such a hiding against Germany. It will be a huge relief for everyone if Ireland can just win their next game.
The changes that Trapattoni has made to the team, with Wilson and Brady coming in, shows that he is feeling a bit of pressure. If it had been a 1-0 loss to Germany, I don't think that he would have made those changes.
TRAP MUST STOP FALLING OUT WITH PLAYERS
The Stephen Kelly incident is another instance of the the conflicts that are occurring with the management, which seems to fall out with players too often.
Man management with a lot of players in the Ireland squad has not been very good and the consistency of such arguments is another reason why Trapattoni should go. He cannot continue falling out with players.
Part of it probably goes back to Euro 2012 when Trapattoni decided not to give fringe players a run out despite being knocked out of the competition, but I think that these problems were appearing before.
Giovanni Trapattoni's side face a crunch World Cup qualifier against the Faroe Islands on Tuesday night and you can watch all the action live through Goal.com