Ronnie Whelan

Ireland Columnist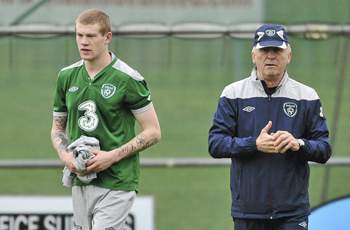 "Is there a communication barrier with the manager?"
In Kazakhstan, I thought Ireland put in a very disjointed performance. It seems that the players simply don't know the message that has been given to them by the manager. Under Jack Charlton, we had played similar long-ball tactics, but the difference was that we all knew exactly where the ball was going to go and what we had to do.
These players don't seem to know whether they're supposed to play it long or play it short - as if they were without a game plan. Instead, everything seems to be pinned on the faint hope that if we put a ball deep into the opposition half, we might get a break. I don't know if Giovanni Trapattoni's message is getting across properly, or if there even is a major message, because everything seems to be so hit and miss.
More worryingly, the team has declined somewhat since the Euro 2012 qualification campaign, which is clear from the erosion of what we might have called our strengths, such as defending and attacking set-pieces. We have lost a spark, that real togetherness of spirit that was evident in the draw with Russia when we got bodies on the line. That seems to have gone now and the question we are all asking is 'why?'. Is it a communication barrier with the manager? Have the players dropped a level? What is it?
Of course, the players have to take responsibility for how they perform on the pitch - if a player doesn't pick a man up during the concession of a goal, for example. But if you look at the goal that was conceded against Kazakhstan in Astana, there are a lot of players pointing around, as if to say 'who is picking him up? That's not my man.' Indeed, Trapattoni actually said, in his post-match press conference, that there was a lot of misunderstanding for the first goal. Is that a case of the message not getting across from the manager to his players?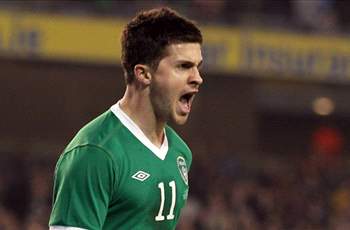 "Long has got a chance to show Trapattoni what he can do"

The friendly against Oman is a relatively low stakes occasion, but the stakes are certainly high for the likes of Shane Long, Kevin Doyle and Seamus Coleman. Can the fringe players put in a performance in this game to prove a point to Giovanni Trapattoni? What fresh impetus do they bring to the squad? I am hoping that the likes of Seamus Coleman, James McCarthy can put in a performance that might shake the manager up, just as Kevin Doyle did when he came on and changed the game against Kazakhstan. Shane Long, who has been in top form in the Premier League, has got a chance now to show Trapattoni what he can do for Ireland. Will Seamus Coleman offer something that John O'Shea does not?
James McClean won't start tonight against Oman and you get the impression that it is a form of punishment for his outburst after the Kazakhstan game. Trapattoni falls out with people easily and it has been the case with a few players over the past few years where they've fallen out and not been involved again and I don't think that is necessarily the best practice.
McClean was completely wrong to do what he did, but I can understand his frustration. In terms of his summation of the performance, however, he wasn't far wrong. I think there is always a reason why something like this leaks from within the squad. When things start to come out, it means that there is disharmony within, somewhere. But we are stuck between a rock and a hard place, since the FAI cannot afford to pay off Trapattoni and he is not going to walk away from such a lucrative contract. So it is a case of getting on with it and hoping that Trapattoni can continue being as lucky as he was to get a result in the Kazakhstan game.
The road to Brazil 2014 begins here! Goal.com will be streaming Republic of Ireland's friendly game against Oman at 19:45BST via Livesport.tv on Friday. Click here to subscribe!