Ireland are home before the postcards having been the joint worst Euro 2012 side but it's not all down to the manager. The Italian remains the man to lead the Boys in Green
COMMENT
By Ronan Murphy
It didn't take long for the pitchforks to come out. In fact, before Ireland had even taken to the field to face Italy, fans, pundits, and ex-professionals were calling for Giovanni Trapattoni's head.
After the 4-0 drubbing by Spain in the second Euro 2012 Group C game, Pat Dolan claimed that Trapattoni had 'set Ireland back 20 years.' Dolan has never been a fan of Trapattoni due to his non-interest in the League of Ireland, but it seemed that a large part of the Irish population was no longer enamoured with Il Trap either, as Facebook and Twitter became flooded with the usual 'Trap out' nonsense.
That's exactly what it is - nonsense - because three bad results don't make you a bad manager.
After a bad result, the easiest thing to do is to blame the manager. That's why each Premier League season in England sees numerous dismissals, with this summer's managerial merry-go-round being a particularly good example.
Ireland conceded nine goals at Euro 2012. A dreadful statistic, but it's made worse by the fact that most of those goals were preventable. Trapattoni's team had previously been watertight at the back, with 11 clean sheets in the previous 14 unbeaten games.
Most, if not all, of those nine goals were uncharacteristic of Irish under the Italian tactician. The two conceded against Italy were both from corners, with the 5'8" Antonio Cassano pulling away from Keith Andrews to head in the first, and John O'Shea too busy pulling Mario Balotelli's shirt for the second to block the over-the-shoulder shot.
In the lead up to the opening goal, three Irish players were at fault. Glenn Whelan played a terrible cross-field ball when there were numerous other options open to him, then Stephen Ward made a weak attempt to clear the ball after we won it back, before Shay Given spilled what should have been a routine save to concede the corner.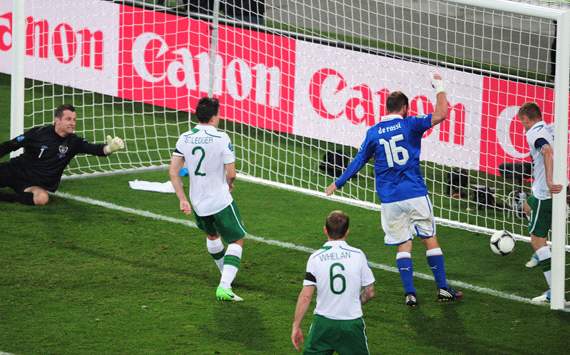 Caught napping |
Basic errors were to blame for Ireland's dismal defending at Euro 2012
Croatia and Spain's seven goals could also be similarly dissected, with Cesc Fabregas's one being the worst from an Irish defensive standpoint. Fabregas was alone in the box with seven Irish players, but Paul Green still allowed him to slip in to collect the short corner and score.
These are the kind of errors in concentration that are unforgivable, no matter who your manager is or what level you're playing it. They're especially the kind of lapses that an experienced coach like Trapattoni has no time or patience for.
Switching off early in matches cost the Irish the tournament. Those four quick goals inside each of Ireland's first four halves were the strikes that knocked us out. Period.
Trapattoni's famed 'system' aimed to defend well, soak up pressure, and score through counter-attacks or set pieces. It becomes impossible to counter-attack when you gift your opponent an early goal, and they no longer have the same urgency to score.
IRELAND'S RECORD UNDER TRAP


The tale of the tape from 2008 - 2012

GAMES PLAYED
WON
DREW
LOST
GOALS FOR
GOALS AGAINST
WIN PERCENTAGE

48
20
17
11
62
46
41.7%

Had Ireland not conceded in the first four minutes against Croatia or Spain, the system would have had a far greater impact, as when you go 1-0 down after four minutes, you're automatically chasing the game yourself.
Despite best intentions, it's hard for any 'Trap out' supporter to blame the manager for those early goals. The responsibility falls entirely on the shoulders of a few select players.
Going back to Dolan's 20 year claim, and ignoring the fact that 20 years ago (1988-1994) was the best time to be an Ireland fan, Trapattoni is often persecuted for being a 'football dinosaur' playing 'outdated tactics.'
However, his 4-4-2 is far from a straight forward one, as the wingers cutting in give it much greater versatility than the Mike Bassett version. Nor has Trapattoni played the same formation since his glory days in the 1970s and 80s with Juventus.
In fact, back when he was lifting Scudetti for fun, and taking the Old Lady to 13 trophies in ten years, Trapattoni deployed a 4-3-3 formation with Marco Tardelli pulling the strings in midfield.
Less than a decade ago, when he was managing Italy at Euro 2004, Trap utilised a 4-2-3-1, with Christian Vieri up front on his own, and Alessandro Del Piero, Francesco Totti, and Mauro Camoranesi in behind.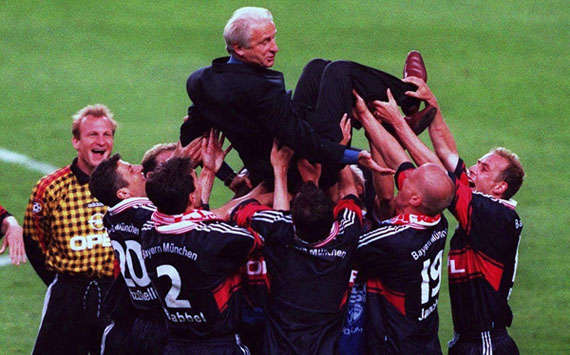 Winner|
Trapattoni has demonstrated his tactical prowess with considerable success
Trapattoni is not afraid to change his formation if needs be, but there was one area where he really did slip up at Euro 2012. His substitutions were unusual, as he played all five strikers in two separate games. Shane Long and Simon Cox were used as makeshift wingers whilst James McClean and Stephen Hunt were looking on from the bench.
Both tried their hardest in these adopted roles, but Trapattoni would have been better off bringing on actual wide players to put balls into the box. Paul Green's ten minute cameo irked the nation, as the unattached midfielder wasn't even included in the original squad, while Darron Gibson didn't see a second of European Championship football.
Trap also left Robbie Keane on far too long, as the LA Galaxy frontman looked tired and off the pace at times - even being offside from Shay Given's long ball against Italy as he failed to come back in time. Instead, Trap took off Aiden McGeady, who was Ireland's most creative player, to replace him with Shane Long.
Another argument often used to castigate the Italian is that he doesn't blood new players and is too loyal to the old guard. This couldn't be further from the truth.
The 23 man panel Ireland took to Euro 2012 included 12 players who made their debut under Trapattoni - Keiren Westwood, David Forde, Sean St. Ledger, Stephen Ward, Paul McShane, Darren O'Dea, Glenn Whelan, Keith Andrews, Paul Green, James McClean, Jonathan Walters, and Simon Cox - over half the squad.
In addition to this, of the 16 other players called up to the Ireland squad since the start of Euro 2012 qualifying, nine are Trapattoni debutants, while five more are waiting for their first cap.
Trapattoni isn't afraid to introduce new players and improve the team where it's needed, it's just that many of the players being promoted by journalists, Eamon Dunphy in particular, failed to take their chances when they came.
Seamus Coleman is not a right-back for his club, so it wouldn't be fair to ask him to play there for Ireland, and when he did get his chances at international level on the wing (five caps), he has never stood out as an improvement on the options we already have.
Marc Wilson could be the first-choice left-back at this stage, but pulled out of the Carling Nations Cup last year. James McCarthy would have travelled to Poland were it not for his father's illness, while Keith Fahey missed out through injury. Wes Hoolahan is often cited as the midfield dynamo Ireland need, but he's 30 now, and will be 32 by the time Brazil 2014 rolls around. Not exactly one for the future.
Pundits often say that Trapattoni is a 'lucky manager' or that Ireland were 'lucky to have drawn Estonia' in the play-offs, but neither of these statements are exactly true. You make your own luck in football as Trap well knows.
When his Italy side were knocked out of Euro 2004, he was anything but lucky, and the Thierry Henry incident in the World Cup 2010 play-offs was misfortune in the extreme. Lest we forget Italy's exit from World Cup 2002 to South Korea which continues to spawn all manner of conspiracy theories. Lucky? Yeah right.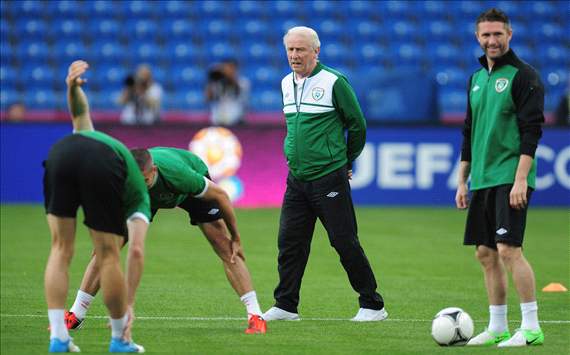 Raising expectations|
Trap has improved Ireland following the dark days of Cyprus 2006
It's also been said that Ireland had an easy qualifying group for Euro 2012. When the balls were drawn back in February 2010, Ireland were ranked 25th in Europe according to Uefa, Russia had just come second in their WC Qualifying group with Germany, and barely missed out in the play-off against Slovenia thanks to the away goals rule, while Slovakia had topped a group containing Slovenia, Czech Republic, Poland, and Northern Ireland.
In fact, Slovakia then went on to knock Italy out of the World Cup before losing to Holland in the knock-out stage. By the time qualifying was over, Trapattoni had gotten Ireland promoted to the 13th best team in Europe, and thanks to the huge climb in rankings, we were seeded for the play-off draw. All four seeded teams beat the four unseeded ones, who included the same Bosnia-Herzegovina side Ireland comfortably beat in Dublin last month.
Ireland were the worst team at Euro 2012. The only other team that finished on zero points was Holland. They are a team that should
really
be outraged by the tournament performance, as the Netherlands were World Cup runners-up and ranked second for the Euro 2012 finals draw in December.
Ireland, on the other hand, were the very bottom team in pot four. Only the hosts, Ukraine and Poland, had a poorer Uefa ranking than us, and that was skewed by the fact they haven't played competitive football since the 2010 World Cup campaign. Group C saw Ireland (14th) face the teams ranked first, fourth, and seventh in Europe. So is it any surprise that the bottom ranked team finished bottom?
Shay Given has played 125 times for Ireland but his three poor performances at Euro 2012 don't automatically make him a bad goalkeeper. His errors don't erase the wonderful job he's done for Ireland, the heroic saves he has pulled off, and the victories he has inspired the Irish to.
Similarly, three defeats at Euro 2012 to three considerably higher ranked teams shouldn't mean the end of Giovanni Trapattoni's tenure as Republic of Ireland manager. People seem to forget we were a third seed when he replaced Steve Staunton as national manager.
The veteran Italian has taken us a long way since then, doing his best to erase memories of the 5-2 defeat to Cyrpus under Stan, and
is
the man to lead Ireland to the 2014 World Cup in Brazil. He may not be perfect, but he's a lot better than the alternatives. Without Trapattoni, we'd all just be watching England and Italy at Euro 2012, and looking on grudgingly.