ANALYSIS
By Ronan Murphy
Stuttgart 1988, Cagliari 1990, New Jersey 1994, even Niigata 2002. Those were great opening fixtures that gave Irish fans the belief that their side was worthy of competing at football's elite competitions. Poznan 2012 does not rank alongside those opening matches.
Slaven Bilic's Croatia side outplayed Ireland for large parts of the Euro 2012 Group C game, and deservedly came out 3-1 winners. Ireland were denied a second-half penalty kick, but scoring that would have been like putting a plaster over a broken leg.
Ireland just weren't good enough all over the pitch. That said, there's still two games to play, and in football, anything can happen. Ireland just need to improve. Here's how.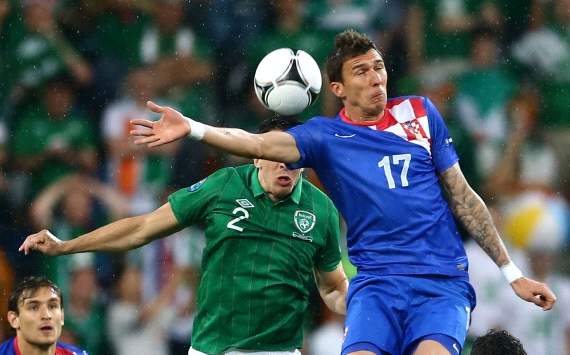 During qualification, and particularly in the two ties with Russia, Ireland were overrun in midfield, two against three. Consequently, it was expected that facing another 4-4-2 in Slaven Bilic's Croatia would make things easier for the Boys in Green in the middle of the park.
Largely thanks to Luka Modric, it didn't come to pass. As well as losing the midfield battle, Croatia's rampaging full backs and wide midfielders provided a width to which the Irish are unaccustomed.
Richard Dunne and Sean St Ledger aren't quick centre halves, so Ireland tend to sit back and let the opposition come at them. This worked to some extent against Russia's 4-3-3 and Slovakia's 4-2-3-1 as both sides played a much narrower game, attacking through the middle, and cutting in from out wide.
Croatia on the other hand, played down the wings, particularly on the right with Darijo Srna and Ivan Rakitic overlapping. This allowed Croatia to play deep in the Irish half and continuously get the ball into the box where dangermen Mario Mandzukic and Nikica Jelavic were waiting.
Spain played with no nominal striker against Italy, but Vicente del Bosque is unlikely to repeat the same trick against Ireland. He could start Fernando Llorente up front to cause havoc for the Irish defence. If this is the case, Trapattoni must encourage his defenders to play higher up the pitch, and not allow Spain as much room in the Irish half.
GIVE SUPPORT TO THE FULL BACKS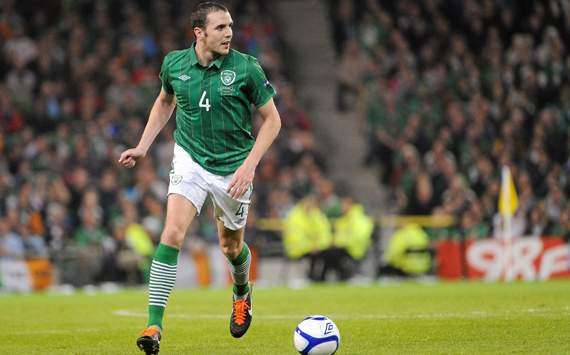 John O'Shea finished the evening with a pass completion rate of 65 per cent, 26 successful out of 40 attempted passes, which shows that a third of the time he tried to move the ball on, it ended up back with Croatia. This stat may not seem too shocking until sideways and backward passes are taken out of the equation. O'Shea played 27 forward passes, with only 13 finding a player in a green shirt.
Stephen Ward's stats were no better, with 60% overall completion, and just 15 of 31 forward passes finding their man. Only twice did Ward play the ball short towards the centre circle, and O'Shea tried it just once.
If you keep giving the ball back to the opposition, there is no way to win a football match.
Croatia pressed the full backs high up the pitch, offering them no time to pick out a clear pass. This task would have been much easier if Glenn Whelan and Keith Andrews had offered themselves more in the middle, coming back to pick up the ball and move it up the pitch a few yards at a time.
Instead, the full backs were put under pressure and forced to either pass it back to Shay Given or the centre backs, who then tried to find Kevin Doyle with a long ball of their own. In fact, only five of the passes Glenn Whelan received all night were played forward to him, and only two of those were in the middle of the park.
COMPETE BETTER IN MIDFIELD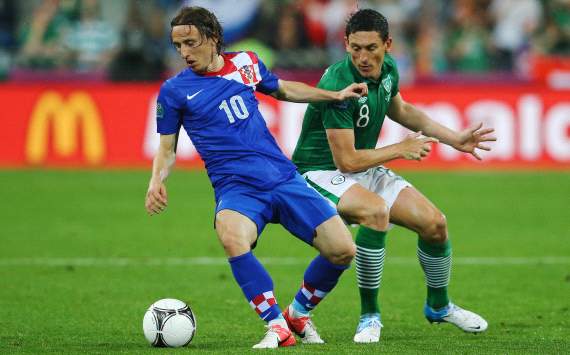 Following on from the direct balls to Doyle approach, it is no use if Doyle, or Jon Walters for that matter, is doing all the hard work for no reward.
Doyle can only win so many free kicks and headers; if there is nobody to pick up the loose ball, then possession is being gifted back constantly. Keith Andrews received a pass in the centre circle just twice in 90 minutes, and in the second half, particularly, every loose ball seemed to fall to a blue jersey.
The passing of Whelan and Andrews was not the most pronounced problem, Whelan had an 86% completion rate, but the fact is that they rarely looked for the ball when they did not have it. They do need to help the defence more, but just as importantly, need to be looking for the scraps when a long ball to Doyle fails.
This will be even more essential against Spain, who will no doubt dominate the midfield battle on the floor, so our chosen midfield will need to be quickest to the loose ball each and every time.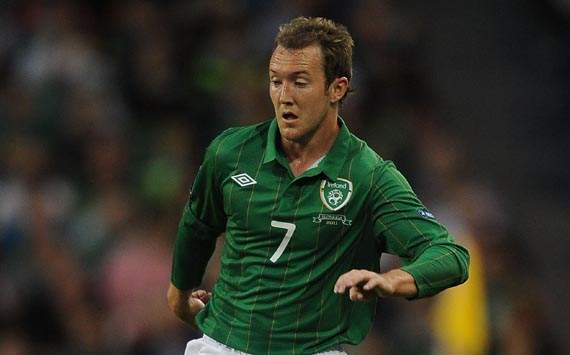 With Srna roaming forward at every opportunity, Ireland should have counterattacked quickly down his wing. Instead, the ball was launched up for Doyle, who often ran into the channels, where he successfully won a couple of free kicks from Vedran Corluka.
One of these set pieces directly led to the Ireland equaliser, with Aiden McGeady crossing in for St Ledger to score. Damien Duff did a lot of running last night, but McGeady was disappointing despite the assist and an early bit of skill to take out Srna.
McGeady played 54 minutes before being substituted, but received just 13 passes - under one every four minutes. His own pass completion was an impressive 82%, so when he did have the ball, he moved it on well. Duff got the ball 30 times, and found a team-mate on 23 occasions, with four out of eight crosses successful. But due to the fact that Trapattoni plays inverted wingers, Duff and McGeady are forced or encouraged to cut inside more.
Sometimes this is effective, but last night, Ireland would have been more potent in attack had they played down the line more often. It was only really late in the game that the Irish full backs got forward consistently up the wings, despite the fact that Ireland had the first effort of the game from Andrews' header from a Ward cross.
When playing a targetman like Doyle, he needs to be used more in the box, and the only header he went up for in the Croatian penalty area, he won. Had Ireland played down the wing with Duff on the left and McGeady on the right, or perhaps James McClean or Stephen Hunt on instead of Simon Cox, then the strikers could have been used better, receiving balls inside the area. A telling stat is the fact that Ireland played all five forwards last night, but not one of them had a shot on target. Which leads nicely on to...
PLAY DARRON GIBSON FROM THE START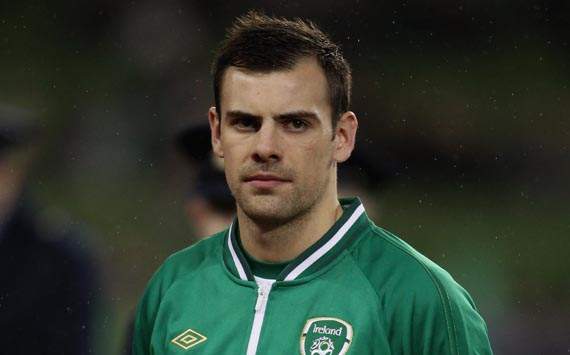 On the RTE coverage that followed the loss on Sunday night, Eamon Dunphy once again mentioned the names Seamus Coleman and Wes Hoolahan. These may be the answers to our problems for Dunphy, but it is hard to get either on the pitch against Spain or Italy when they are not in the squad.
Trapattoni is not going to change to a 4-3-3 or 4-5-1 now. We are now stuck with our 4-4-2, but it can be used better against the two previous world champions. Ireland's strikers were barely in the game on Sunday and the ball was not moved out wide often enough. To solve both these problems, Darron Gibson must come into the side to replace Glenn Whelan.
The Stoke City midfielder is a very limited player in a green jersey, and offers little threat going forward. Neither he nor Andrews were great on the night, but Andrews did make a nuisance of himself in the box at times, and actually took seven of Ireland's 13 shots.
Gibson is known for his long-range efforts, but more importantly, he is a player who can pick out a pass. He probably will not be the player who gets the assist for Ireland's goals, but he can open up the game by finding his man. He also takes his time on the ball, and can offer a much-needed outlet for O'Shea and Ward. Only five of O'Shea's passes were to either of the central midfielders and Ward had the same figure.
Gibson may not increase these numbers drastically, but when he does get the ball, he can do something with it. His pass completion will not be as high as Whelan's, but that is only because Gibson takes risks, and with Ireland needing at least four points from two games, now is definitely the time to throw caution to the wind.