COMMENT
By Patrick Reilly
Which European country has produced the most Champions League winning players but not a domestic club which has lifted the continent's greatest football prize?
Hungary, the birthplace of the legendary Ferenc Puskas, and home to the once mighty Ferencvaros? Or is it Sweden, which produced great European nights with clubs like Malmo and IFK Gothenburg, along with superstars like Henrik Larsson?
Neither. Indeed the country which trails only Brazil and Argentina in the list of Champions League winners without a winning domestic club is the Republic of Ireland.
A nation of just 4.5 million people is just behind South American giants Argentina, 10 winning players, with 10 winners medals earned by a total of nine players. Unsurprisingly, Brazil lead the way with a mighty 27 stars who have lifted the European game's most coveted trophy.
What makes Ireland's feat even more remarkable is that all 10 medals are divided between just two clubs, Liverpool and Manchester United, which remain comfortably the best supported English teams on the Emerald Isle.
The untimely death of Dubliner Liam Whelan in the Munich Air Disaster of 1958 meant the nation had to wait a further decade for a first European Cup winner's medal. Just like Dublin buses, two of them arrived at once as defenders Shay Brennan and Tony Dunne played in Manchester United's 4-1 defeat of Benfica at Wembley.
In those days only the players who played in the final received a medal. Scotland-born Charlie Gallagher, who earned two caps for the Republic of Ireland, was part of the Celtic squad that won the 1967 European Cup but had to make do with a replica medal as he did not feature on the pitch.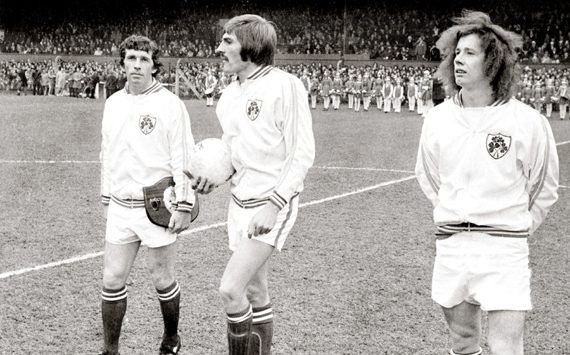 Double Winner
| Steve Heighway (centre) won the European Cup twice while Giles and Brady missed out
AND WHAT OF THE REST?

Having an Irish player on the pitch has tended to be a lucky charm. Of the 11 Irish players to feature in a European Cup/Champions League final a mighty nine of them have ended the game with a winner's medal.

Ronnie Whelan and Mark Lawrenson were on the losing side in the tragic 1985 final against Juventus. Fellow Irishman Jim Beglin made his only European Cup final appearance in the defeat which was overshadowed by the Heysel disaster.

Steve Finnan and John O'Shea have also featured on winning and losing sides. Finnan played almost the full 90 minutes in Liverpool's defeat to Milan in 2007 while O'Shea played the whole match in Man Utd's loss to Barcelona in 2009.

Roy Keane was famously suspended for Manchester United's 1999 final win over Bayern Munich. He also turned down the offer of a medal from a team-mate.

Going further back, John Giles played for Leeds United in their 2-0 defeat to Bayern Munich in 1975 in what turned out to be his last ever appearance for the club.

Across the border George Best (Manchester United 1968) and Martin O'Neill (Nottingham Forest 1979 & 1980) have won the trophy.
Ireland had to wait almost another decade before a third native picked up a winner's medal. Liverpool's Steve Heighway won the first of his two honours in the Reds' 3-1 victory over Borussia Monchengladbach. In a superb performance the Dubliner created two of the goals which helped seal the Anfield club's first European crown.
Twelve months later and Heighway was again on the winning side as the Reds retained the trophy against Club Brugge. He was used as Liverpool's only substitute in the game and within two minutes of his arrival Kenny Dalglish placed his deft chip which earned the victory at Wembley.
English clubs continued to dominate the then-named European Cup for the next several years. Liverpool's victory over Roma in the 1984 represents a high point for the Irish game with three players, Mark Lawrenson, Ronnie Whelan and Michael Robinson, all featuring on the pitch in a dramatic final at the Stadio Olimpico.
The Heysel disaster of 1985 meant that English clubs were banned from playing in Europe for the next five years with Liverpool given an extra year as punishment. It wasn't until 1999, some 14 years later, that an Irish player would play again in the European showpiece.
Cork's Denis Irwin helped Manchester United complete their historic treble in their late 2-1 win over Bayern Munich. Another certain Corkonian missed out on the victory through suspension.
Six years later and Ireland's winning streak continued as Steve Finnan was part of the Liverpool team that came from 3-0 to ultimately beat Milan on penalties. Finnan was part of a Reds defence which shipped three goals in the opening 45 minutes and he was hauled off at half time by Rafael Benitez. His replacement, Dietmar Hamann, is, by common consent, agreed to have changed the game and inspired the miracle of Istanbul.
Ireland's most recent winner is the versatile John O'Shea who was on the bench as Manchester United defeated Chelsea on penalties in 2008. Uefa has since loosened up about only giving medals to players who feature in the final so the Waterford man got his reward for helping the Red Devils win their third European crown.
Only another 18 to go before we catch up with those Brazilians.