COMMENT
By Ronan Murphy
Monday's Euro 2012 squad announcement saw Republic of Ireland boss Giovanni Trapattoni field the usual questions from the assembled throng of reporters. At one stage, the wily Italian manager even got worked up about having to answer the same old question yet again. Many people may criticise him for being a conservative manager who is set in his ways, but Trap is more shrewd than he's given credit for.
Each and every time there is a squad announcement, fans and journalists clamour for the inclusion of someone or other, claiming that certain players have been overlooked for "Trap favourites". Trapattoni selects players for a reason. They fit into his system. On Monday, when asked once again about Wes Hoolahan's possible inclusion, Trap spoke about the system. "We have a strong midfield and strong wingers," Trapattoni said. "It's not English football league, it's international football, it's a little bit different. We always want to have a balance in the team. We have no Messi, Ronaldo, or Maradona. We have a strong team with organisation and balance."
Norwich City midfielder Hoolahan doesn't fit the Trap system, and the fact that he soon turns 30 won't cause the Italian to shuffle the pack just for him. However, that's not to say there won't be any new faces coming on stream for World Cup 2014 qualification.
James McCarthy, who sadly had to withdraw from the squad, will most definitely be one of those key players. Since making his Ireland debut against Brazil two years ago, McCarthy has mainly watched from the sidelines. Injuries have hindered his chance of progress, but that isn't the only reason he has been behind Keith Andrews, Glenn Whelan and Paul Green in the pecking order. Those three midfielders fit the system better. According to Trapattoni, McCarthy, as well as Darron Gibson, did not look for the ball enough.
As one of Wigan's key players in their fight against relegation, McCarthy has really grown as a player. Trapattoni said as much today: "He has the quality. I say 'James you must look for the ball'. He has developed, he used to shoot from 25 or 30 yards, but now he sees the pass. He passes the ball."
McCarthy is coming around to Trap's way of thinking. Towards the end of this season, he's been much sharper defensively, putting in tireless midfield performances. If he keeps it up next season, there will be a definite place for him in the Trapattoni system.
Sunderland's James McClean already fits the mould. He's a direct, full-steam ahead winger, capable of coming inside and scoring. Trapattoni plays Damien Duff and Aiden McGeady right and left respectively just so they can cut in, and McClean is a perfect replacement. At the press conference today, Trapattoni spoke of those strengths. "He's improved, he's grown. I think he can give us energy. He scores goals."
Against Macedonia last March, McGeady was encouraged to cut in and test the relatively inexperienced goalkeeper, a tactic which paid off after just two minutes, with the Spartak Moscow winger scoring his first ever international goal. McClean has shown his ability to do the same a number of times for Sunderland this season, and no doubt will get many opportunities to repeat the feat as Ireland attempt to qualify for Brazil 2014.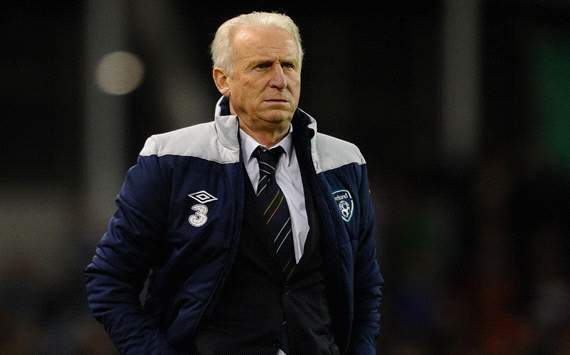 The way forward |
Trapattoni has picked his squad for Euro 2012 but will make changes for 2014
Another one for the future earmarked by Trapattoni is Everton wideman Seamus Coleman. The right-sided player was unlucky to miss out, but injuries this season have held him back at club level. Trapattoni sees Coleman as more of a right back than a right winger, a position the 23-year-old impressed in at Sligo Rovers.
If Coleman can stay injury free in the 2012-13 season, he can cement his place in the Everton lineup and return to the Ireland fold. Whether as a right midfielder or right back, Coleman's exposure to further first team action will make him a more rounded player, and help him slot more easily into the Trapattoni system.
Trapattoni also dropped a few other names as well as the 28 he included in his squad and standby list, with Andy Reid and Stephen Ireland mentioned. It's highly unlikely Reid will make an international comeback, and Trap has spoken before of Ireland not exactly fitting the system, so it's more likely that progress will happen gradually.
Whatever happens, McClean, McCarthy, and Coleman will definitely be central to Ireland's hopes at qualifying for a second consecutive major tournament, and who knows, maybe all three will line out at the Maracana on July 13, 2014.
At the moment though, it is about the here and now. Trapattoni's Euro 2012 squad announcement brought no surprises. And that, in itself, should come as no surprise.